How to prepare for your Engagement Photos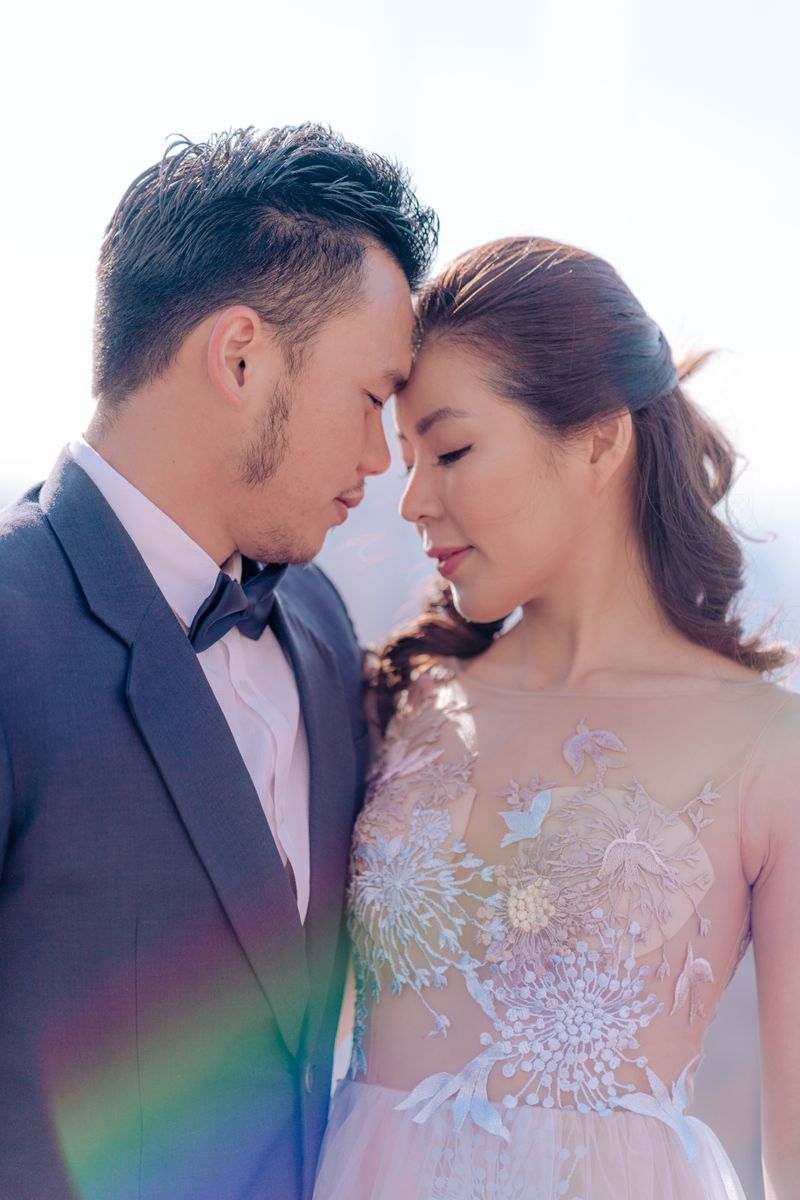 New York City is a great place to have an engagement photo session. The city has everything from beautiful streets and cityscapes. It is a place of history, luxury, and modern lifestyle.
Engagement photos are all about capturing your love in the most attractive and inspiring landmarks. And, New York City has them all. The city has various places with different looks and vibes that guarantee what you want in your engagement photos.
As an NYC engagement photographer, here are some basic requirements to have the best engagement photos experience:
A great outfit.
THINK DATE NIGHT! Impress each other with style.
Connection with each other. Have fun!
Booking the right NYC engagement photographer.
Finding the right light and coordinating the time of day with me. (golden hour is my favorite!)
Here's one important note you should know from us:
We will be there for you and help you in every stage to create romantic engagement photos. We have connections with anything you need in the city, a bottle of champagne, floral design, Geronimo balloons, hair and makeup stylist and much more. You name it.
1. DECIDE WHAT TO WEAR FOR YOUR ENGAGEMENT PHOTOS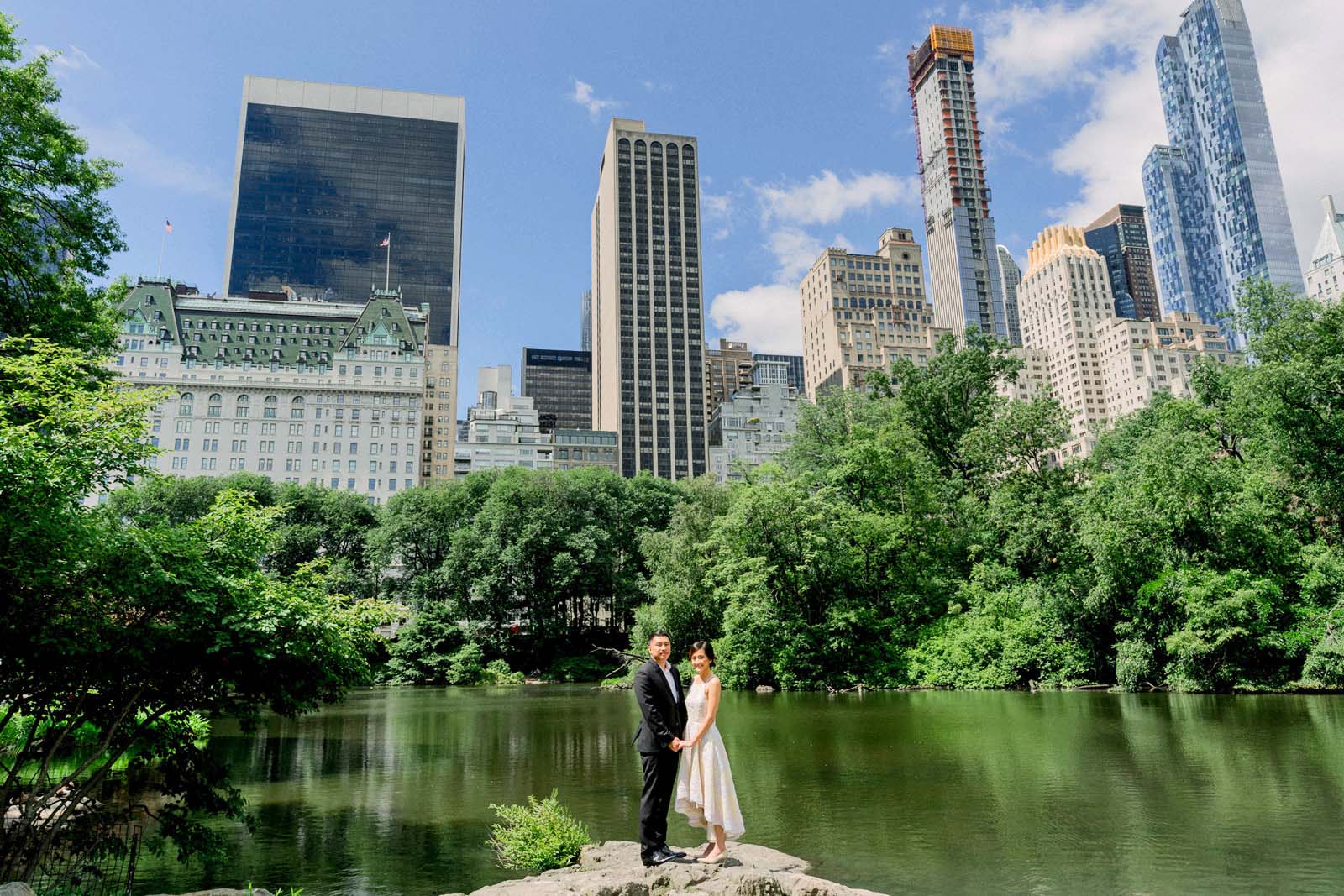 There are few things to have in mind when planning your engagement photos outfits.
The first thing to consider is the season. Wear something comfortable according to a temperature and a season.
The second thing is finding your style. Try to choose an outfit that shows real 'you'. Getting photographed is about being natural – being yourselves. Whether you like a lace dress, suit, or anything that makes you comfortable, it is about showing your personality.
However, try not to go crazy with your outfits. Try consulting with your photographer who knows the best style. You can even text some pictures of the options you were considering.
If not, then here some tips for you to consider when choosing your outfit. Keep in mind. Engagement photos are not about your clothes but you as a couple!
Balanced Colors not busy or too bright.
Flowy Dresses.
Minimal jewelry.
Try to avoid stripes or checkered shirts
2. HOW TO PERFECT THE KISS
There are different kinds of kisses that have different meanings. Choose one that is appropriate for you.
The Breathtaking Kiss
There is one rule to get a perfect kiss: committing to a moment before the kiss. Like we said before, it is about building your emotions and feelings toward your partner. Hold it and feel the moment shared.
Different types of kisses
Kissing a forehead
Smooch on a hand: "Delicate and sweet".
Kiss on a neck: "Passionate".
3. ENGAGEMENT PHOTO PROPS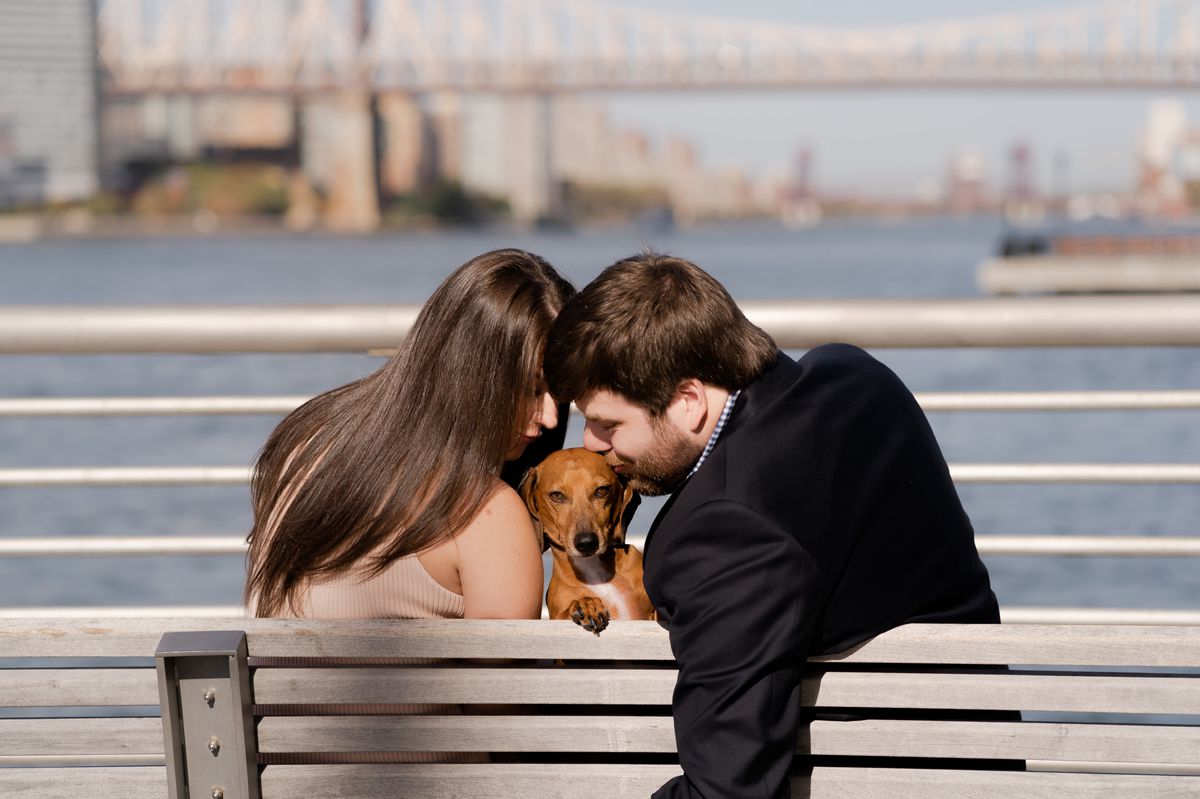 These days, some people like props. But, do not go crazy and buy props immediately. It may have different effects. Try not to choose props just because they are popular and flashy. Choose props that relate to you and to your partner.

WHY PROPS CAN BE A GOOD IDEA?
Props can help you to stay comfortable in front of a camera. It can tell a story about your interests.
Here are some photoshoot props ideas you'll simply love to include them in your engagement pictures.
Examples of good props (or a pet):
A camera
Umbrella
Champagne
Balloons
Pet (My personal favorite) dog or cat or even a bunny!
4. CHOOSING A RIGHT PHOTOGRAPHER FOR YOU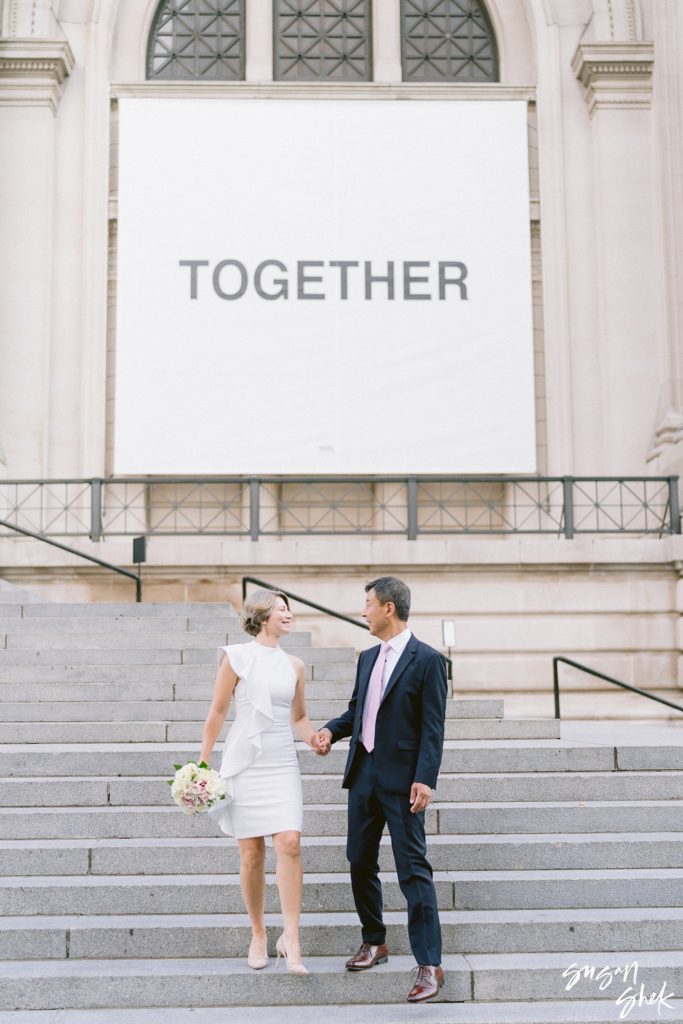 Once you have decided on where you would both like to have your engagement session, it's time to search for the right photographer. You want to make sure the photographer you chose is capable of carrying out your expectations. And, you want the photographer to make sure they make you feel comfortable and at "home".

Follow our seven steps to determine a perfect photographer and be ready to get a perfect image.
STEP 1. DECIDE YOUR PHOTOGRAPHIC STYLE FOR YOUR PICTURES
We, as photographers, would be more than happy to know what you are looking for from your engagement photos. More information, the better. Pin some images from Pinterest. Or, show us your favorite pictures from Instagram. We know how to photograph them. Just let us know then we will prepare everything to get your perfect shots.
STEP 2. BUILD A CONNECTION WITH YOUR ENGAGEMENT PHOTOGRAPHER
So, knowing your photographer is important. Ultimately, your photographer capturing amazing photos. Therefore, take your time to know your photographer. Read the photographer's bios, social profiles, and even carefully read his or her replies to you. Add them on Facebook and Instagram too!
STEP 3. GO THROUGH THE ENGAGEMENT PORTFOLIO THOROUGHLY
If you found a photographer with a great personality, then it is time for you to check the photographer's ENTIRE portfolio.
Connect with them and ask a lot of questions. check out their personality, CONNECTION IS KEY! 🙂
Go beyond than looking at photographers' website and Instagram account. While trying to know your photographer, just kindly ask for different sets of engagement photos or even different types of portfolios.
After you do all these steps, you will know your answer about the photographer.
STEP 4. WHEN TO SCHEDULE YOUR ENGAGEMENT SHOOT?
For those who do not live in New York and are coming to the city for your shoot, we recommend scheduling your engagement photoshoot at a midpoint of your journey. We have four major reasons for that.
1. Rest well
Being photographed takes more energy than you think. You will walk and you will stand for a long time. So, rest is a must-have before your session. And, sleep is important!
2. Shopping
New York City is famous for its shopping. You might even find another perfect outfit for your shoot (but don't entirely count on this until the last minute).
3. Explore NYC
When you stroll around the city, you might find interesting neighborhoods to explore. Go enjoy and live like a true New Yorker.
Or, you can even scout out the locations where you will be shooting your own engagement session.
4. Rescheduling
Unfortunately, this happens. If you can't take photos due to bad weather, having a few extra days could allow you to get another chance.
STEP 5. GETTING AROUND NYC ON YOUR DAY OF ENGAGEMENT PHOTOSHOOT
Public transportation in NYC is well organized. And, it can take you everywhere you need to go. However, we highly suggest you take our favorite method that helps you to be comfortable.
Our favorite way to commute around the city is by Uber (or Lyft or Via). Not only it gives you comfort, commuting in a car gives you space and time to take a break from an intense schedule.

WHAT CAN I DO WITH MY PHOTOS?
Your NYC engagement photos will last for a lifetime. Share them with your friends and family. Show them off!
Other ideas on how to use your engagement photos:
Using them on your wedding day's guest book.
Sharing online to announce your engagement!
Use them on your website or other social media platform you have.
They can be framed gifts to your family.
So, that is it. We hope you enjoyed our article here. And, we hope you found reasons why to have NYC engagement photos helpful.
Here are some other engagement photos done from our favorite places to do an engagement session in New York.
I've photographed just as many Engagement Sessions as I have weddings and I've learned what makes an engagement session go smoothly. I love to photograph these sessions, as this is a great way for me to learn more about you as a couple before your wedding day. Below are a few tips to help guide you for your engagement session.
1. Get beautified/groomed for your Engagement Session:
Fellas, make sure you're groomed and in tip-top shape when it comes to this shoot day. Don't wait for a close shave, because you can definitely see all the redness and little nicks if any, so try to do it the day before if possible.
Ladies, I highly recommend a blow out with a professional make up session. I recommend Beautini By B.Lo for all your hair and makeup needs! Not only can they travel to you at your home, hotel, or office, they also have a studio where they can see you at their location!
Those quick blow out salons can be tricky, sometimes they don't hold your hair well for long. I've been known to spend money on them and then come out with my hair already all out of style by the time I leave the salon. That's why I recommend a professional who knows how to keep your hair looking good all day long, especially for wedding days! The ONLY blow out salon I recommend is https://blomedry.com/ You can usually get a last-minute booking with them if you just want something quick and easy.
Wear a little bit more makeup than usual because if we're shooting outside, sometimes the natural light can get unpredictable. It's always a good idea to have a little bit of shine control and extra lipstick, just in case! Also, get your nails done just in case we shoot close-ups of your ring!
2. Coordinate Outfits for the Engagement Session:
This tip is overlooked often. When you get your photos back, you want to look at them and say "wow, we look so great". This doesn't mean the outfits have to be too coordinated with each other. it'll look awkward. I'm saying to wear a nice date outfit, something you don't wear every day. You will want to look your best because this is your chance to also have your families frame up all your photos too!
Guys, if you are wearing a shirt that can/needs to be tucked in, then make sure to wear a belt, otherwise, it won't look complete! Also please don't wear shorts or sandals for your engagement shoot, you can save that for a casual day spent with each other.
3. Plan Your Location for the Engagement Session:
It's imperative that we shoot in a location that has lots of beautiful natural light, or a place that holds meaning. Shooting outdoors is always fun but be mindful of the surroundings. Also, make sure that your outfits are appropriate for the weather. I want to be able to capture you and your partner in the best light and in order to do so, both of you should feel comfortable in the environment.
4. Relaxed and Have Fun for the Engagement Session:
It may seem slightly awkward at first, having me shoot you in an intimate setting or out in the open on the busy street. Trust is inherent here. The more you two are at ease, the more effortless and natural the photos will be. We'll have a lot of fun, making sure that it's not too posed or artificial.