20 Essential Jewish Wedding Traditions You Should Know
Whether you're religious or not, participating in Jewish wedding traditions is an experience of a lifetime! I get excited to photograph Jewish weddings because they're filled with deep intentionality and epic celebrations. It is such a beautiful and fun balance! 
What are some Jewish Wedding Traditions?
If you are unfamiliar with Judaism, it varies from Orthodox and traditional to modern. Knowing what to expect ahead of time will ensure that you aren't left in the dark. It will give you more confidence in celebrating a Jewish wedding, and who knows, the experience may compel you to learn even more about the faith and culture. Even some of my own friends have converted to Judaism because they are so into their religion!
Hachnasat Kallah
Traditionally, this was the bride's celebration where friends and family came in to celebrate with her. This happens before the ceremony, but now this may happen in conjunction with the Groom's Table (see below).
Tisch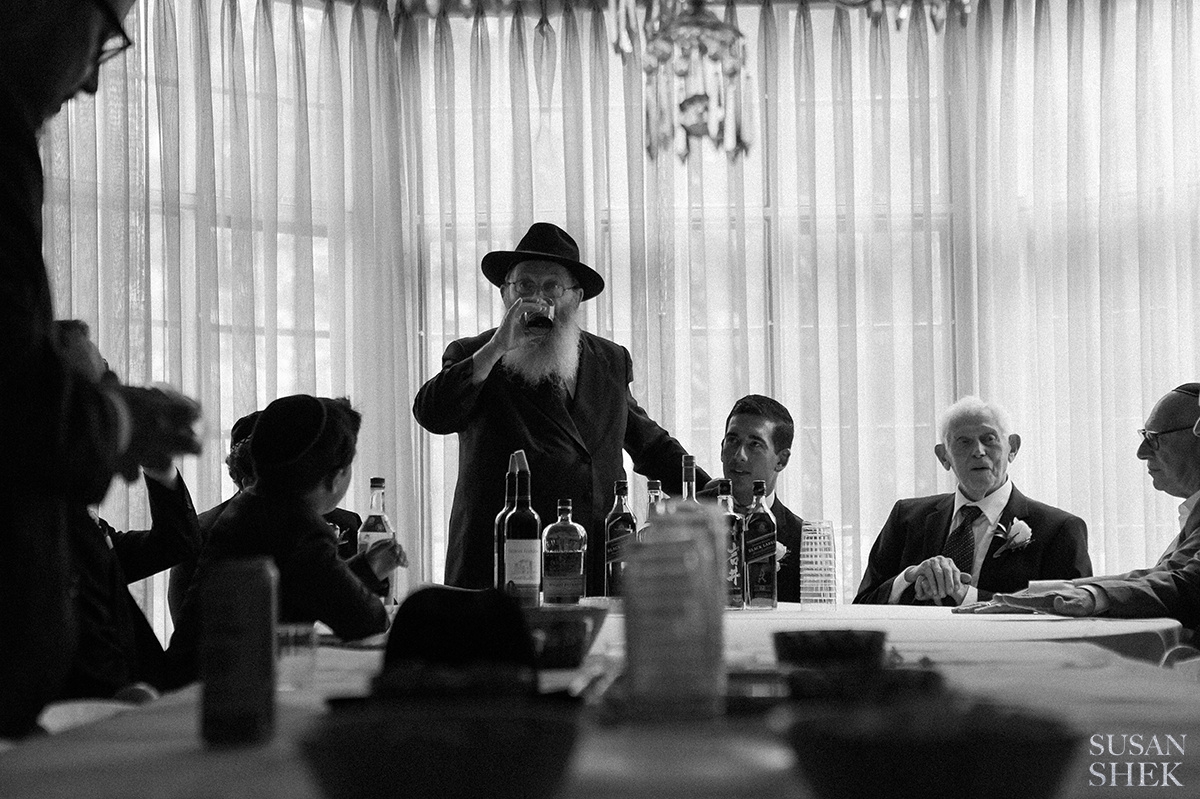 The Groom's Table is a place for pre-ceremony gatherings with food, drink, and festivities. The groom and men of the wedding party prepare together.
Fasting
Marriage is a symbolic covenant, so just like Yom Kippur, the Day of Atonement, some couples fast. Leading up to their first dinner together after the ceremony. This Jewish Wedding Tradition is not done too often, more in traditional weddings.
Bedeken
This is one of the most beautiful Jewish traditions. Similar to a First Look, the bedeken is the veiling of the bride by her groom-to-be. It's an intimate moment where the groom reverently covers her face with the veil. It is to symbolize that they are two distinct people even in marriage and that he values her inner beauty.
Ketubah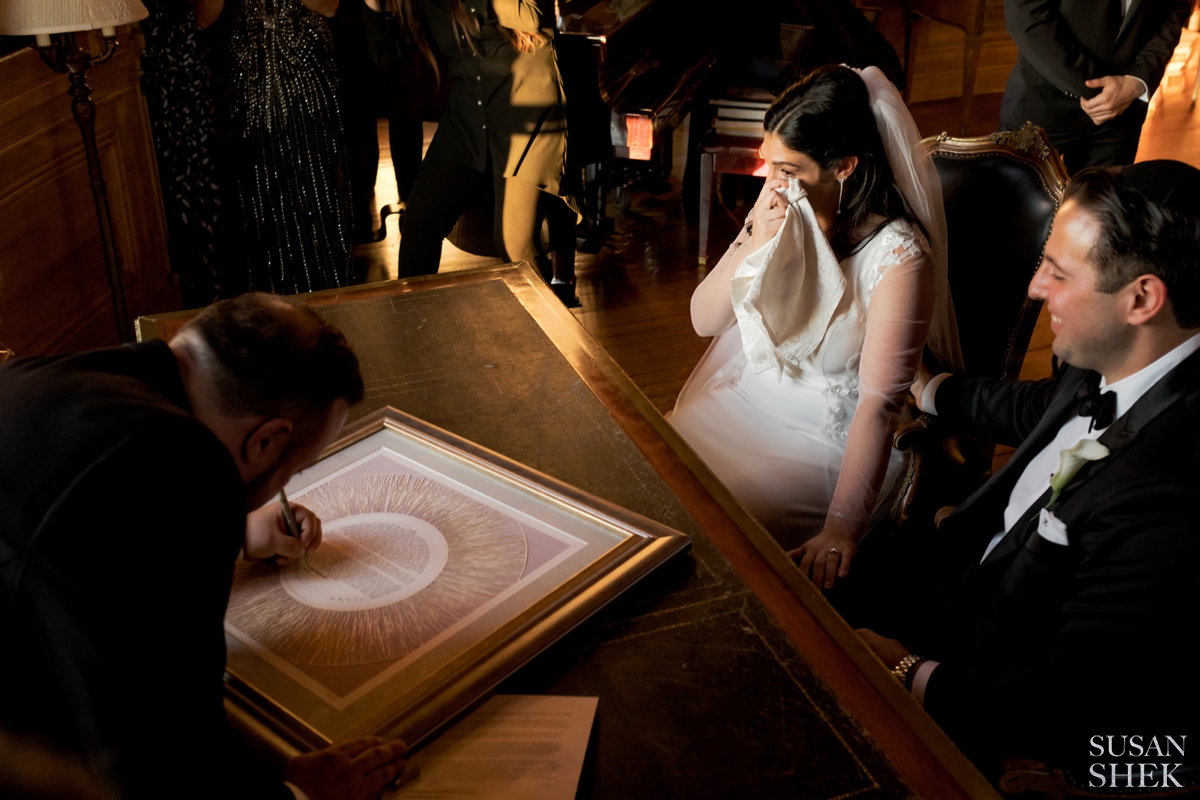 As one of the oldest Jewish traditions, this document is part of Jewish civil law. It outlines the bride and groom's responsibilities to one another. Similar to secular prenuptial, it is a legal document that describes various protections and rights. The document is signed before two witnesses and then read to guests before the ceremony.
Walk to the Chuppah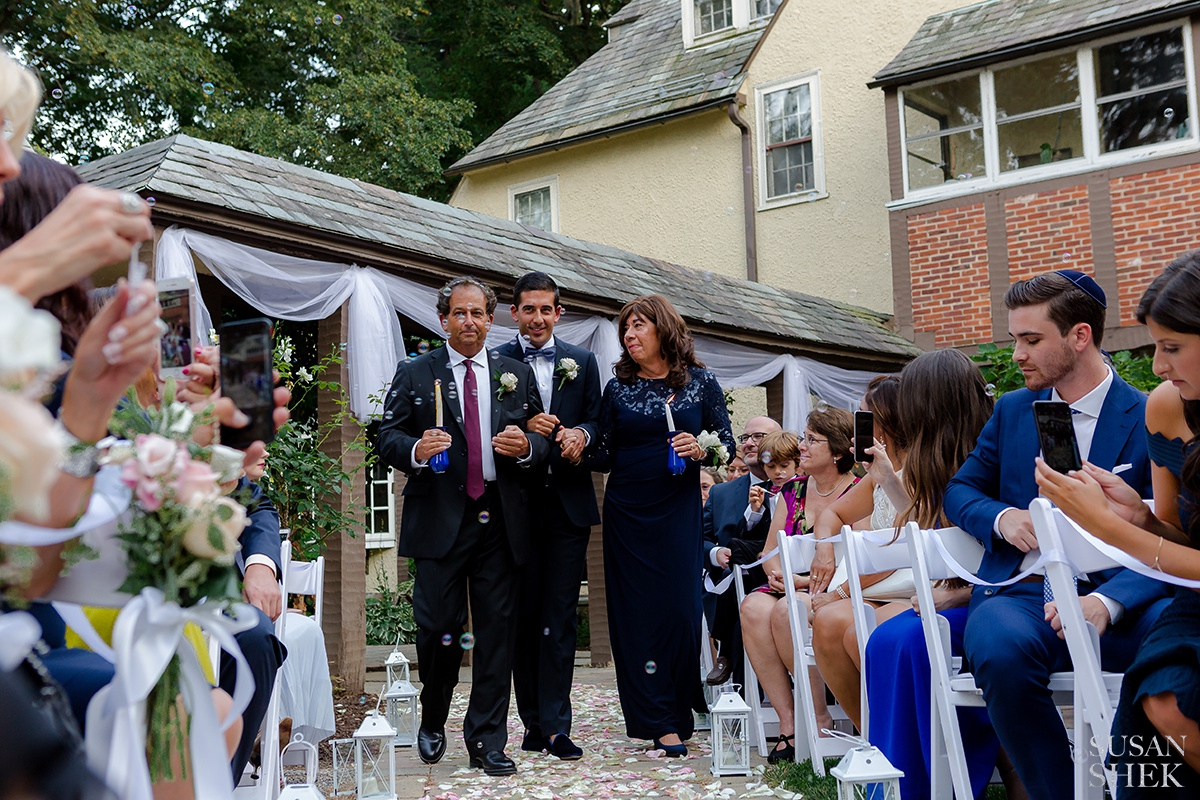 This is another sweet tradition where the groom's parents walk him to the chuppah – or alter. The bride and her parents follow soon after.
Vows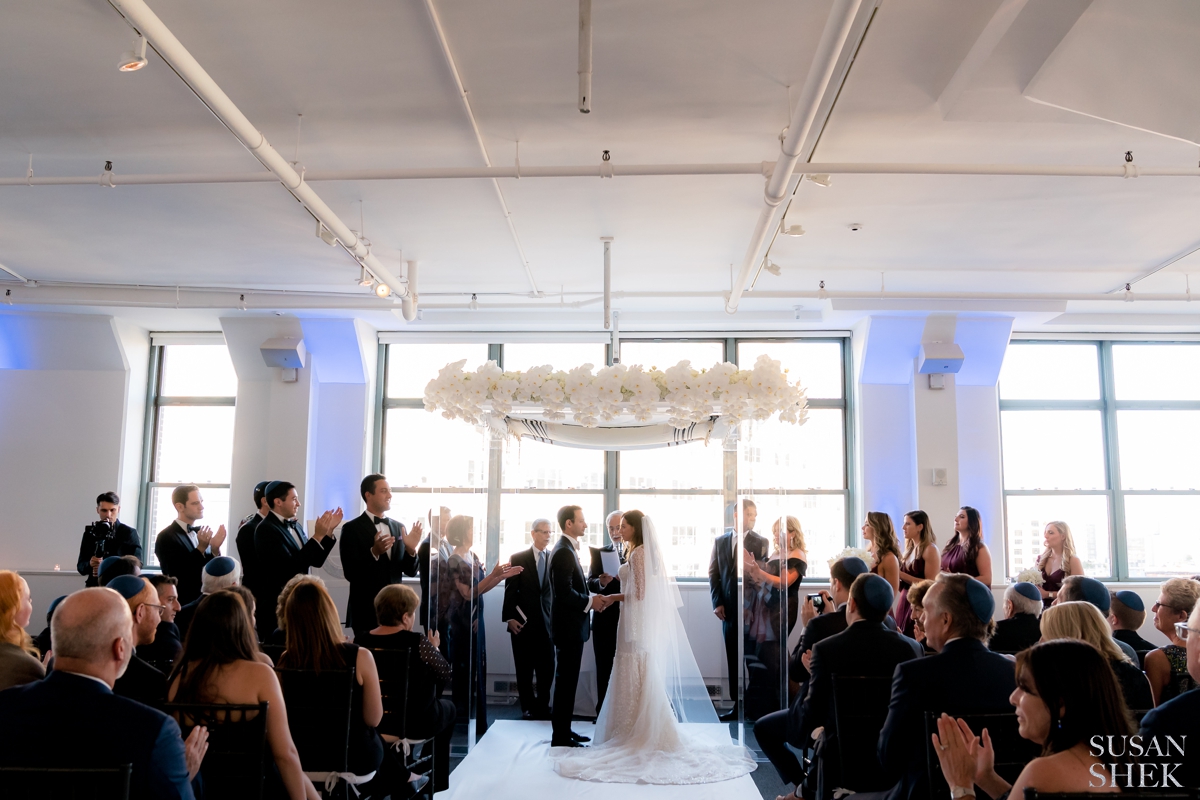 Just like any other wedding, the wedding ceremony consists of the couple exchanging vows under the chuppah (alter). However, a Jewish altar is very distinct. It has four corners like a roof symbolizing the new life together as a couple.
Circling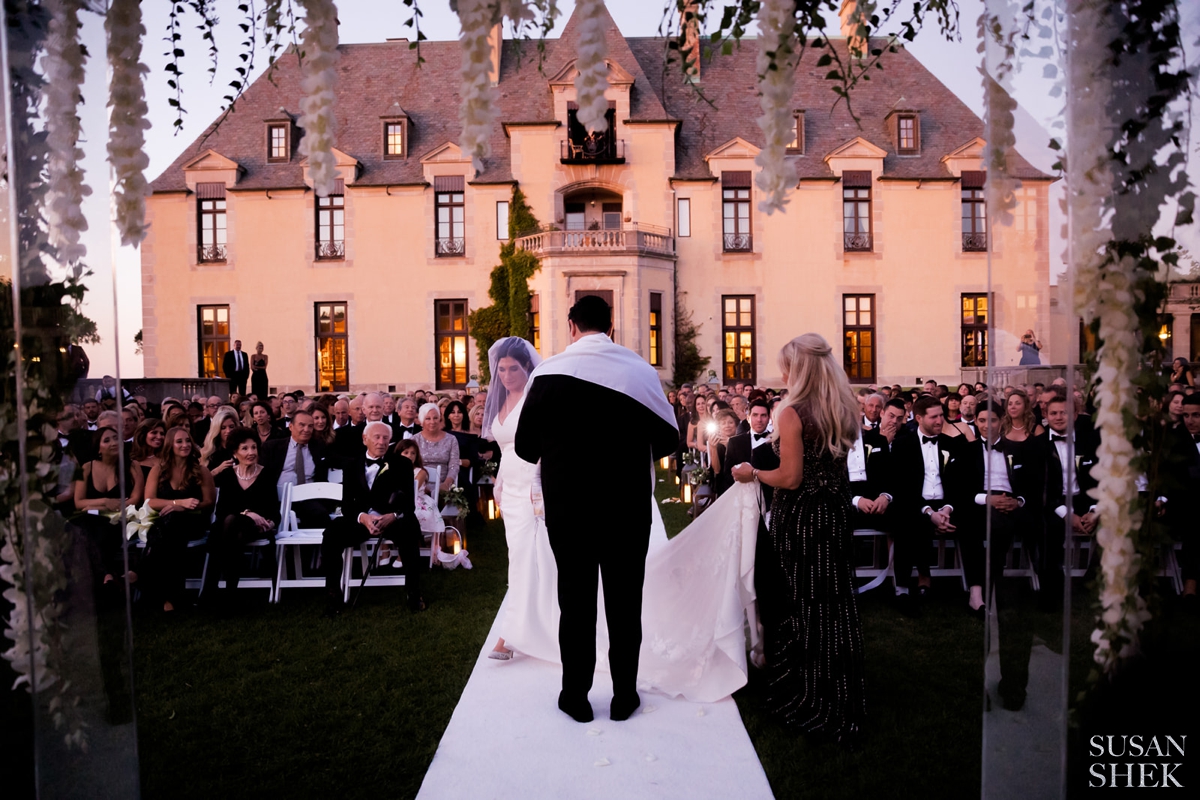 This has taken on many forms over the years. Traditionally, the bride would circle around her groom as protection from evil. Also, it can symbolize the creation of a new family and the couple may circle around together.
Erusin or Kiddushin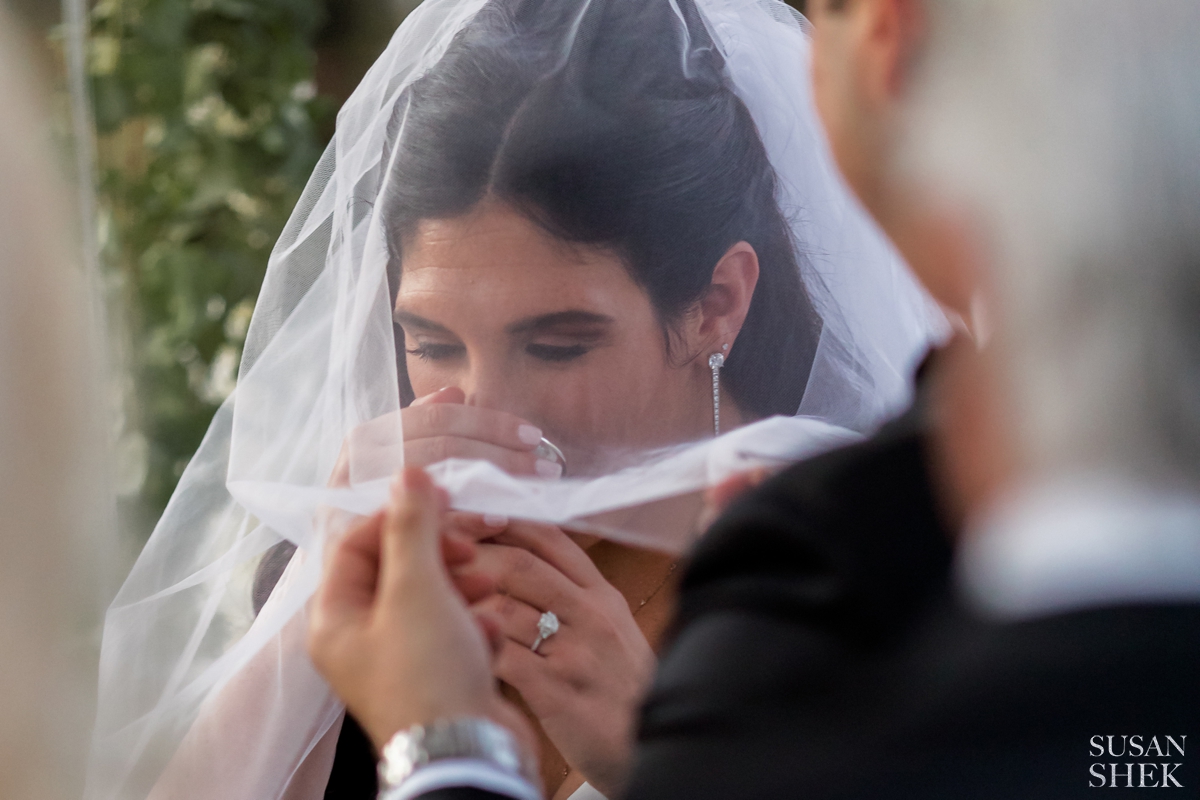 This is the actual betrothal part of the ceremony. They share a glass of wine and complete the ring consecrations.
Nissuin
The second part of the ceremony is where the nuptials are recited.
Sheva B'rachot: Seven Blessings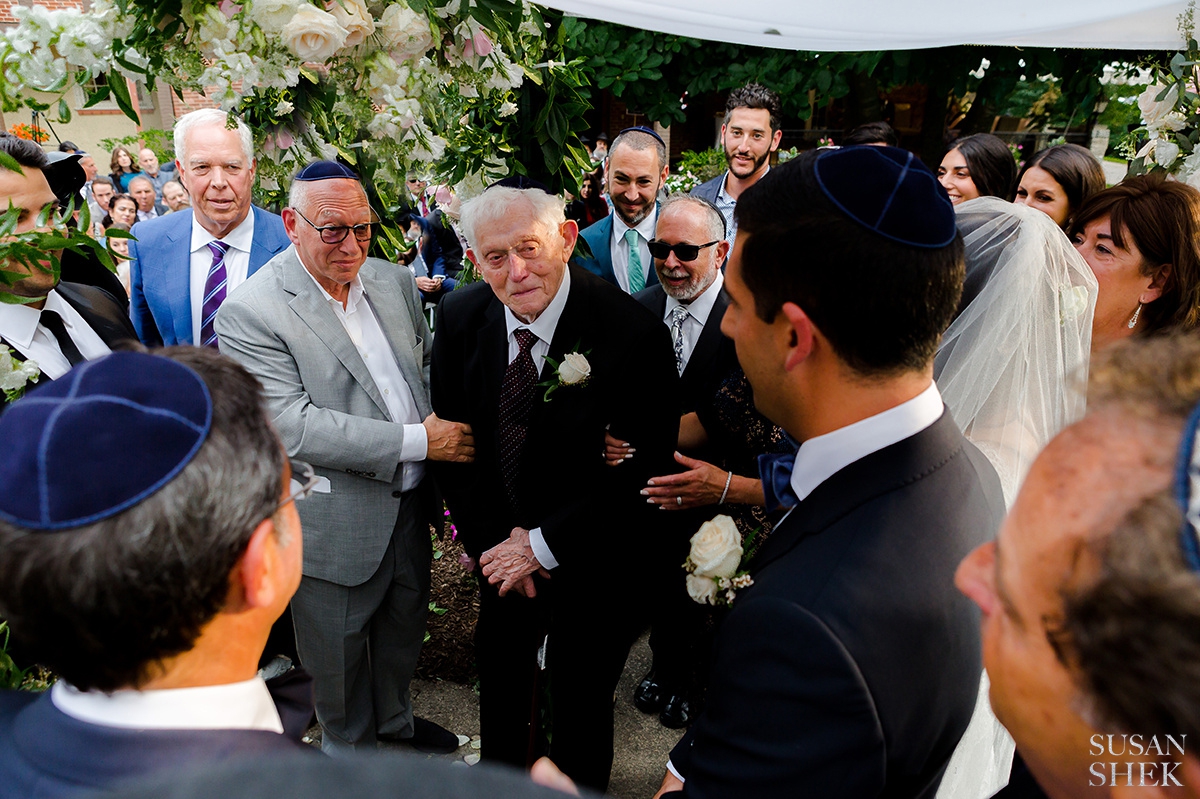 The seven blessings are an ancient ritual where family and friends can speak blessings. Sometimes (with wine) similar to non-religious toasts. They may be given in Hebrew and/or English.
Glass or Plate Breaking
This is one of the most well-known Jewish traditions. Most think it is celebratory, when in fact it may represent the destruction of the Temple. It is to symbolize that marriage has both difficult and joyful times.
Mazel Tov!
You've probably heard shouts of "Mazel tov!" at mitzvahs or weddings, but what does the cheer mean? In Yiddish, the direct translation is similar to "Good luck!" or "Congratulations!"
Yichud
This is a time set aside for the newlyweds to rejoice privately together – usually for about 20 minutes. They may enjoy their first meal or even a sweet bite together to relish the moment!
Hamotzi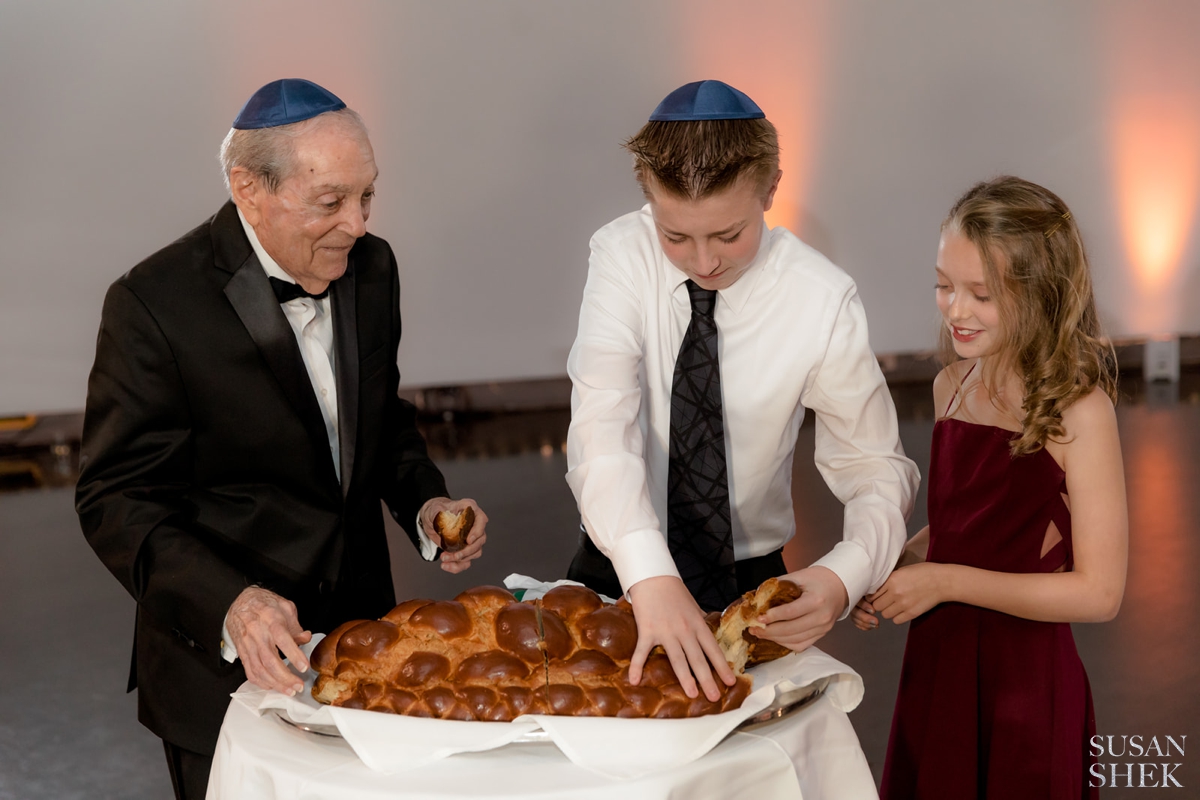 Blessings over challah bread. Usually performed by grandfather or uncles.
The Mizinke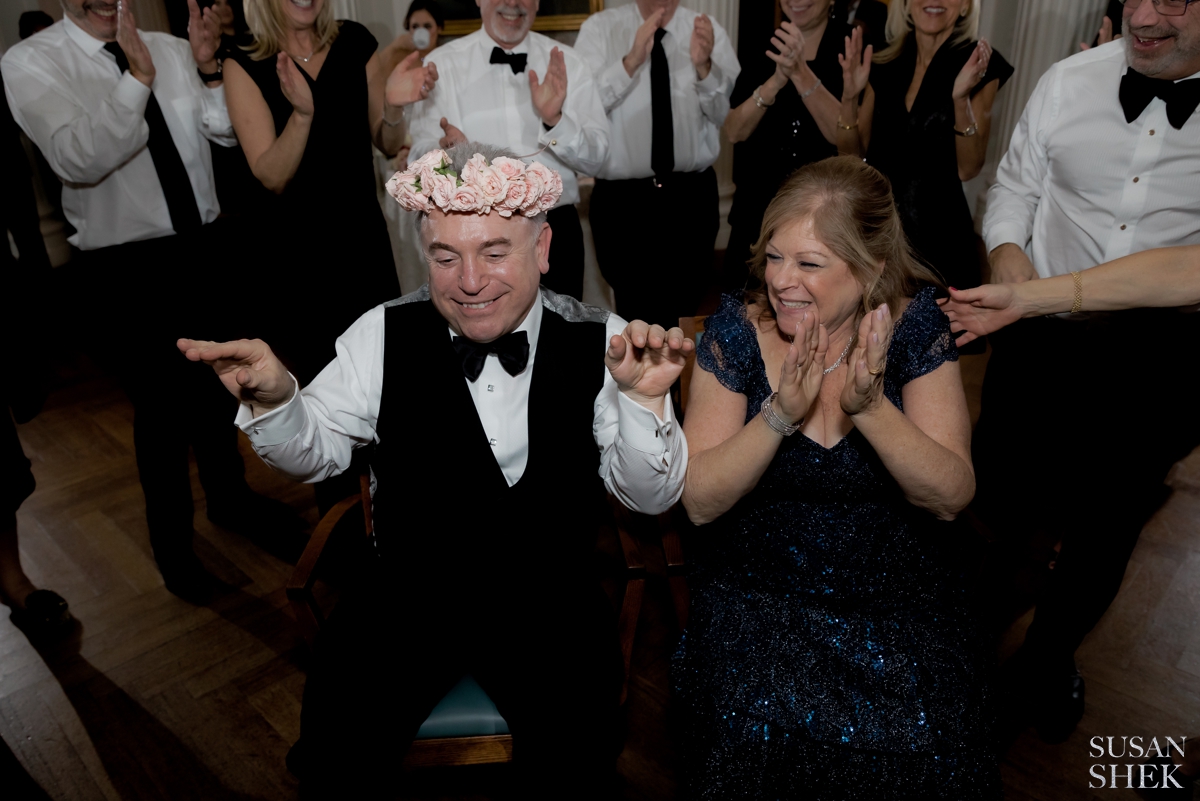 This Jewish Wedding Tradition is reserved for parents of the last child to be married. The parents sit in the center of the dance floor with crowns on their heads, while people dance around them and congratulate them. I personally love this Yiddish song of the Mizinke that Milla Jovovic sings! Her voice is so good!
Hora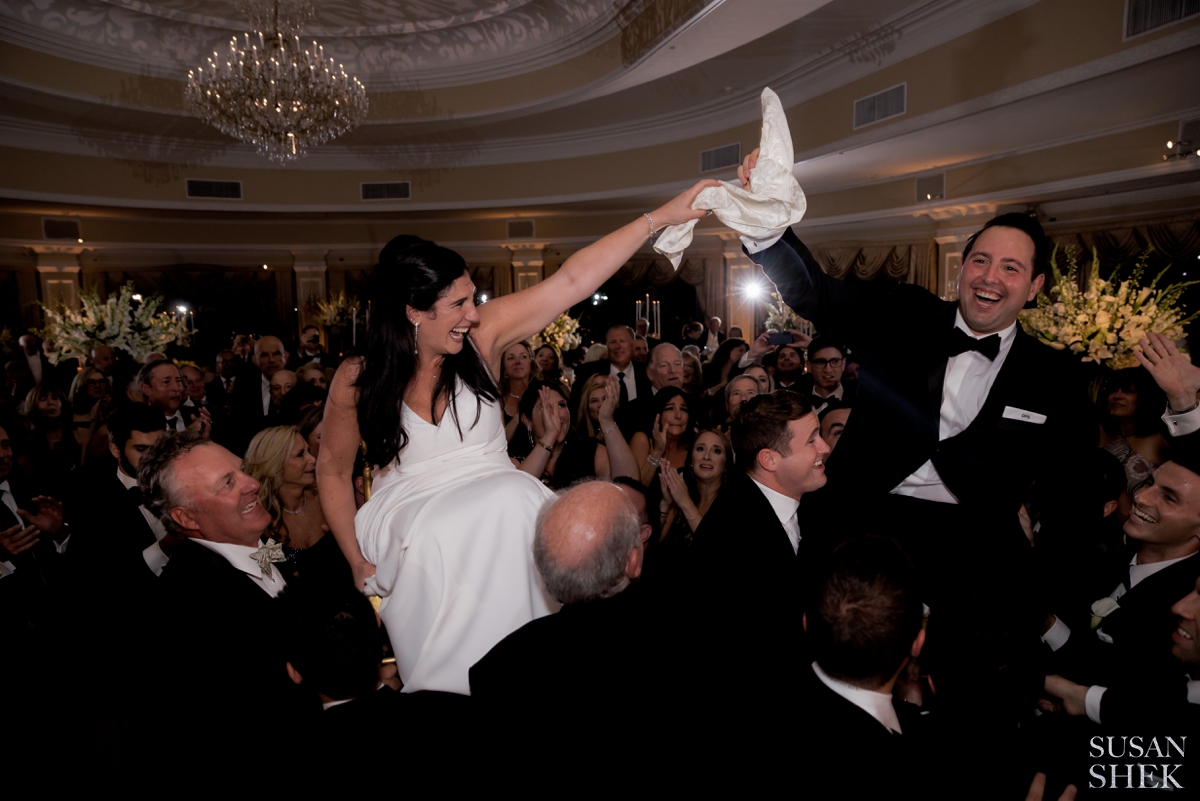 Get ready to dance the hora at a Jewish wedding reception. Everyone dances in a circle and lifts the bride and groom up in chairs in the middle of the circle. You might even see a few festive kicks in there. It's impossible to not join in on the fun!
Sherele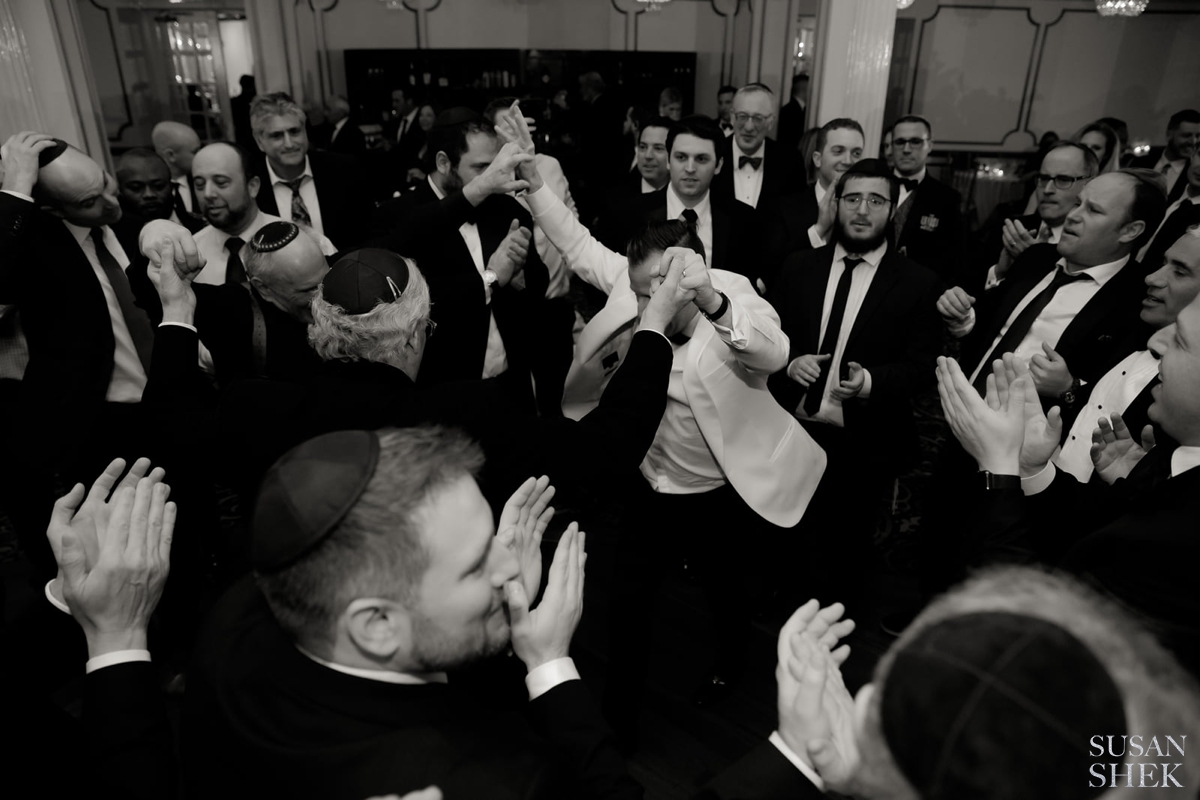 A fun "scissor-step" dance – similar to a quadrille – you might see at the reception.
Birkat Hamazon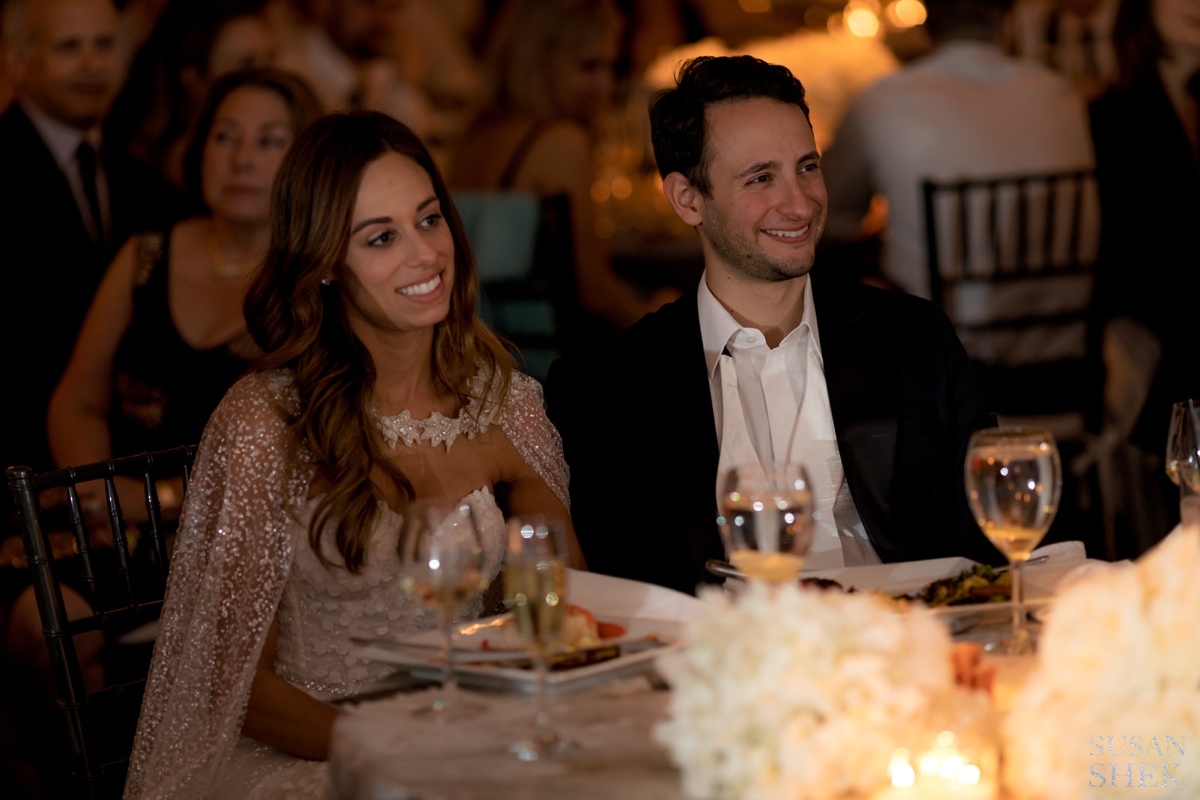 The grand finale! The reception's festive meal is concluded with blessings.
Final Toast
After blessings, the couples' glasses of wine are poured into a third glass to symbolize their marriage. Cheers to the newlyweds!
As a wedding photographer who has photographed tons of Jewish wedding traditions, I can answer any questions you may have or even photograph your big day!