How To Plan the Perfect Surprise Proposal in New York City
When you are ready to propose to your significant other, there is nothing more romantic than planning a surprise proposal. But how do you ensure your proposal is everything you have dreamed of?
Here are a few tips on how to plan a surprise proposal:
Talk to your partner's friends and family
Consider your partner
Keep it a secret!
Plan the perfect location
Choose the right photographer
Do a walkthrough
Have a backup plan
Look your best
Craft a speech or keep it short
Timing is everything!
Timing to keep in mind
Most experienced photographers are busy on the weekends (Especially on Saturdays). So try not to propose a Prime Saturday Date, as those dates tend to have the LEAST amount of availability, and crowds in the city can get pretty crazy. Also, whatever you book will be significantly higher, including restaurants.
Proposing to your loved one is a huge decision that should not be taken lightly. Getting all the details right can seem daunting, but with some planning assistance and help from your loved ones, you can pull off the perfect surprise proposal. From a photographer's point of view, there are some key things to keep in mind to ensure that your proposal is captured perfectly.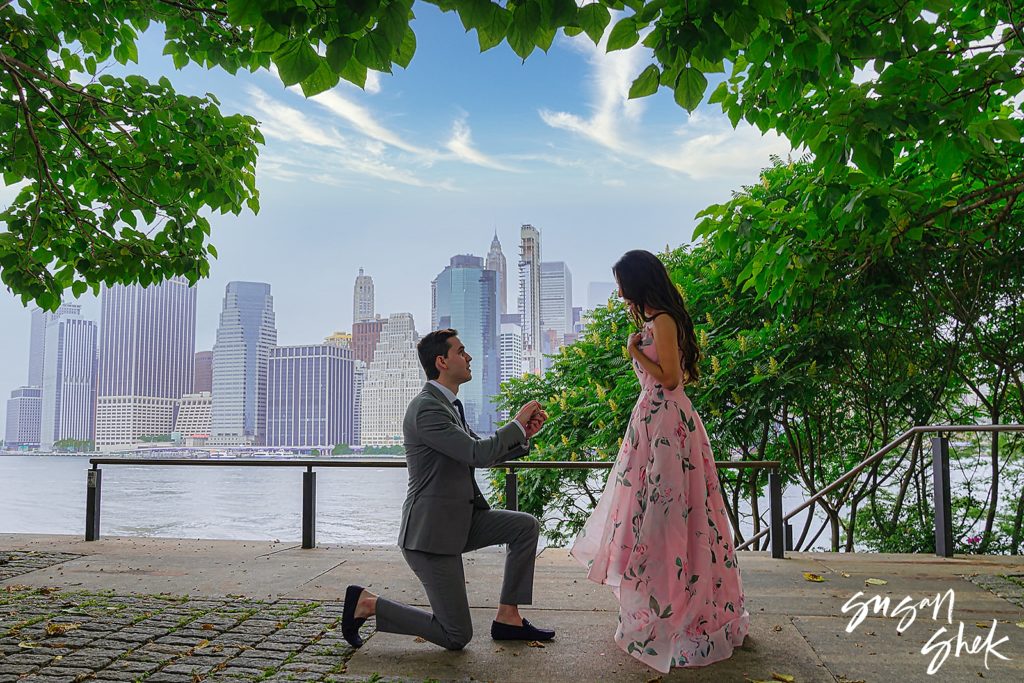 1. Talk to Your Partner's Friends and Family
Talking to your significant other's friends and family is a great way to get insight into the proposal and discover some key information you may not know! You can find out their ring size, what kind of jewelry they prefer, and most importantly, if they would even like a surprise proposal.
Get their opinion on the best way to propose, and find out if any sentimental places are meaningful to your partner. This will help you to get a better idea of how to make your proposal extra memorable.
2. Consider What Your Partner Would Want
Your proposal should reflect your relationship and what your partner loves. Think about what kind of things make them happy, and consider incorporating those into your proposal. If they love adventure, you might take them on a hike and propose to the top of a mountain. Or, if they are foodies, perhaps you can cook them dinner and hide the ring in a dessert.
For most of us, "How am I going to ask my significant other to marry me?" is the first thing that comes to mind when proposing. "How am I going to pop the question?" When thinking about the perfect idea, highlight the traits that make your relationship unique. Ask yourself:
What do you two like to do for fun?
Where were your favorite memories made?
What dreams do you have for your future together? 
3. Keep Your Perfect Idea a Secret!
Your idea is taking shape, and you are getting excited about finally asking your partner to marry you, but the element of surprise is key to a successful proposal, so make sure to keep your plans under wraps. If you tell too many people, the risk of word getting back to your partner and ruining the surprise is high. So, only confide in those you know can keep a secret.
The element of surprise is vital to a successful proposal, so make sure to keep your plans under wraps. If you are worried about forgetting details, you can enlist the help of a friend or family member to make sure everything is taken care of.
Keeping your secret may involve deception, but it will all be worth it when you see your partner's look of surprise and happiness. Maybe you say you are taking them on a getaway when you plan to propose. Or, you could pretend to be throwing a birthday party for someone else and then surprise your partner with a proposal. Or something that's more popular these days is saying you have a work event so they dress up for the occasion!
You might have a friend suggest that you all go on a double date. Then, when you are on the way to the date, you can get a text saying that the other couple has to back out at the last minute. Once that happens, you might continue the date since you're already on the way! This will give you a chance to propose in a more intimate setting.
No matter what route you decide to take, ensure that you and one or two trusted confidantes are the only ones who know about the proposal until it happens. This way, you can ensure that your partner is speechless. The ruse is just a chance for you to get creative and think about what they would believe the most!
4. Plan the Perfect Location
Choosing the perfect location is one of the most important aspects of planning a surprise proposal. This is where you will get down on one knee and pop the question, so it is essential to pick somewhere personal for both of you. Alternatively, you could choose a location significant to your partner's family or culture. It could be:
Where you first met
Went on your first date, or
Got engaged.
Choosing the right location is paramount. You'll want to pick a spot personal to you as a couple and somewhere you know your partner will love. A place with meaning will make the photos all the more special. Once you've decided on the location, scope it out beforehand to ensure no potential hazards could ruin your proposal.
5. Choose the right photographer
Choosing the right photographer is essential if you want to capture the moment of your proposal forever. Ask your friends and family for recommendations, or look for reviews online. Photographers can provide a discrete way to capture the proposal without spoiling the surprise.
Photographers have the opportunity to capture some of the most intimate and memorable moments in our lives. When planning a surprise proposal, it is essential to choose a photographer you trust to grab your moment the way you want it.
From style to price, lighting, composition, and more, there are a lot of factors to consider when choosing a photographer. Some photographers even specialize in candid proposal shots, so they will know how to blend in and capture all the special moments without being obtrusive.
Set up a consultation and look at their previous work. Asking questions about their process and what to expect on the day will help you feel more confident about your decision. Once you have found someone whose work you love, discuss your plans in detail so they can be prepared for the day.
6. Do a walkthrough with your photographer
Before the big day, doing a walkthrough of the location with your photographer is a good idea. This will help them understand the layout and find the best photo spots. It will also allow you to discuss your plans in more detail and ensure everything is perfect.
During the walkthrough, show your photographer any specific spots important to you. This could be where you met, had your first kiss, or other significant places in your relationship. You might also want to point out potential hazards, such as stairs, people walking by, or anything else that could ruin the moment.
7. Have a backup plan
No matter how much you plan, there is always a chance that something could go wrong on the day of your proposal. For this reason, it is essential to have a backup plan. This could be as simple as having a friend on standby to help with any last-minute problems or choosing an alternative location in unfavorable weather.
8. Make sure you're both looking your best
On the day of your proposal, ensuring that you and your partner look your best is essential. This doesn't mean you need to wear a tuxedo or a ballgown; make a relaxing day out of getting ready together. Have a leisurely breakfast, walk in the park, and get pampered. This will help you relax and feel confident when it comes time to ask questions.
On the day of the surprise proposal, take some time for yourself. This will let you feel relaxed, calm, and collected that evening. On that note, your outfit should reflect the best pieces of your personality.
Note the emphasis on "your!" It isn't about putting on a façad; it is about asking your favorite person to spend the rest of your lives together. So wear what reflects who you are. Close-up shots of the ring may look best if your nails are clean and manicured. A clear coat or nude shade will suffice if you don't typically wear nail polish.
9. Craft a speech or keep it short
Writing your proposal speech may seem daunting, but it doesn't have to be. Just think about what you want to say and why you want to say it. Keep it short and sweet, and ensure your intention comes across clearly.
Your proposal speech should be personal and unique to your relationship. Avoid cliches such as "I can't imagine my life without you" or "you complete me." Instead, focus on speaking from the heart and sharing your true feelings.
On the other hand, your proposal speech doesn't have to be a speech at all. If you're not the best at public speaking, tell your partner how much you love them and why you want to spend the rest of your life with them. Sometimes, the most straightforward words are the most effective.
10. Timing is Everything!
Timing is everything for your proposal. If your partner wants to get married in the Fall, proposing in July may not be the best timing. That means you will throw a wedding together in two months or stay engaged much longer.
One thing to consider is the difference in timing between weekday and weekend surprise proposals. If you're in a pinch, proposing on a weekday vs. a weekend is preferable. NYC Venues, photographers, and even florists may offer weekday specials.
If you're traveling to propose, ensure everything is organized and booked. This includes flights, hotels, car rentals, and anything else you may need. The last thing you want is to scramble to find a place to stay or miss your flight because you didn't plan.
Keep in mind how much traveling can take a toll on you. If you're flying cross-country or internationally, ensure you're well-rested before the proposal. You don't want to be so exhausted that you can't enjoy the moment.
Conclusion
Planning a surprise proposal can be a lot of work and an enriching experience. Even if it's a simple proposal at home, it's still a memory your significant other will want to relive repeatedly. We always suggest hiring a professional photographer to remember your special day in the best light, with the perfect angle and composition.
Inquire
Featured on HowTheyAsked.com