101 Engagement Photo Ideas From Real Couples
Engagement photo shoots are a significant part of commencing your journey toward wedding planning. An engagement session helps you become comfortable in front of the camera before the big day while building a connection with your photographer. It's important to choose a photographer who you feel at ease with. Consider scheduling your engagement photos right after getting engaged so that you can announce your engagement. Here are the top places in NYC for engagement photos.
Contact me for more information.
1. Arabica Coffee Shop Engagement Photos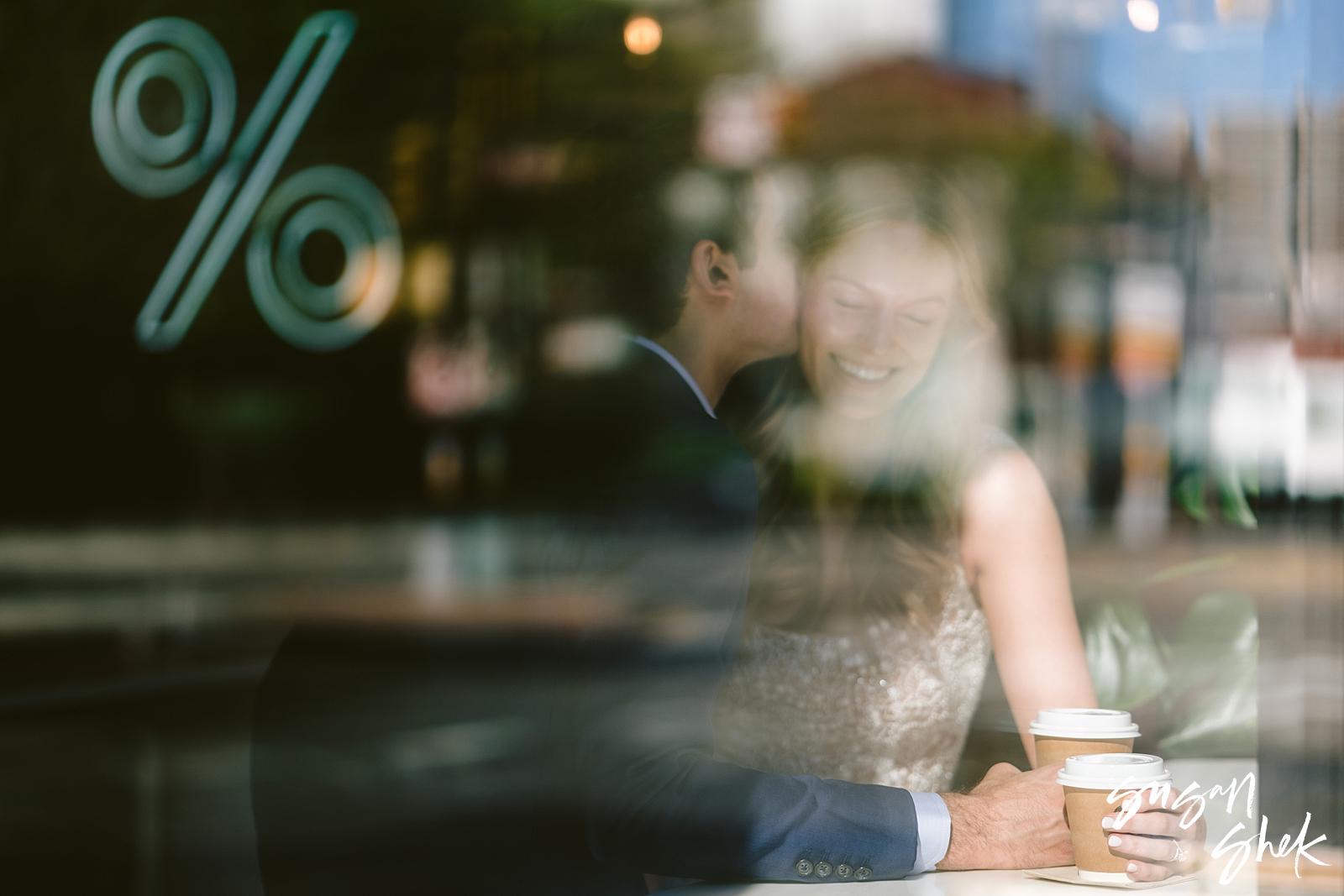 2. Top Of The Rock Indoor
The Top of the Rock Observation Deck at 30 Rockefeller is a top spot for engagement photos. With 360-degree views of NYC, it provides the city's finest views.
3. The Arches at Central Park
The Bethesda Arcade, known as the Bethesda Arches, is on a site once occupied by an arch or stone bridge built in 1675. It makes for a perfect spot for engagement photos.
4. The Loeb Boathouse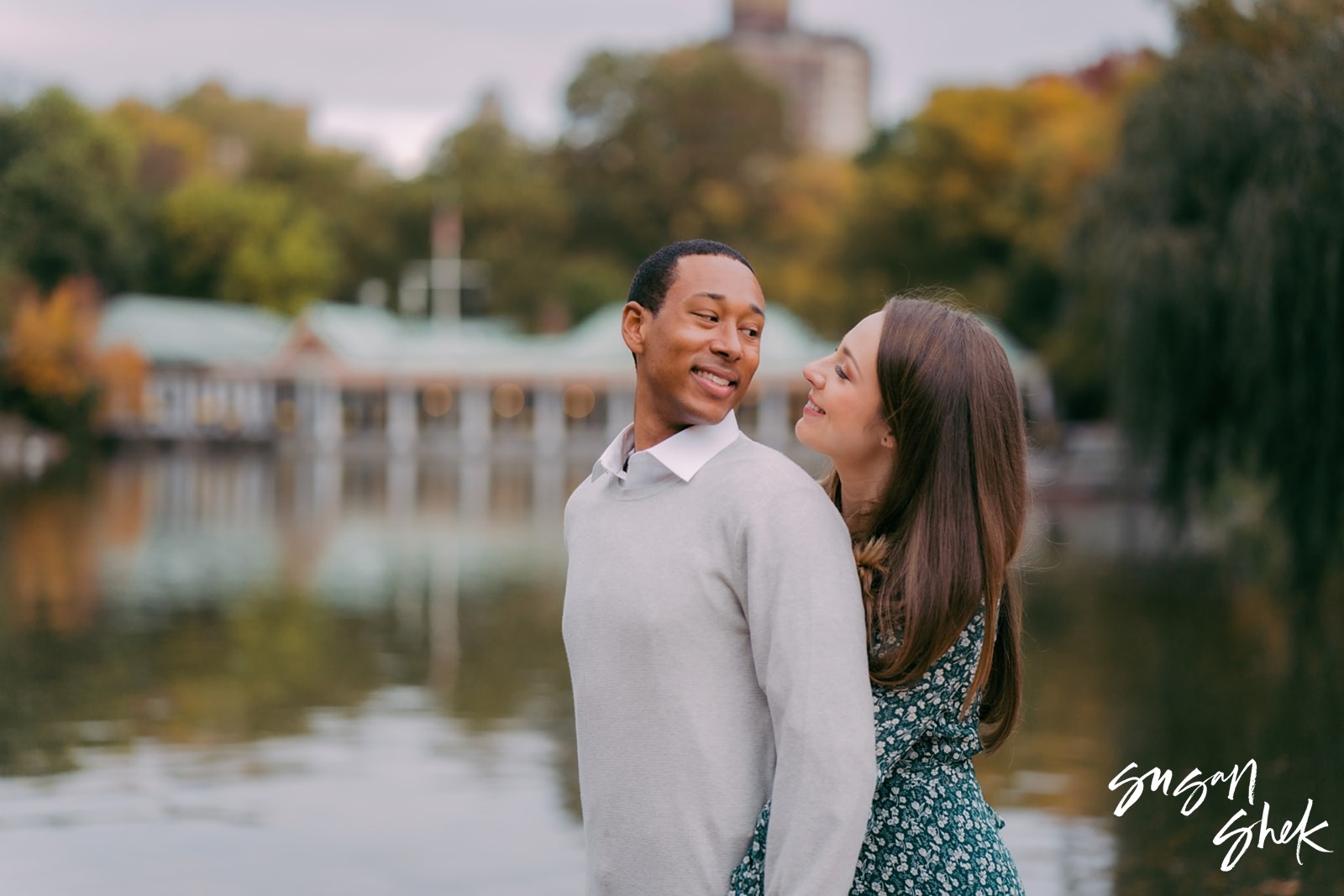 The Loeb Boathouse, conveniently located in the heart of Central Park, offers rowboats and is a great place to people-watch.
5. Gondola in Central Park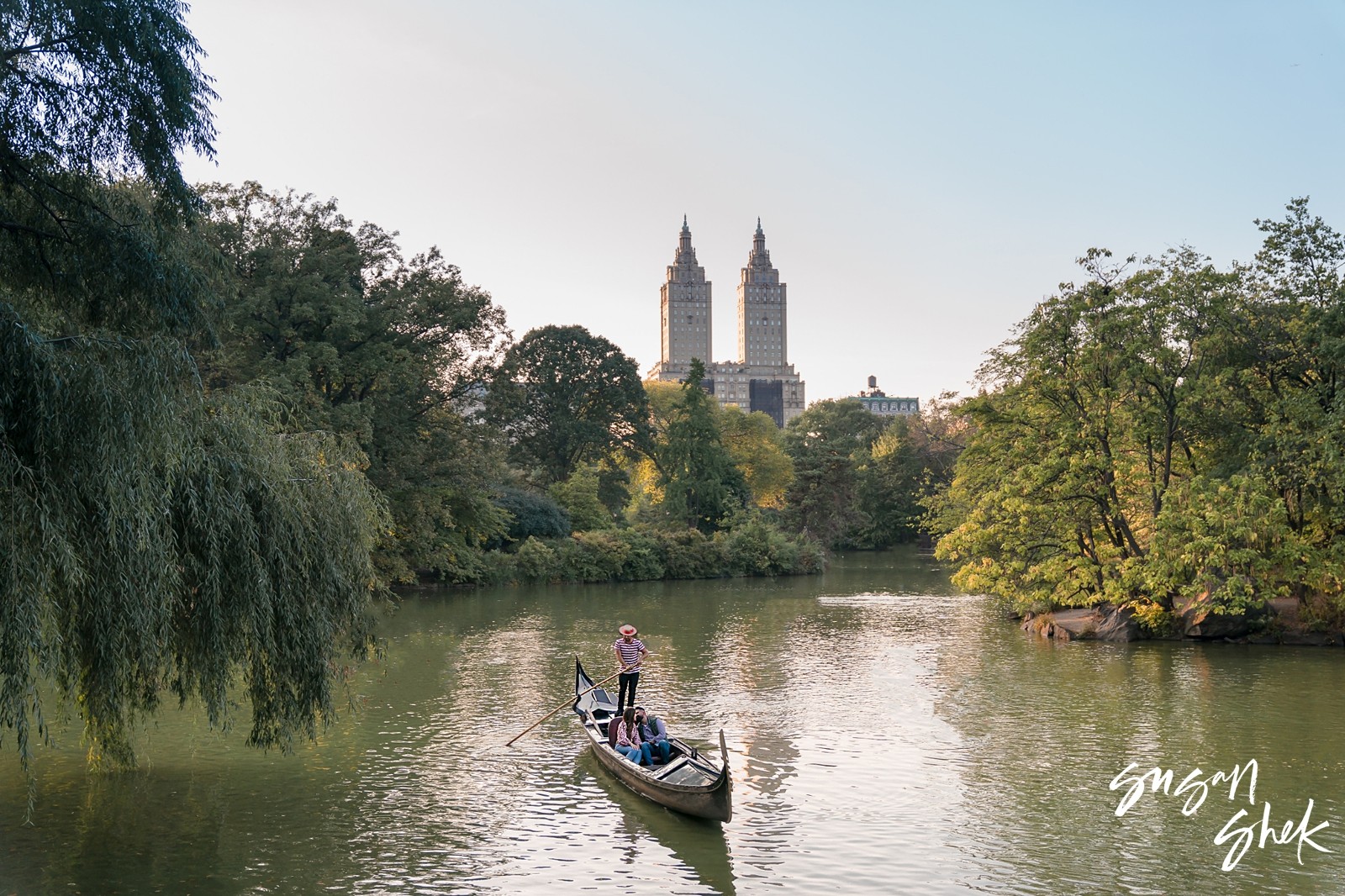 6. Mall and Literary Walk in Central Park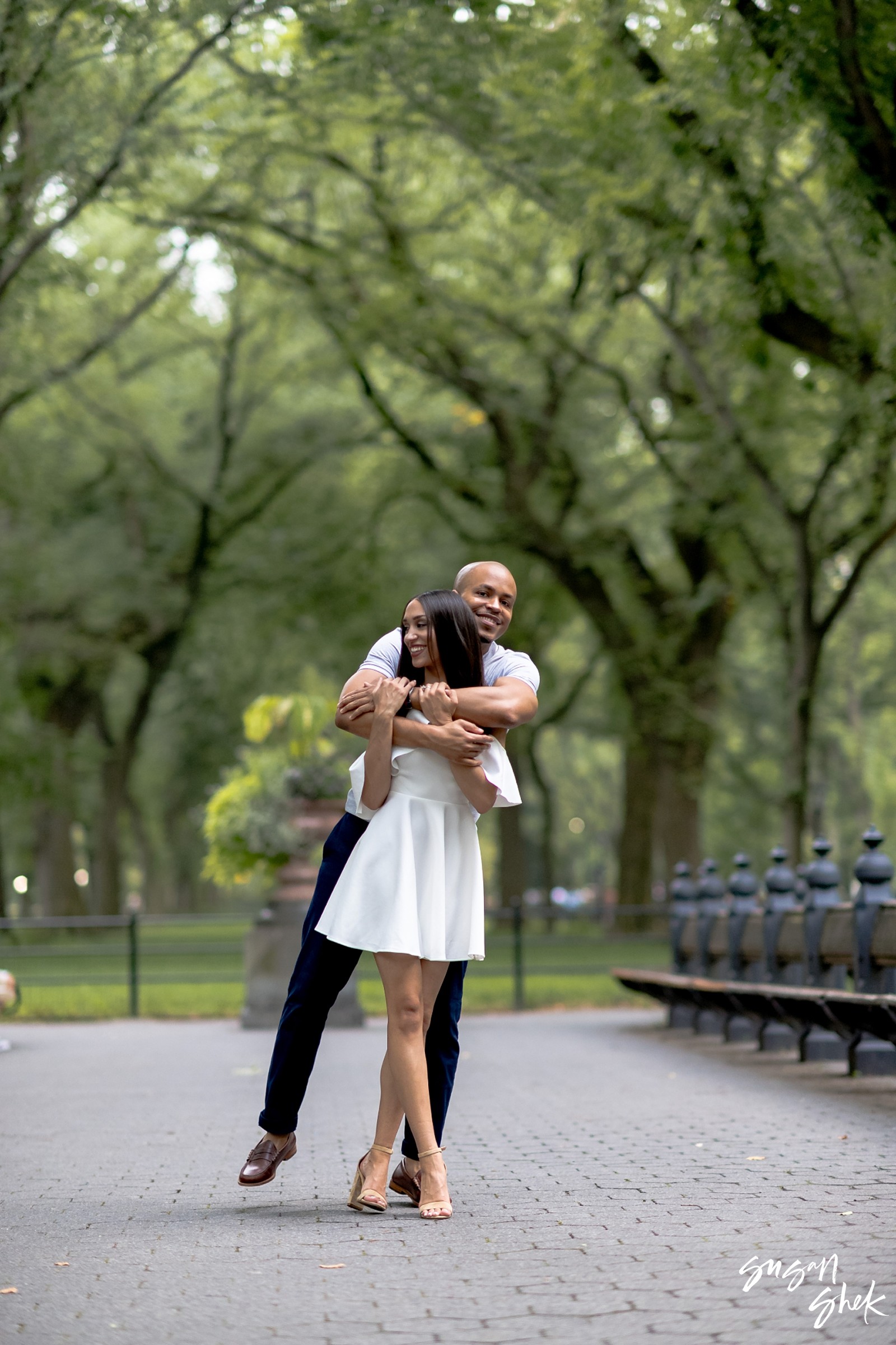 As the main entrance to Central Park, you'll find the Mall stretching from East to West. It's a space where people can stroll or run, offering a magnificent view of the Lake.
7. Bow Bridge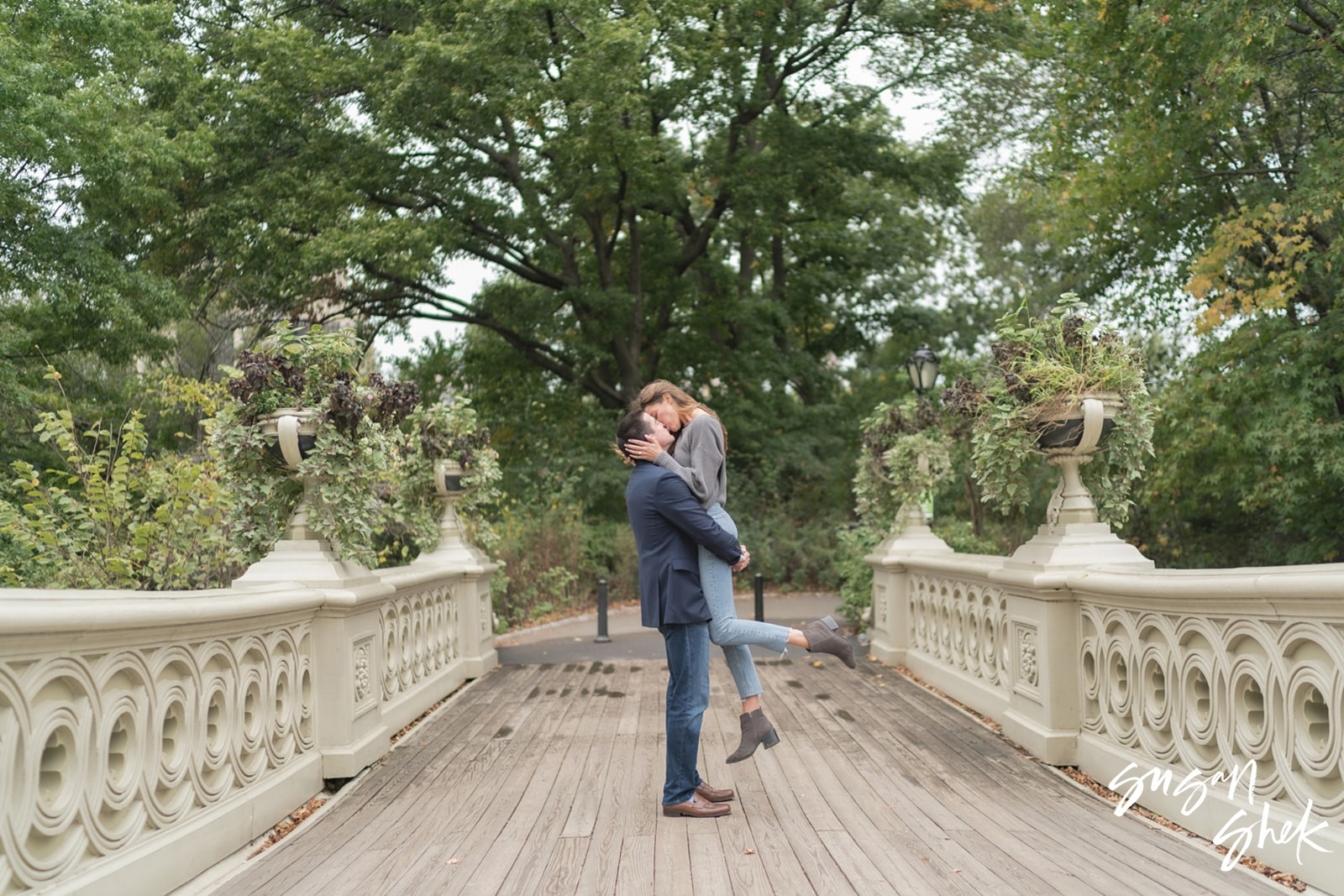 Bow Bridge is a two-sided bridge that crosses an inlet in Central Park, which runs east to west and bisects the land of Manhattan Island for approximately 1,200 feet. The bridge was constructed from 1859 to 1862 and is one-third a mile long.
8. Gapstow Bridge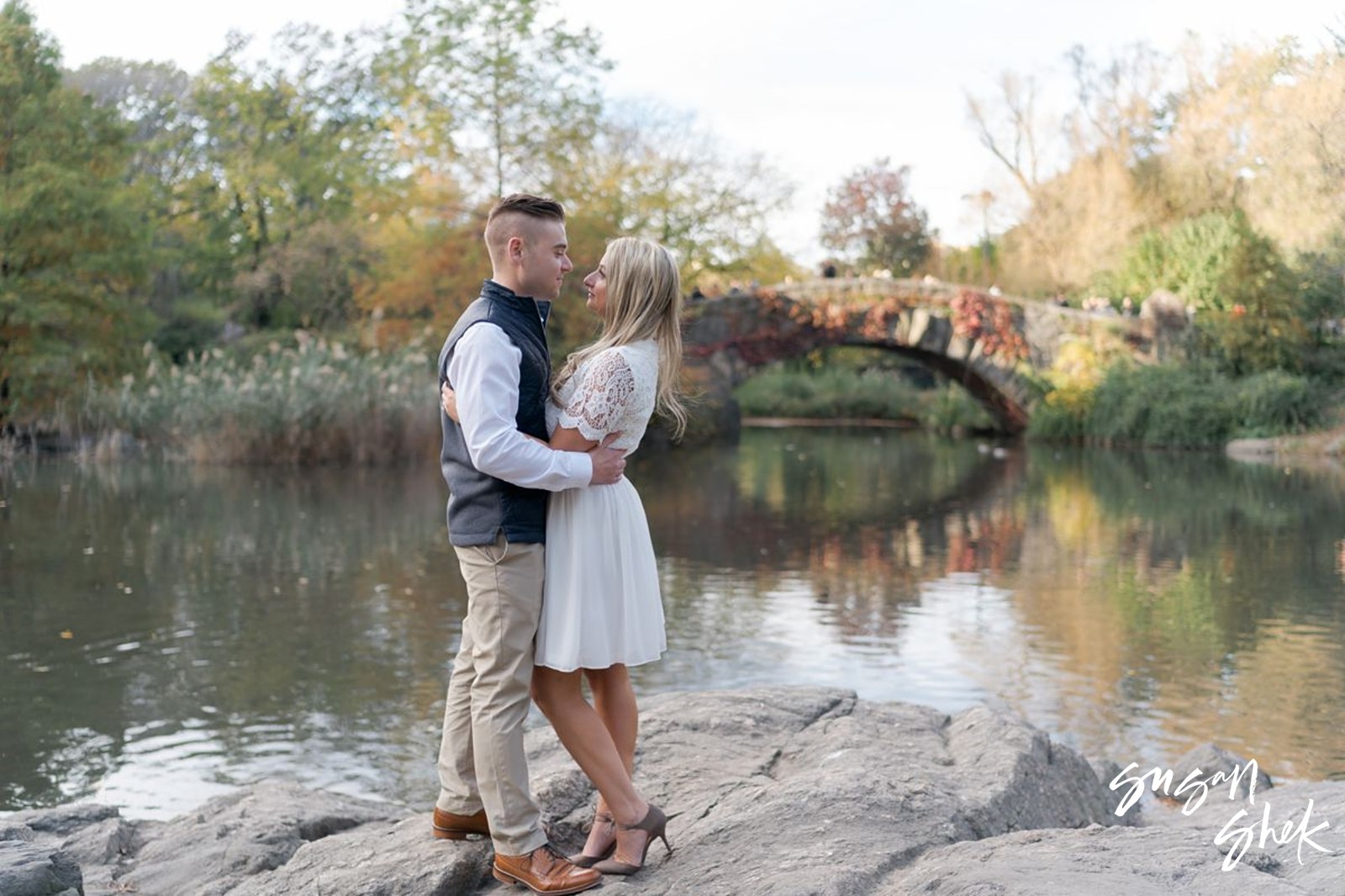 The iconic Gapstow Bridge in Central Park is a pedestrian bridge built to span the narrow valley that separates the two mountains flanking the eastern edge of the park's Great Lawn. Today it serves as a pedestrian path and one of the most popular jogs in all of Central Park. Many proposals take place here, and it is an excellent view of Billionaires Row and the Plaza Hotel.
9. Gothic Bridge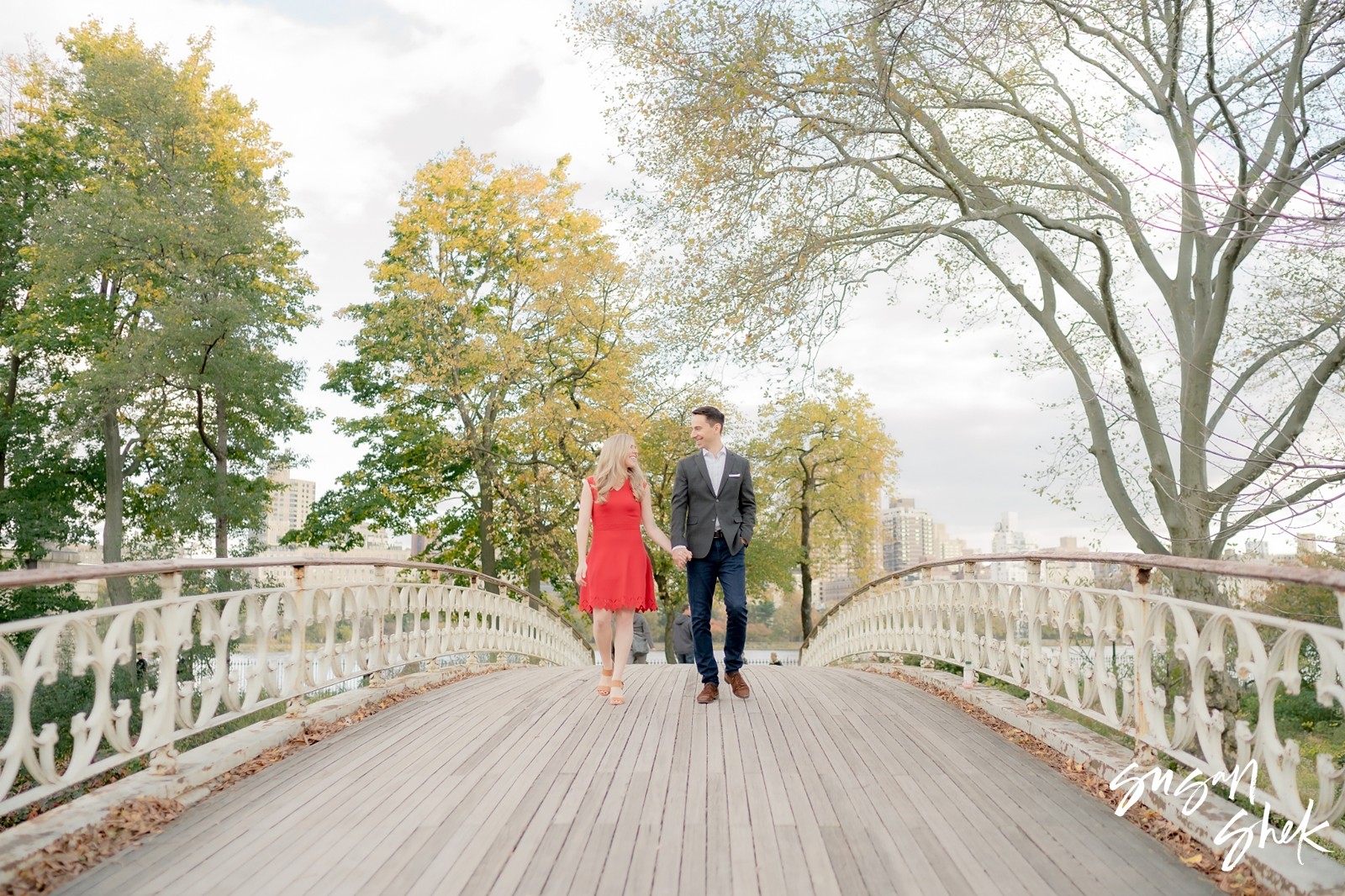 The Bridge is one of the most beloved attractions in Central Park.
10. Pine Bank Bridge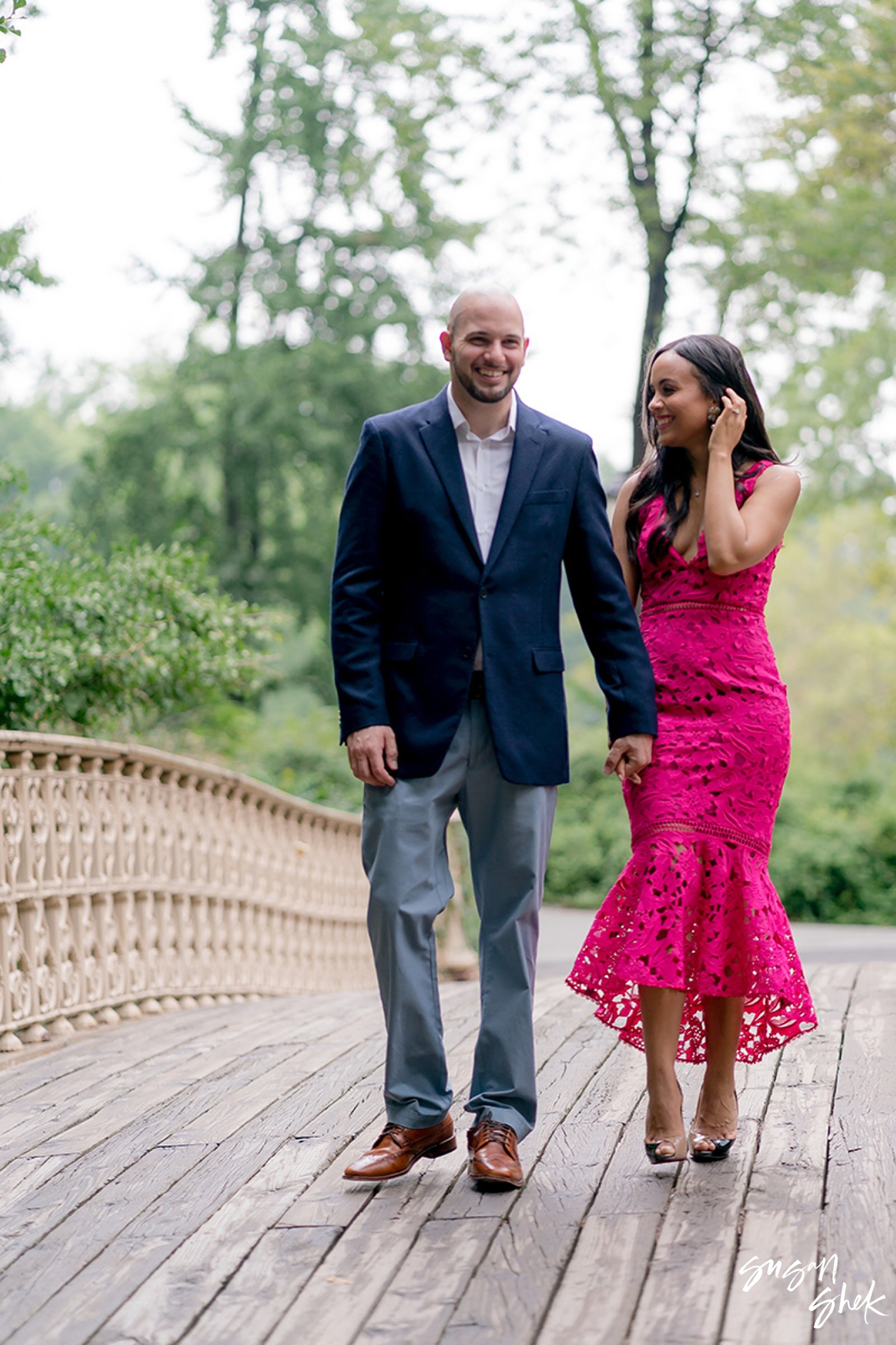 The Pine Bank Bridge, the oldest bridge in Central Park, connects the park's 7-mile-long West Drive with its eastward counterpart, the Fifty-Ninth Street Road. Its name derives from this bridge spanning one of New York City's last remaining sections of pine forest.
11. Shakespeare Garden
12. Belvedere Castle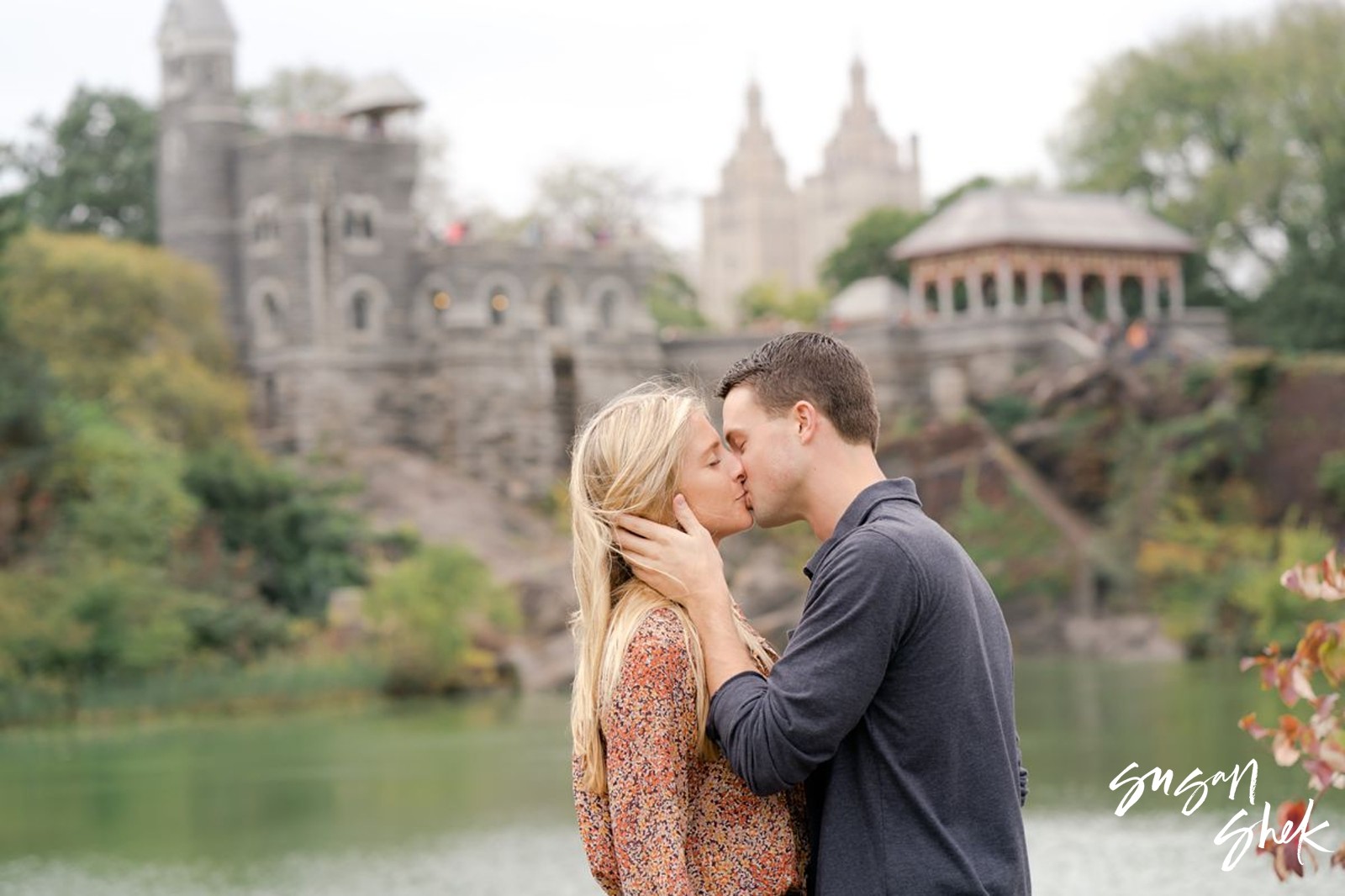 Ascend the magnificent stone staircase of Belvedere Castle for sweeping views that will take your breath away.
13. Cop Cot
Cop Cot is a wooden structure built inside Central Park atop a hill facing the park's south side. Romantic for photos of an engagement shoot or even host weddings inside or outside for a natural organic look.
14. Bethesda Fountain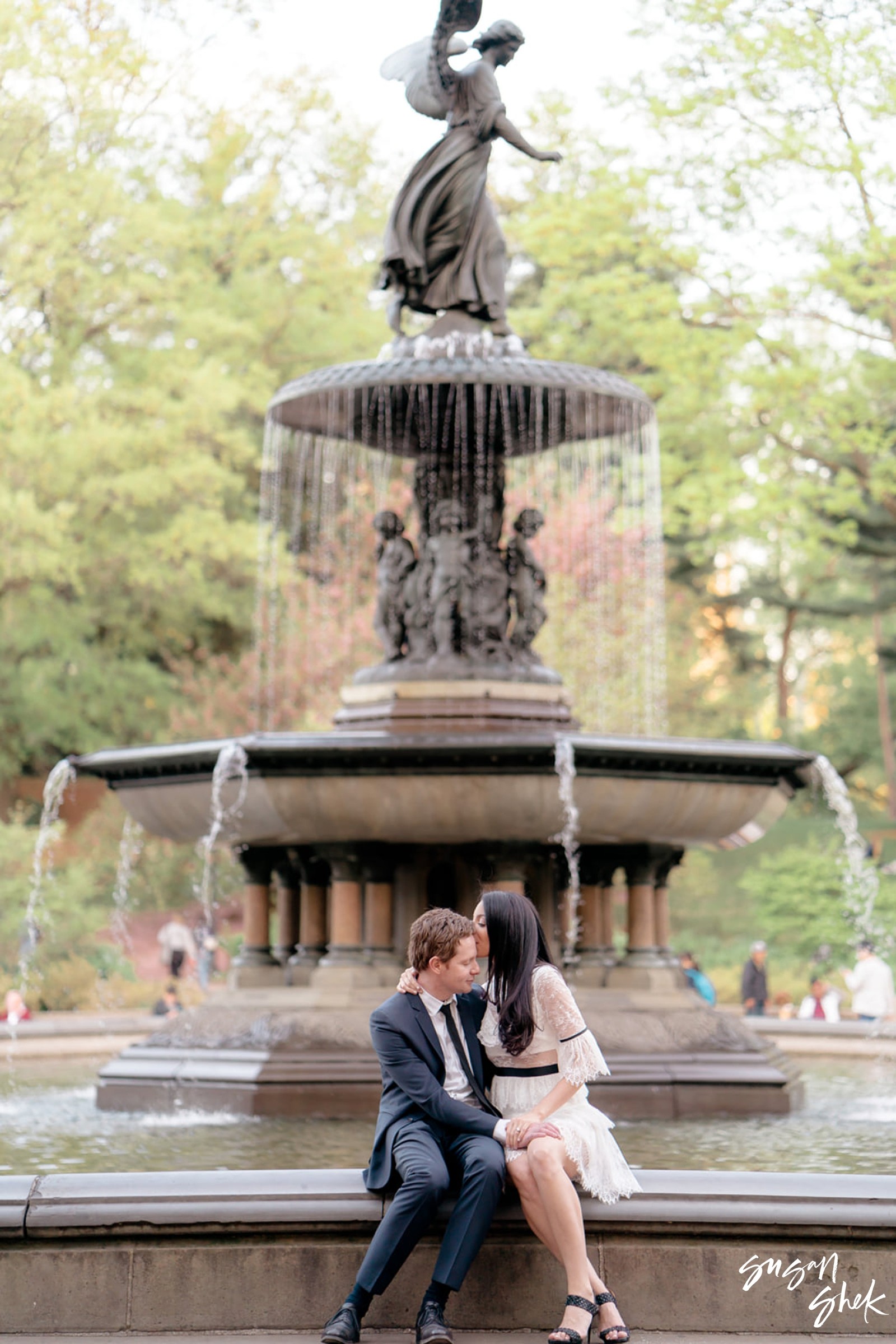 The picturesque Bethesda Fountain is one of the most photographed sites in Central Park. The fountain, donated by William Conway, was erected in 1859 and has been the site of countless weddings and a favorite backdrop for television and film directors.
15. Trefoil Arch
Trefoil Arch is an underpass surrounded by beautiful lush greenery, making it a picturesque location in Central Park.
16. Inscope Arch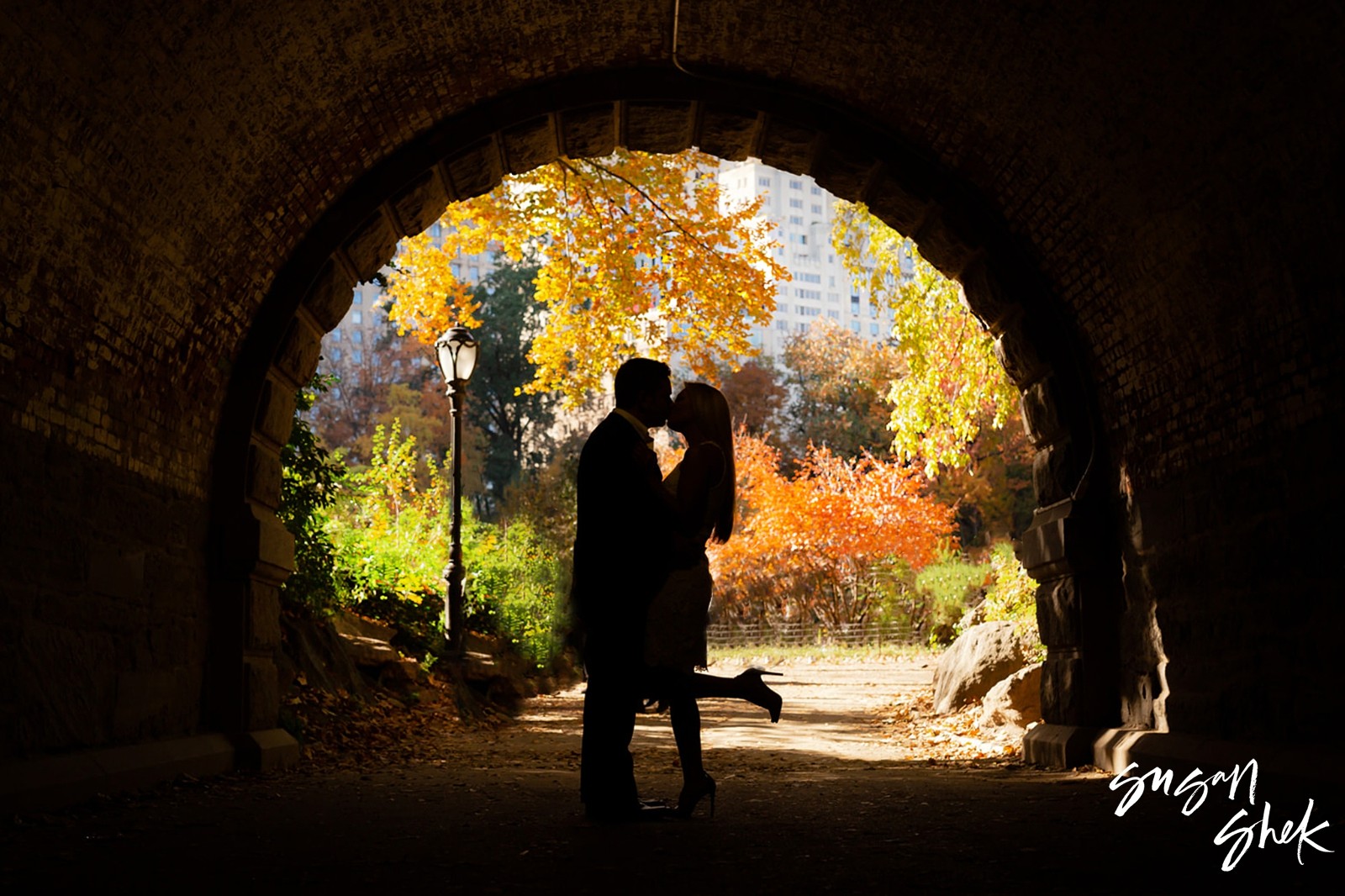 Inscope Arch is close to the south side of Central Park. It connects the pond area of Gapstow Bridge with the east side near the Zoo.
17. 620 Loft and Garden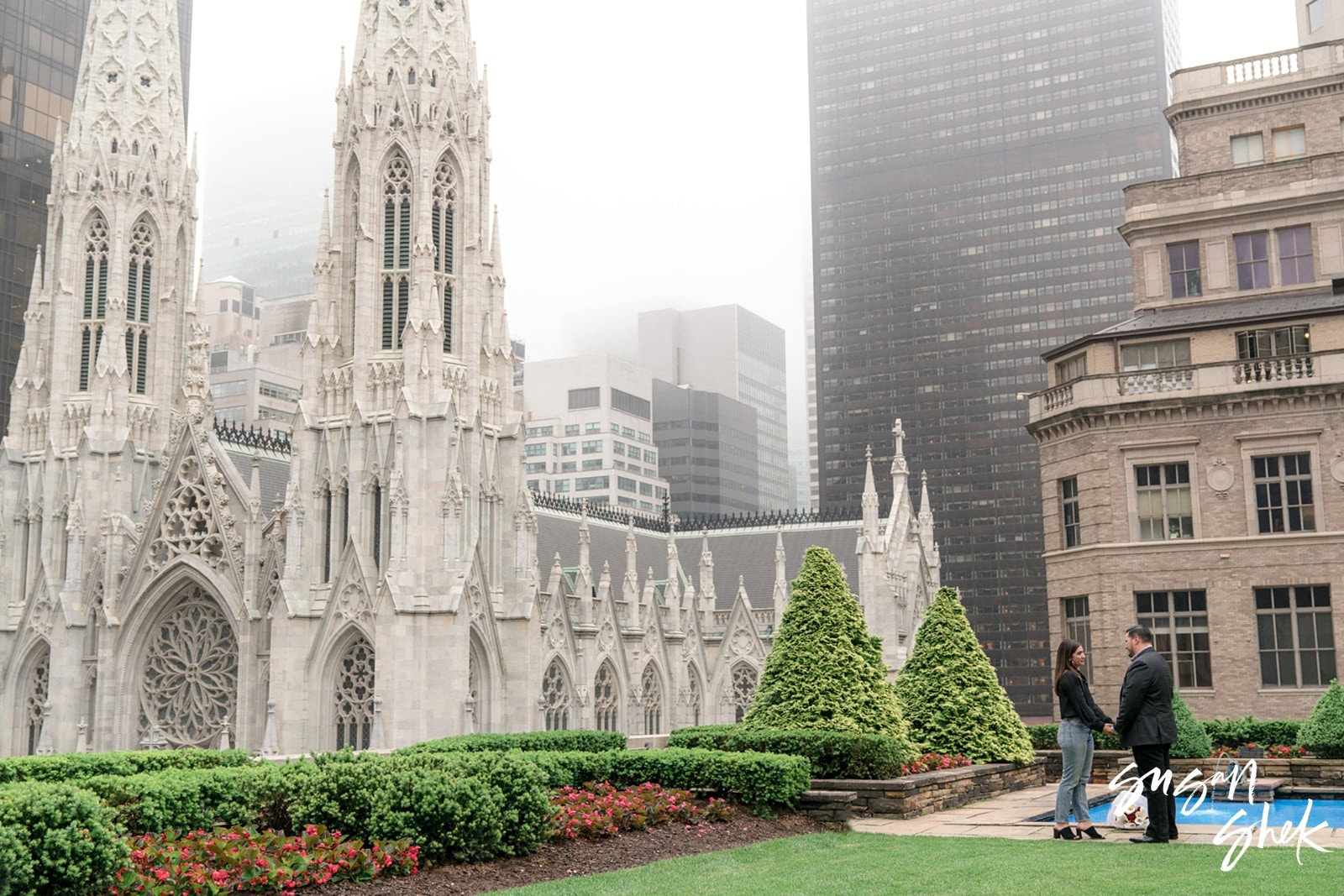 18. Conservatory Gardens Fountain
Nestled upon 105th Street and Fifth Avenue, Conservatory Gardens is a secret place that only allows you to have professional photography with a permit.
19. Conservatory Gardens Trellis
This secret location of Conservatory Gardens is popular for small wedding ceremonies, engagement photoshoots, and a romantic stroll through it!
20. Central Park Reservoir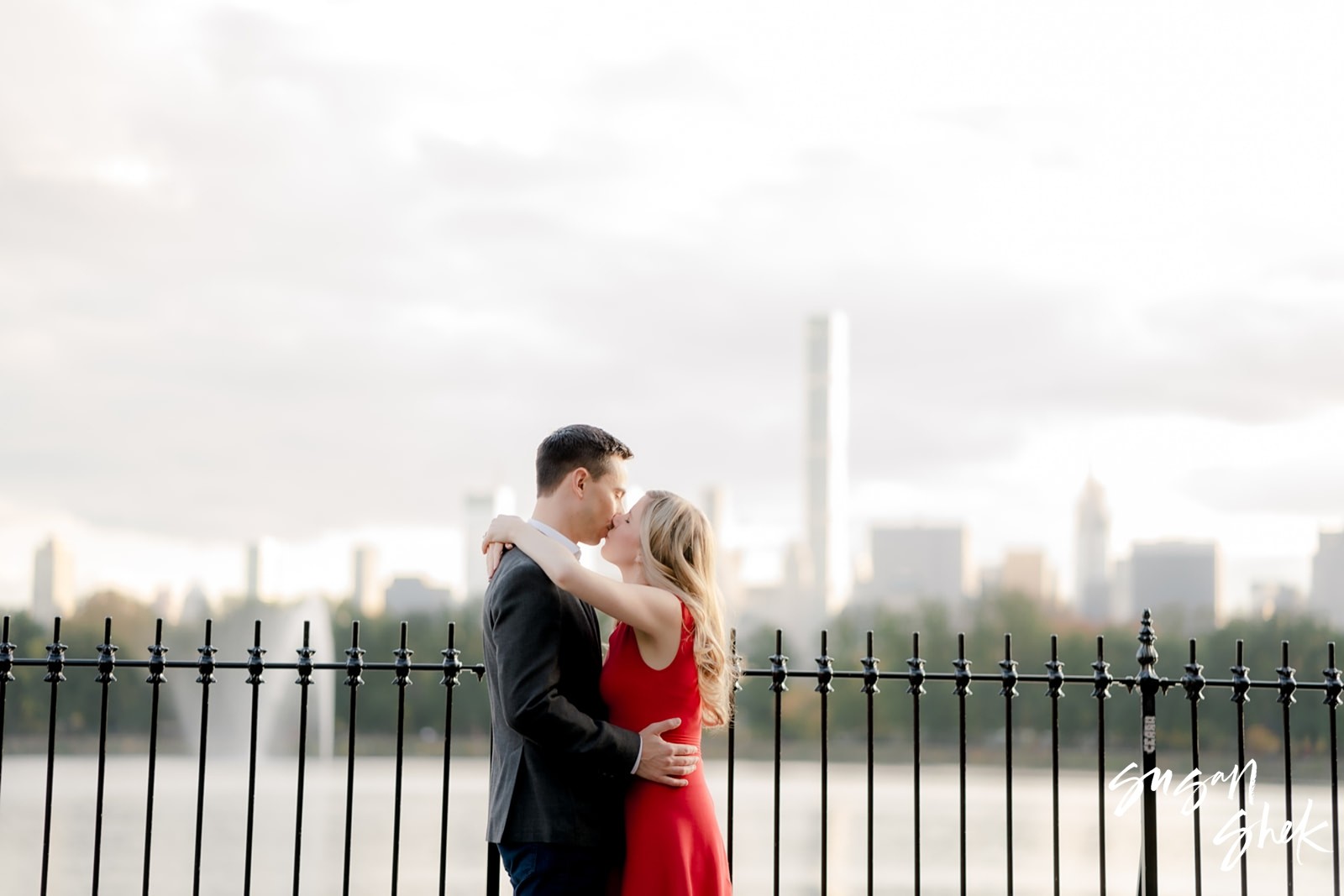 One of the most quintessential landmarks of New York City, Central Park Reservoir offers a magnificent view of a timeless city. Constructed in the 1820s, the Central Park Reservoir holds one billion gallons of water and has been designated a historical landmark by the National Register of Historic Places.
21. Bethesda Terrace
Back over to Bethesda Terrace in Central Park, like the Arches, the ceiling illuminates in the mid-day to early evening.
22. Brooklyn Bridge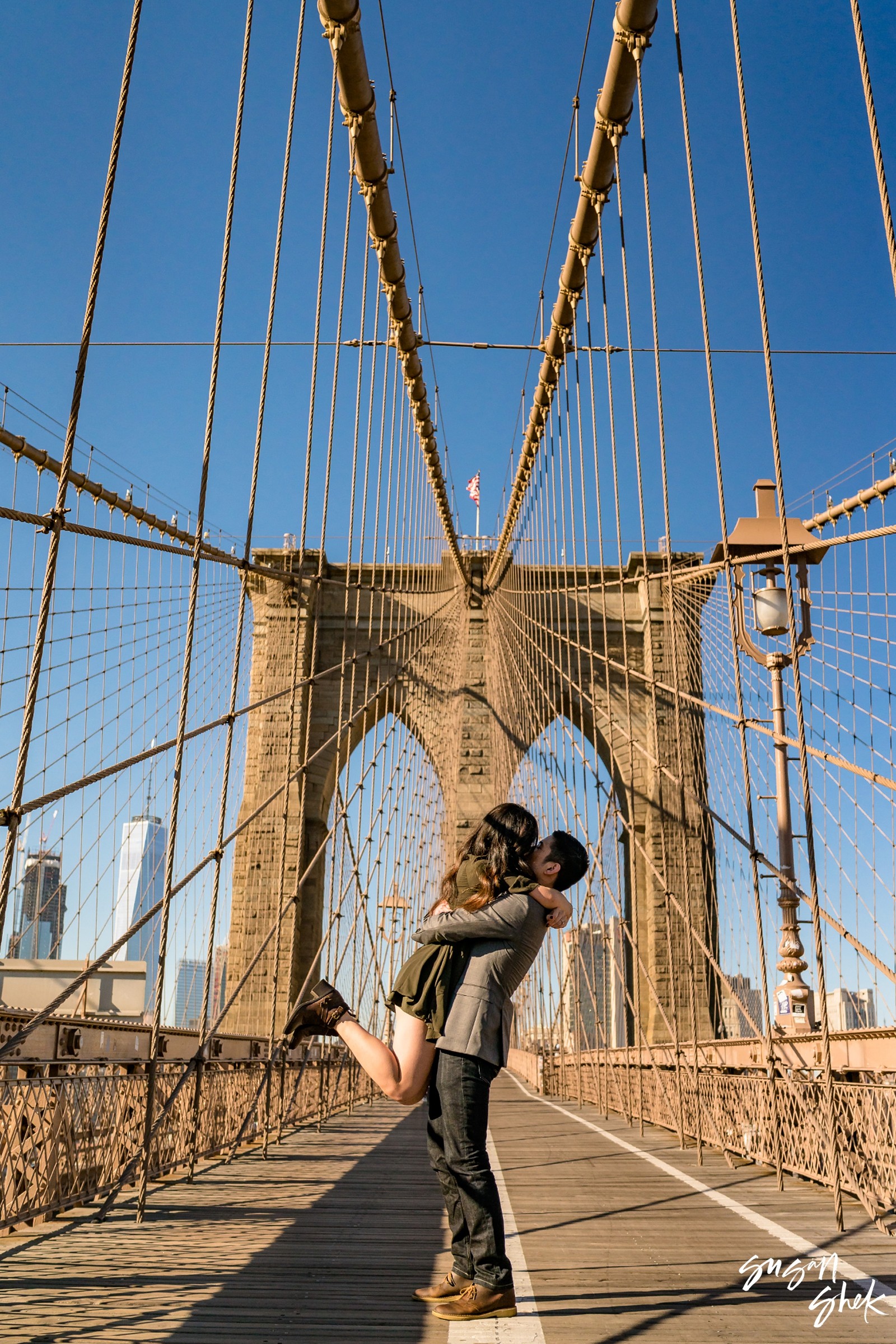 Brooklyn Bridge, a historical landmark completed in 1883, is the most famous bridge in the United States and one of the oldest suspension bridges still used today.
23. Brooklyn Promenade
Brooklyn Promenade is a pedestrian mall and recreational park in Downtown Brooklyn, New York City.
24. Brooklyn Heights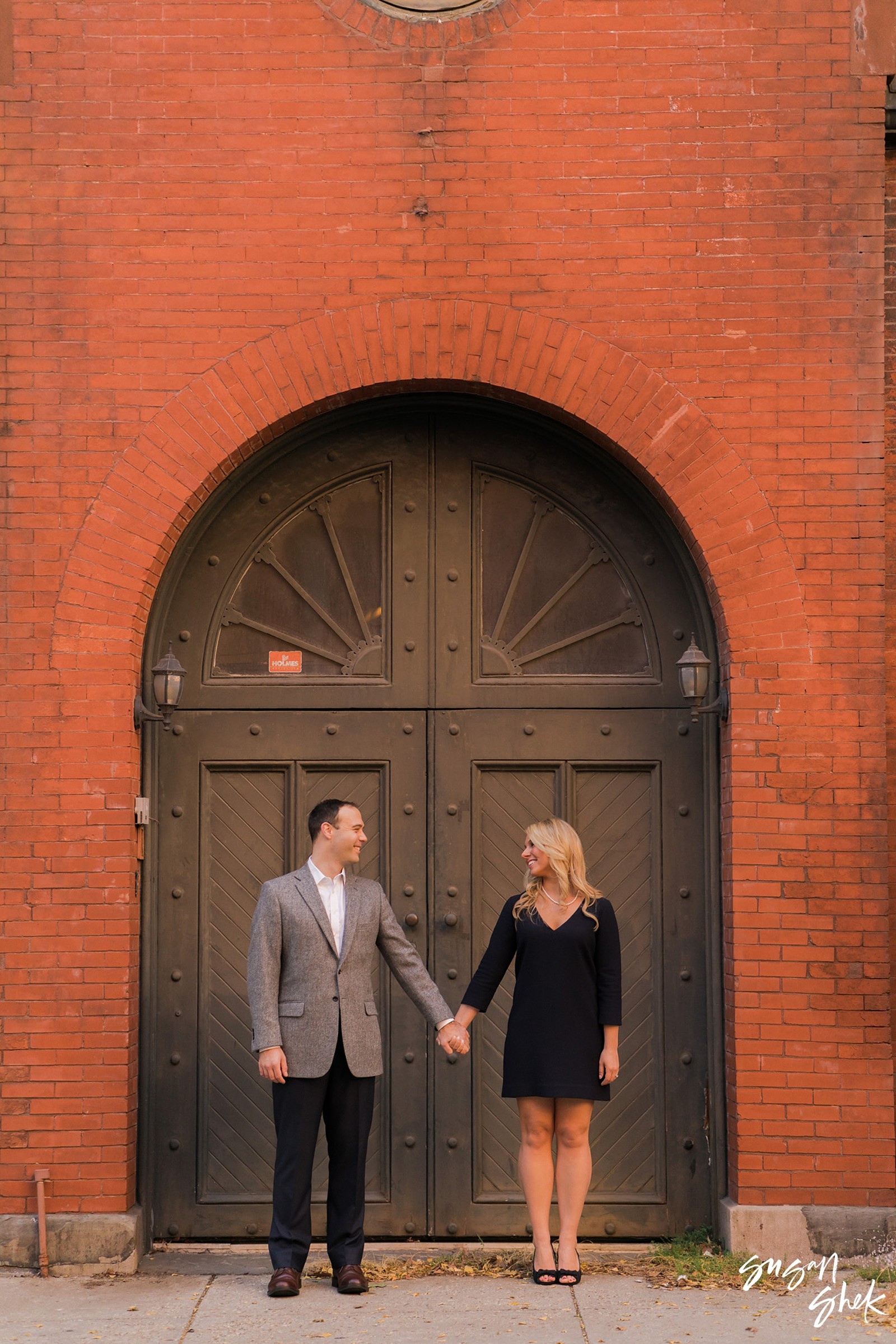 Brooklyn Heights is a neighborhood in the New York City borough of Brooklyn.
25. Brooklyn Museum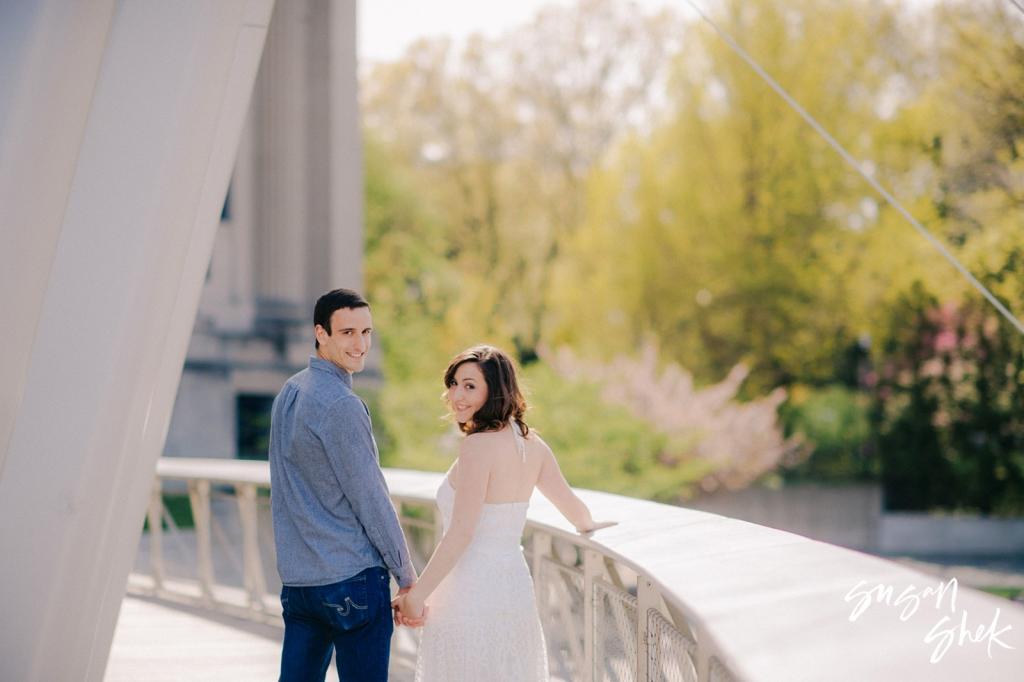 Founded in 1895, the Brooklyn Museum is among the city's most beloved cultural institutions.
26. Dumbo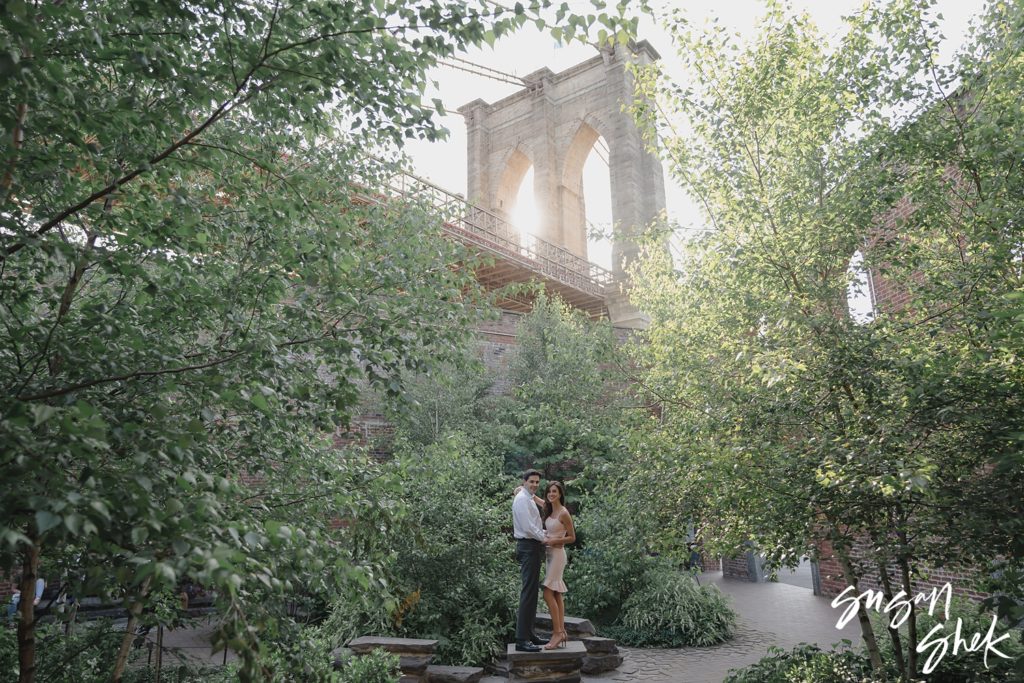 This little part of Dumbo is my personal favorite. It's the closest to Manhattan Bridge, and it's so quiet over here because all the tourists tend to head over to the busier parts near the carousel and Brooklyn Bridge!
27. TWA HOTEL ENGAGEMENT PHOTOS
The TWA Hotel is an excellent choice for couples looking to capture their love in a timeless and unforgettable setting. With its mid-century modern design, the hotel offers a variety of captivating locations for your engagement photos. From the iconic TWA airplane to the rooftop pool, the TWA Hotel provides numerous one-of-a-kind backdrops to showcase your love story. The hotel's retro charm and modern amenities make it an ideal location for couples who appreciate both the past and the present. Whether you're a history buff or just looking for a unique location, the TWA Hotel will leave you with engagement photos you'll treasure for a lifetime.
28. 1 Hotel Brooklyn Bridge Rooftop
I also love coming up to 1 Hotel Brooklyn Bridge rooftop when it's nice out. There are also epic sunsets over the horizon that make for perfect engagement photos!
29. Pebble Beach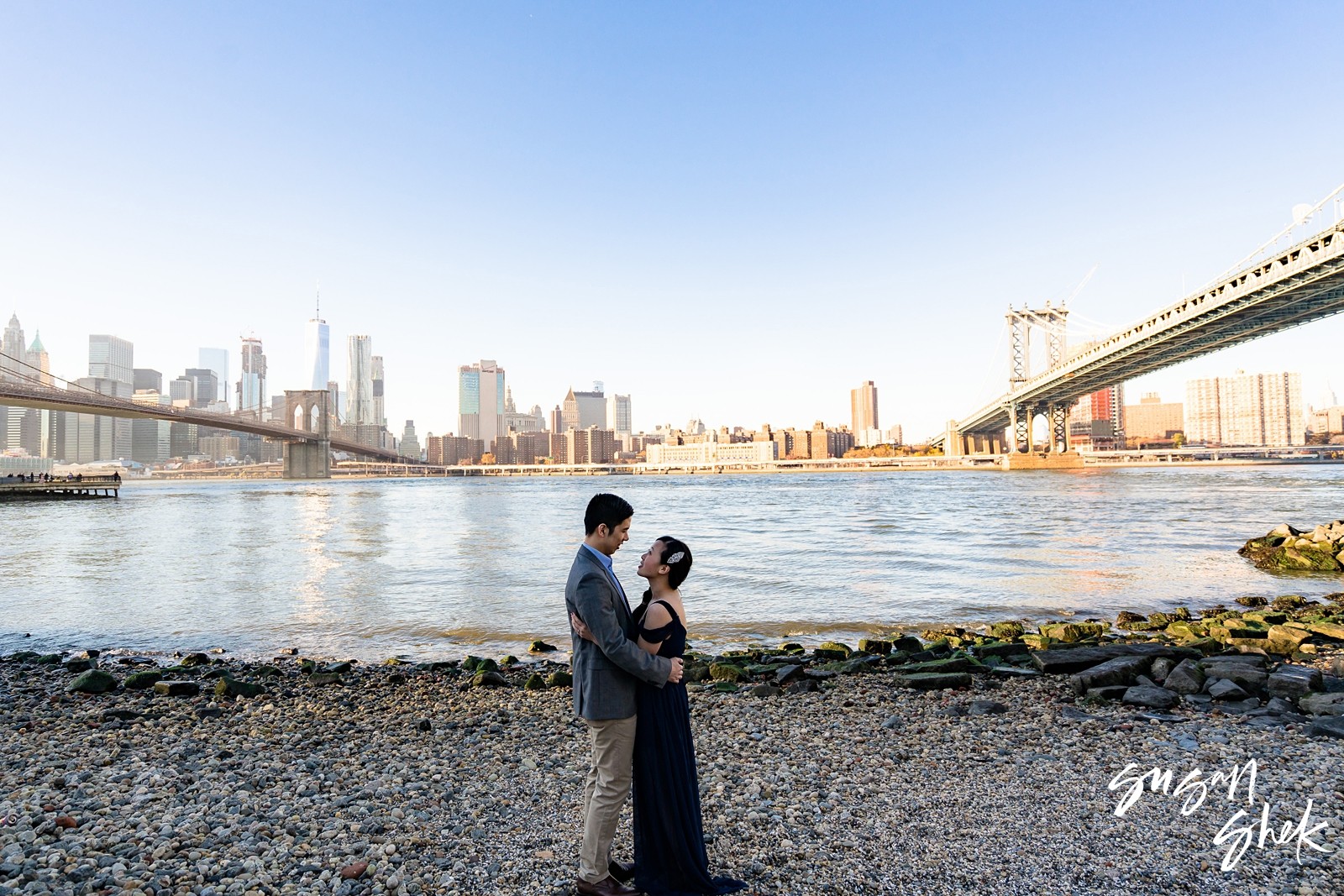 Pebble Beach in Dumbo is another popular spot because it is a rocky beach area where you can enjoy the waterfront and also both Brooklyn Bridge and Manhattan Bridge in between for a pretty engagement photo.
30. Williamsburg Bridge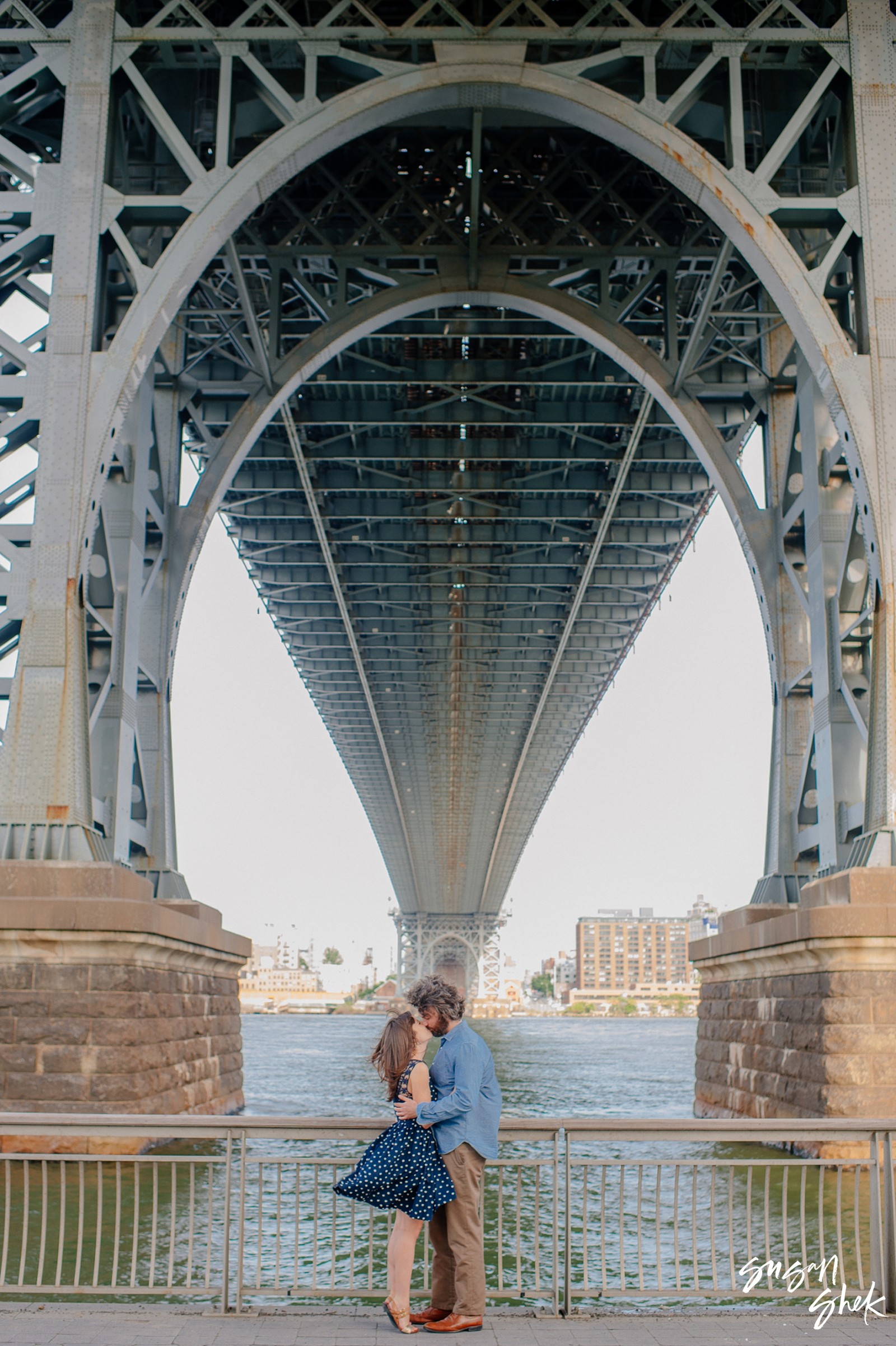 Williamsburg Bridge is one of those epic bridges that you can walk over and enjoy the views, or you can walk around and underneath it a little from the East River Park. It's far quieter here than the one on Brooklyn Bridge!
31. Domino Park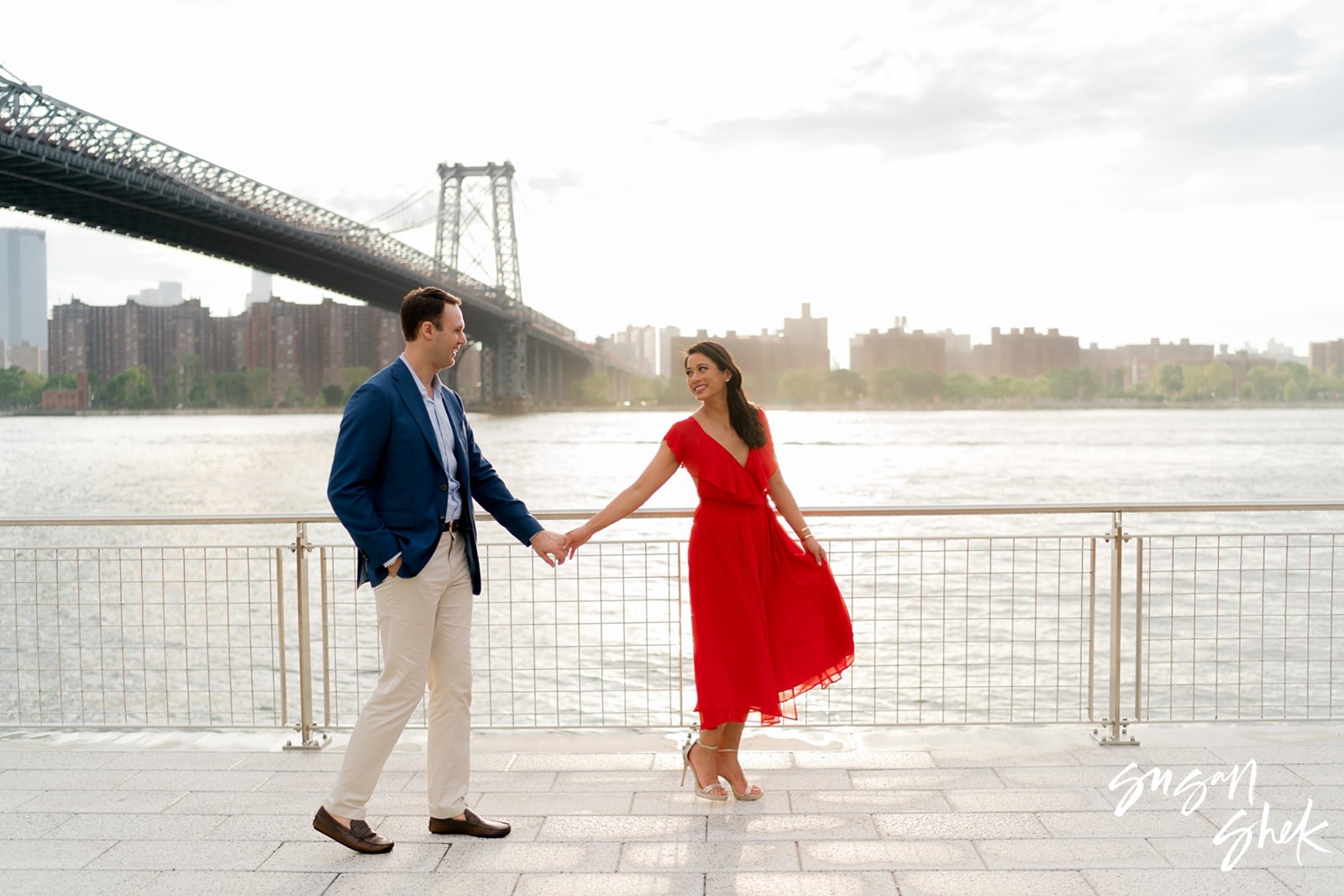 Domino Park is one of the newest public parks in NYC for an engagement shoot. They have a taco stand, too, for food by Tacocina. It makes it fun for photos!
32. Janes Carousel
Janes Carousel is an Incredible new outdoor carousel and observation deck located in Brooklyn Bridge Park at Jane's Walk. It was built on the former Jane's Carousel site, which closed in 2004. Janes Carousel indoors or around the building is always a pretty sight for a photoshoot. I've even seen people rent it out for a surprise proposal.
33. Sailboat on the Hudson River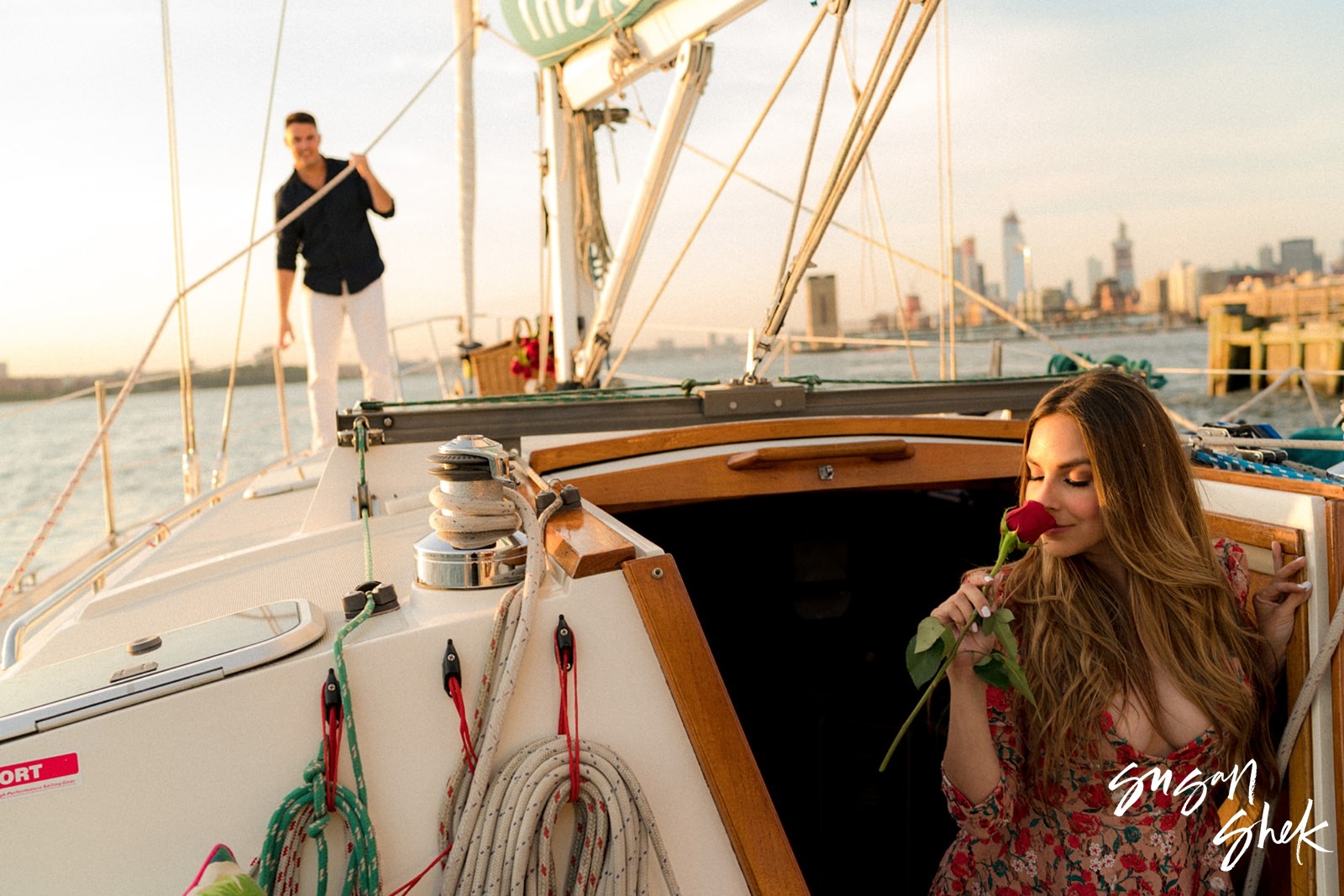 One of the unique engagement shoots to this day was going on a sailboat around the Hudson River with my couple. It was very different from being on land and balancing to get the right shot! I loved every minute of it.
34. Grand Central
Grand Central can be a crazy busy area for your engagement photos. Luckily there are little pockets like this Vanderbilt Hall that would be perfect for stepping away from the crowds during rush hour.
35. Grand Central Viaduct
This is another epic spot for engagement shoots! I love how if you time it right, you can get all the taxis to give you that iconic NYC look! No photoshopping here!
36. Whitney Museum Of Art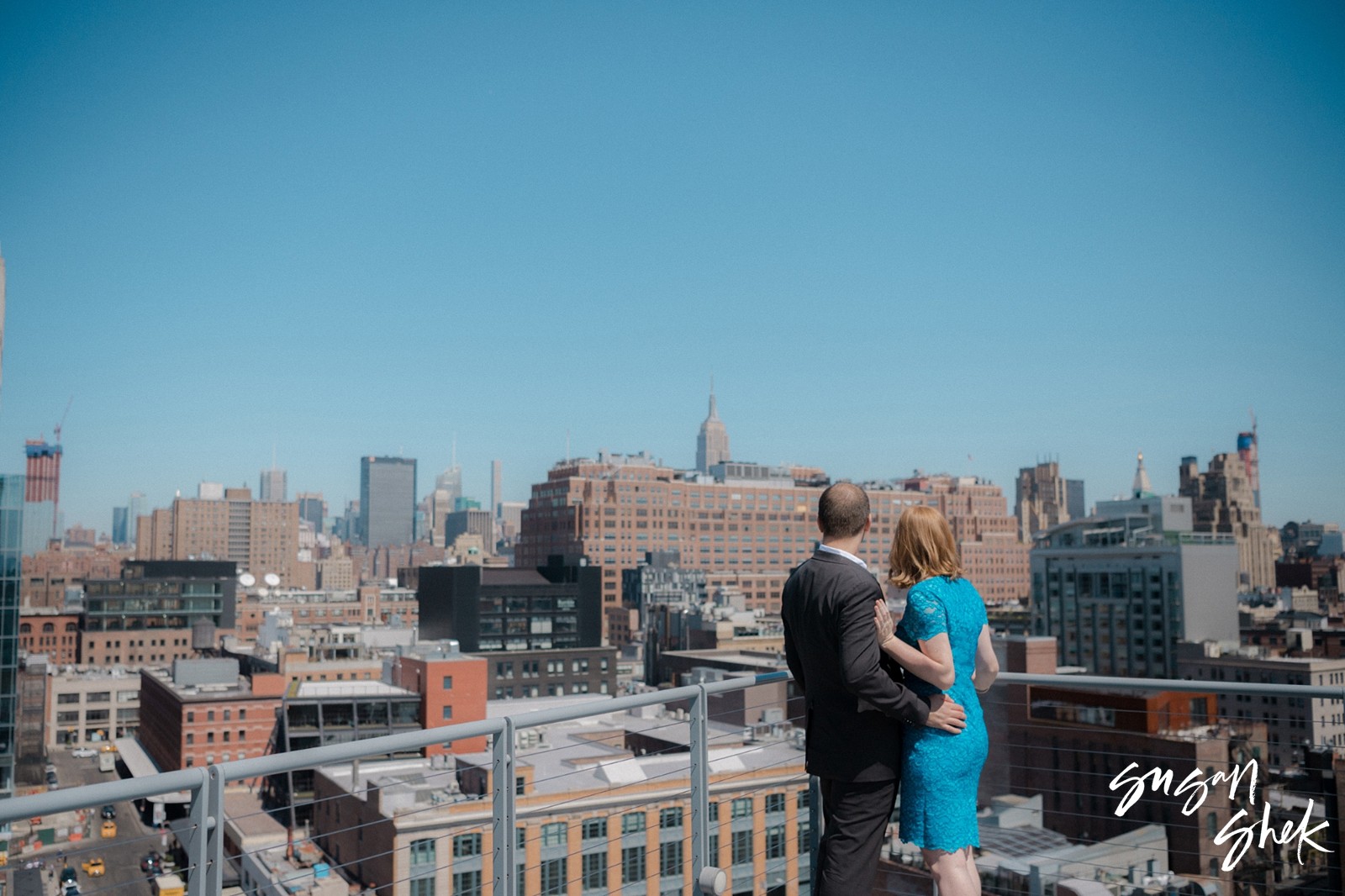 If you have ever visited the Whitney Museum of Art in New York City, you know it is a small and cozy place for art exhibitions. It is neat but not overwhelming, even though they have a lot to offer to art lovers. You can get a great vantage point of the Empire State Building and the skyline from the roof of the Whitney Museum of Art. I love coming here and getting some beautiful photos.
37. Battery Park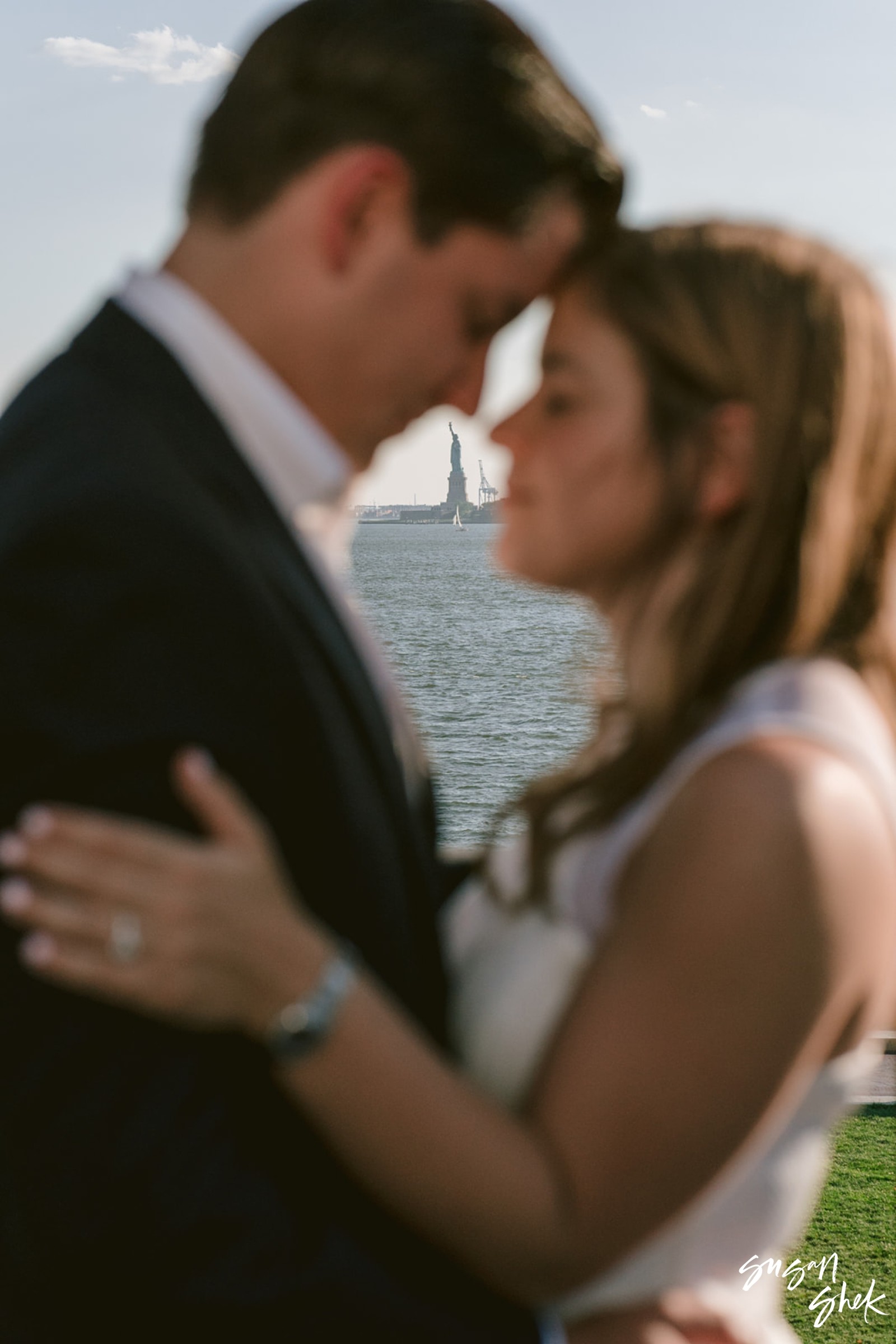 Located near the financial district along the Hudson River, Battery Park in New York City is a great place for some fresh air, relaxation, and the downtown views of Manhattan.
38. Seaglass Carousel
I love the bright pastel colors of the Seaglass Carousel in Battery Park! It makes for beautiful engagement photos and also wedding photos! Its unique features of floating fish and classical enchanted music make it fun for all ages!
39. Flatiron Building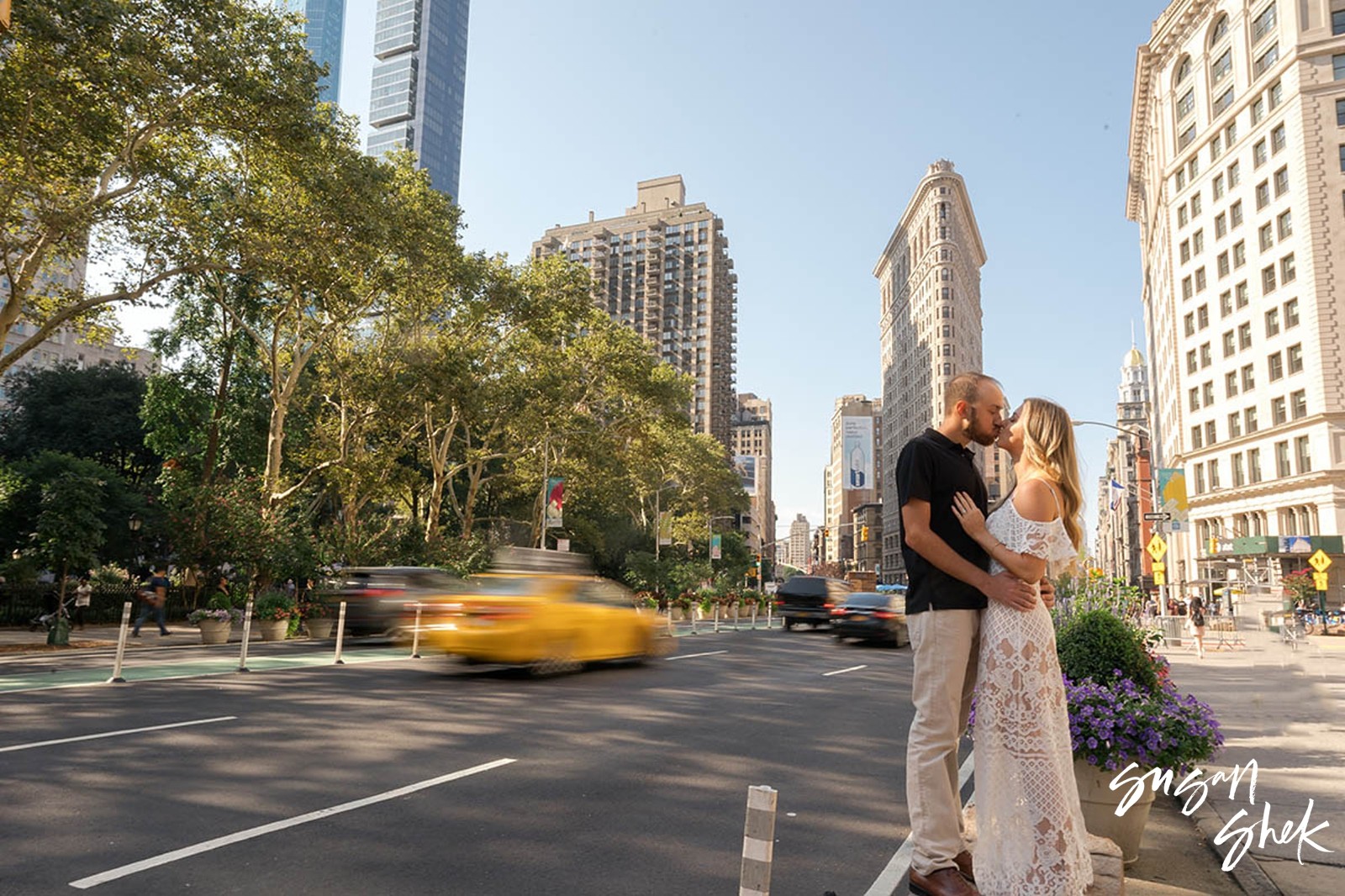 One of the unique skyscrapers in New York City is called Flatiron Building. It stands on a triangular site at Fifth Avenue and Broadway in Manhattan. The building epitomizes early 20th Century modernism with its surrounding plaza as the perfect blend of Brutalism and Beaux Arts design. If you've ever lived in Manhattan (or been to Manhattan), you've seen the Flatiron Building. The Flatiron building is located in the heart of New York City. It's not a skyscraper, but the iconic building that sticks out around that area, so it's still pretty high and impressive.
40. Brooklyn Botanic Garden
The Brooklyn Botanic Garden is a living museum of plants, an oasis in the middle of the city. Its beauty and tranquility are also places for retreat, reflection, and education. The Garden covers 265 acres of land along Brooklyn's eastern border and includes a diverse range of terrain—marshes, woodlands, lawns, fields, rock outcroppings, and a 70-acre arboretum. I love coming over to Brooklyn Botanic Garden. There is an entrance fee, but it's free to come here if you are a member. On a rainy day, you can visit the indoor greenhouse for great engagement photos!
41. Prospect Park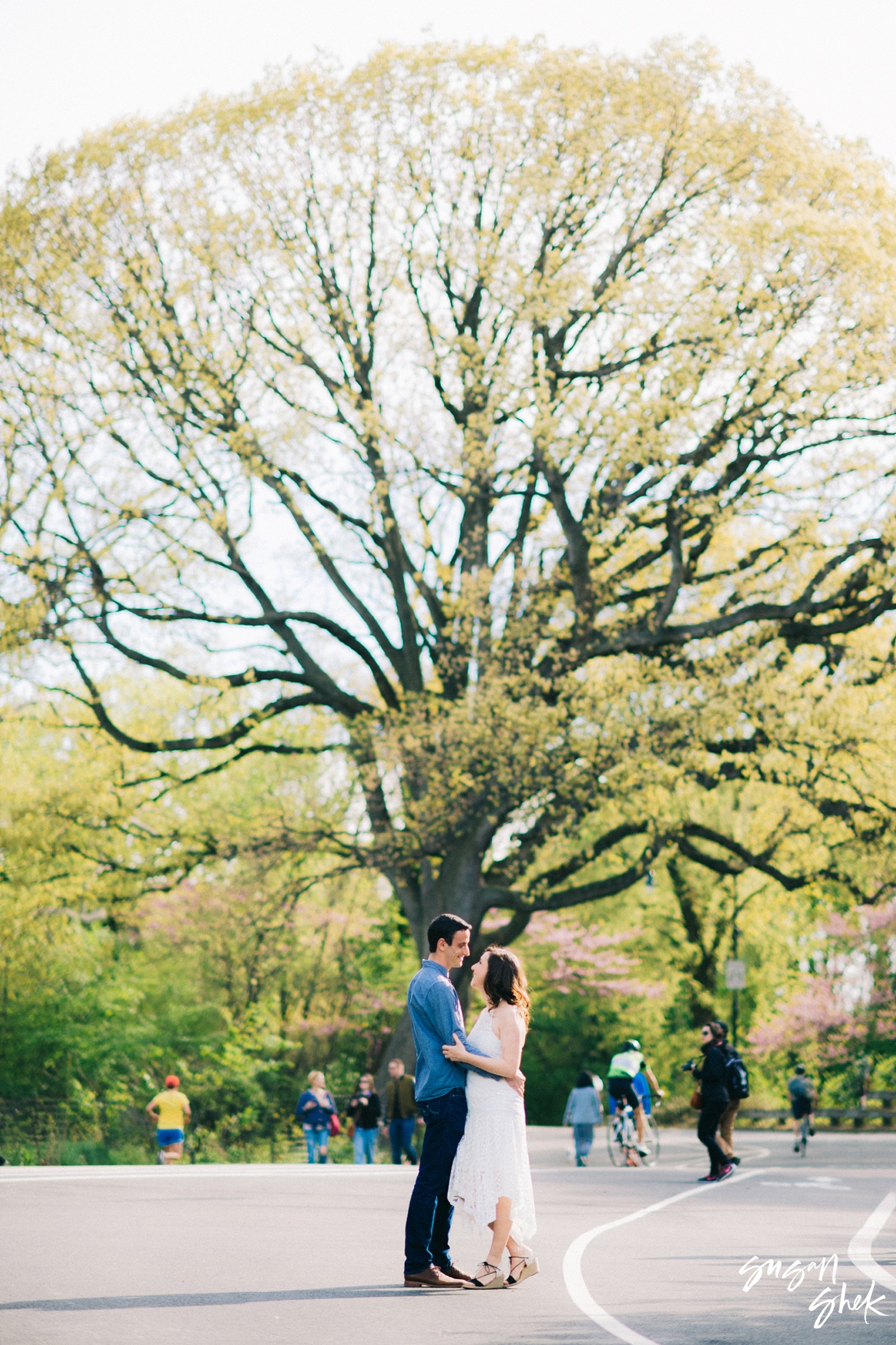 Prospect Park was officially designated a public park, and huge crowds celebrated Brooklyn's independence from Manhattan.
42. West Village Townhouse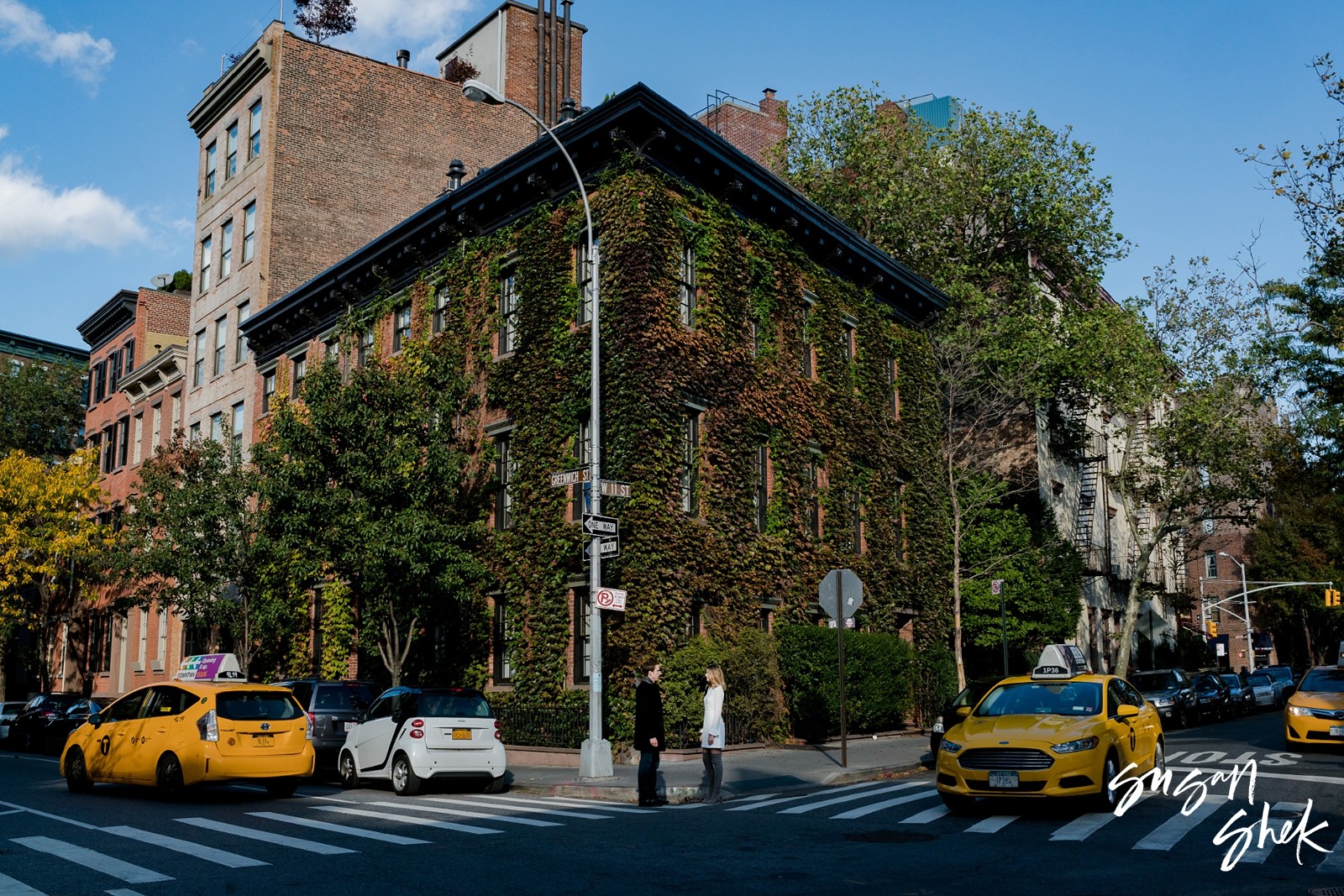 This West Village Townhouse is famous for engagement shoots because this building used to belong to Annie Lebowitz. Its beautiful, charming greenery makes it stand out along the whole area!
43. Meatpacking District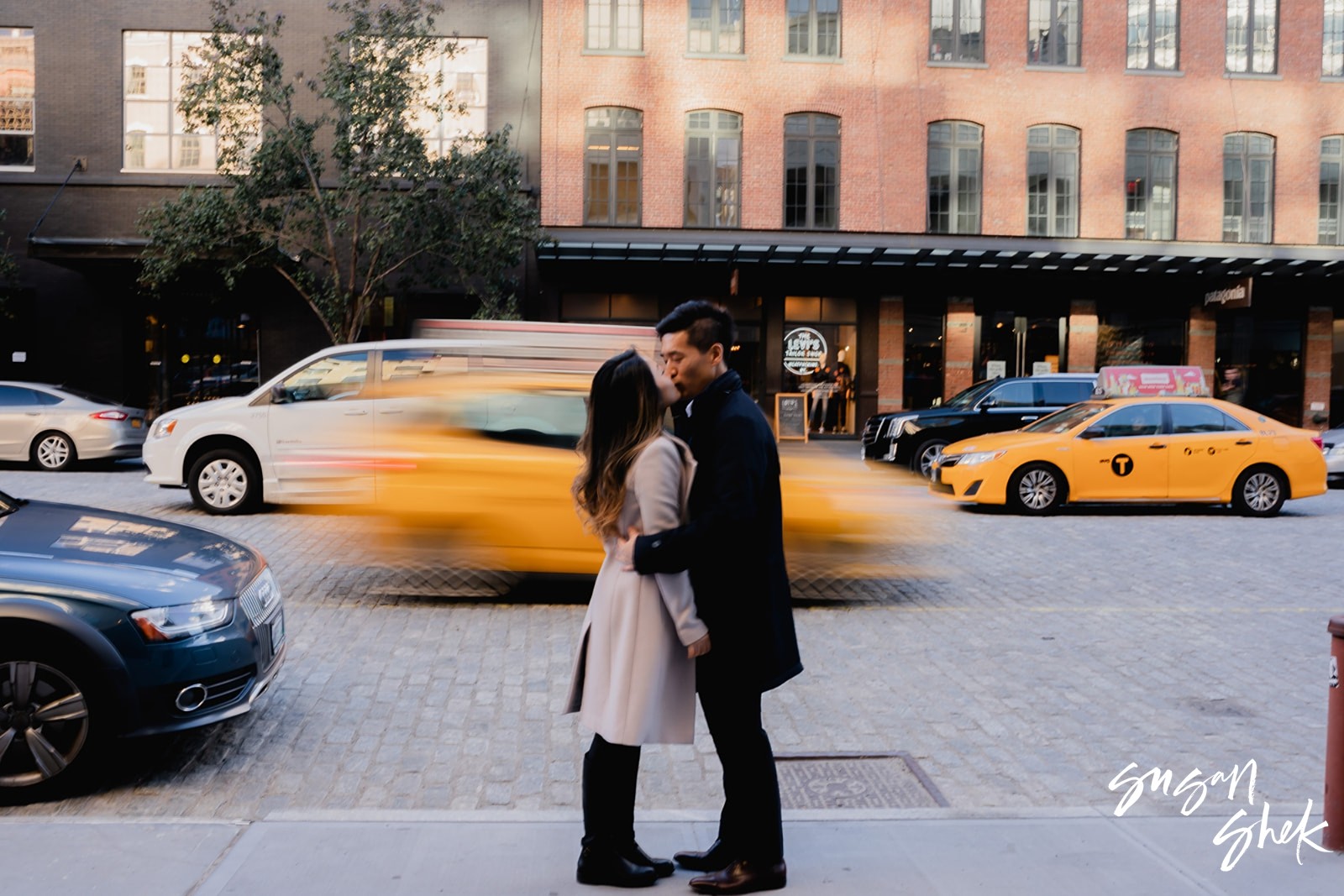 Meatpacking District is full of shops and buildings that used to be big warehouses for meat distribution. Now it's famous for shopping and the area where Chelsea Market is.
44. Restoration Hardware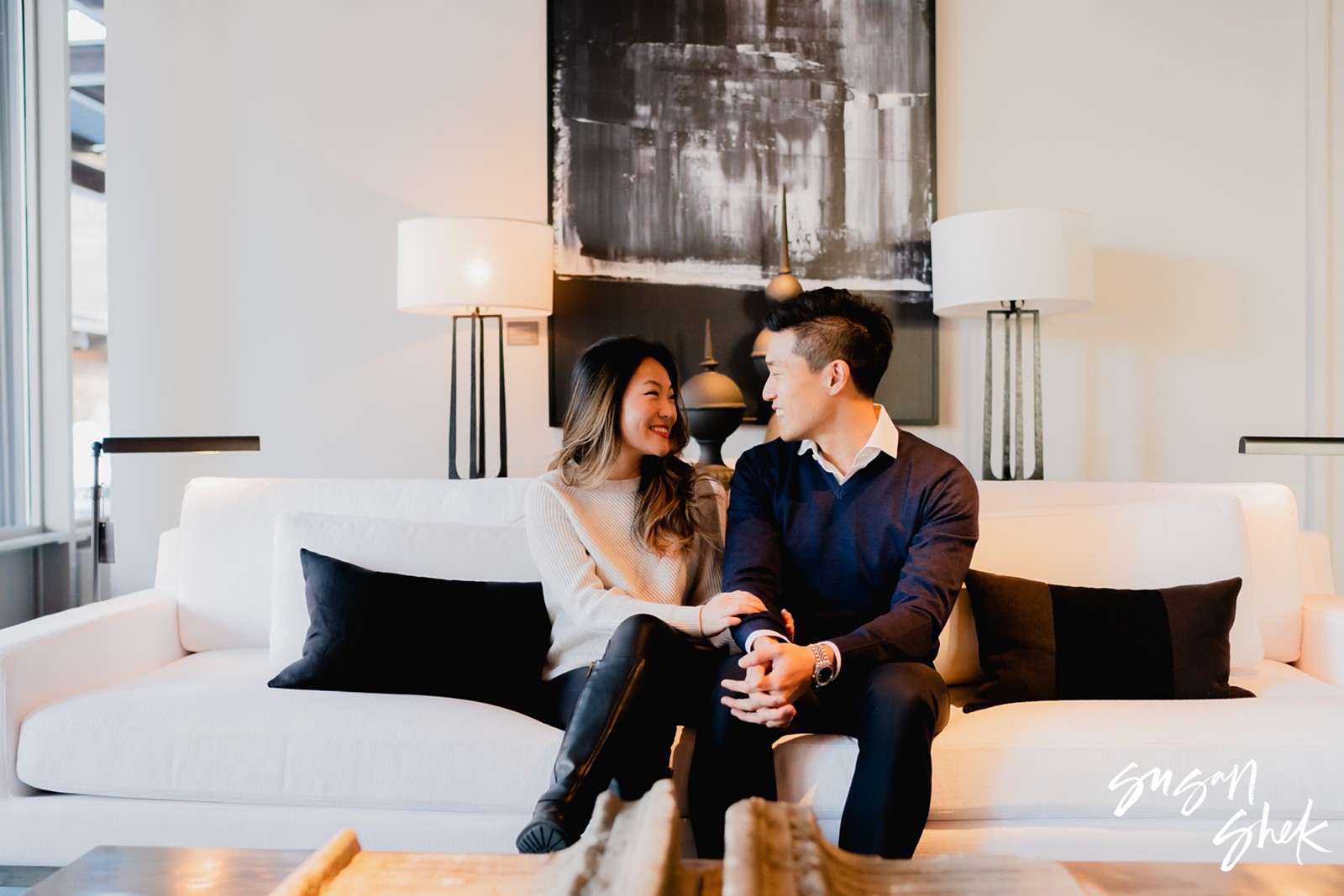 A giant Restoration Hardware store was built in the middle of the Meatpacking District. It is an excellent alternative to secretly pretend to own the furniture for a private engagement shoot. There is also a cute restaurant and cafe in this building as well!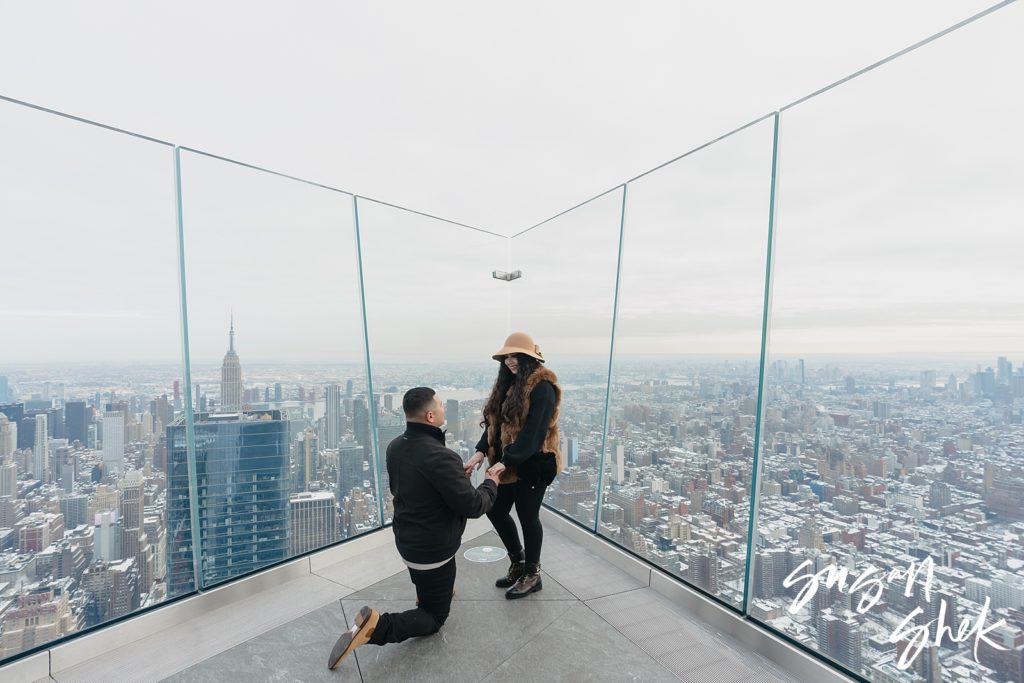 Thanks to the world's tallest skyscraper, impressive views are promised at every corner of The Edge at Hudson Yards.
46. Public Hotel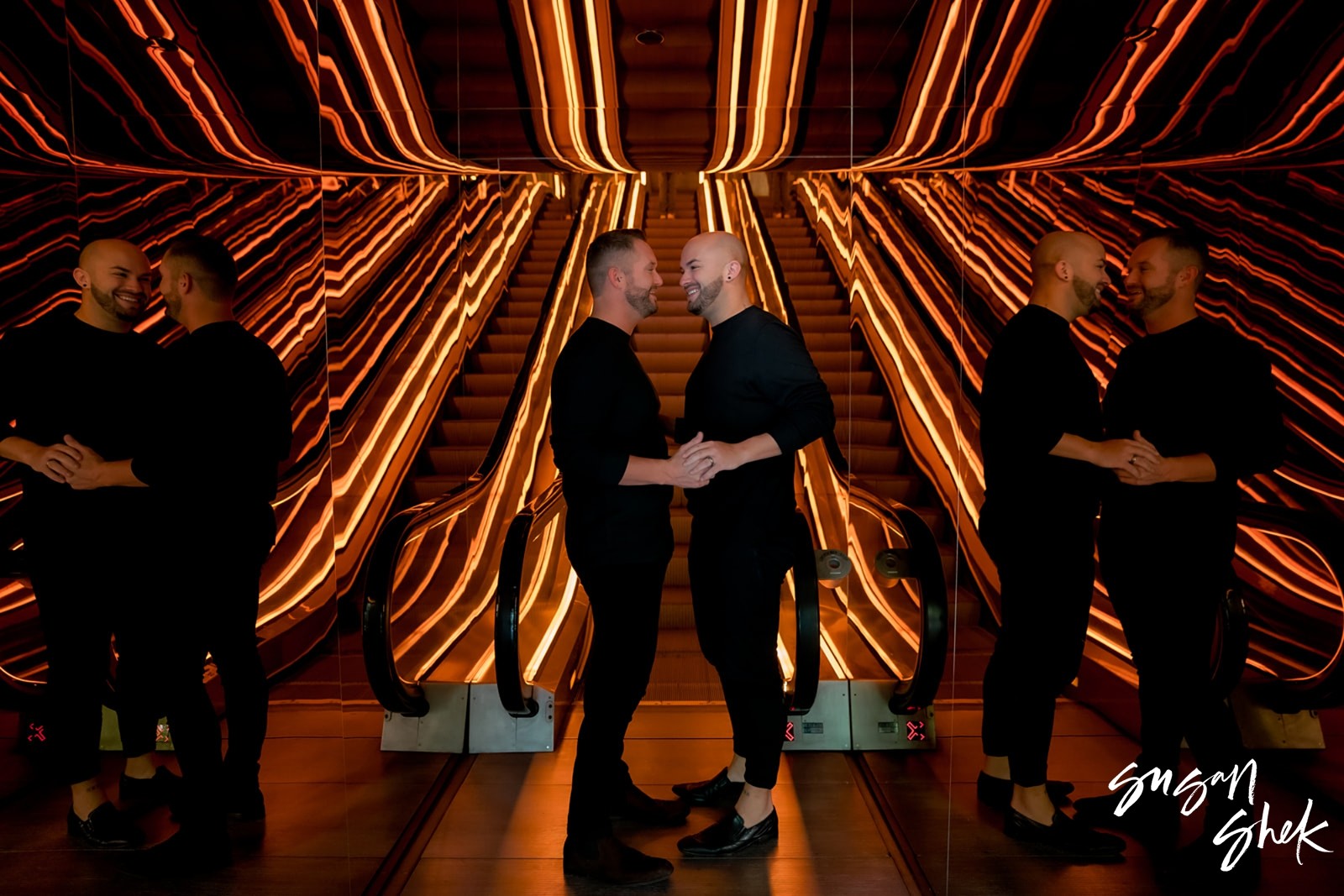 The Public Hotel by Ian Schrager (PublicHotelNYC) is an urban hotel that emphasizes the art, experience, and discovery of New York City.
47. Bowery Wall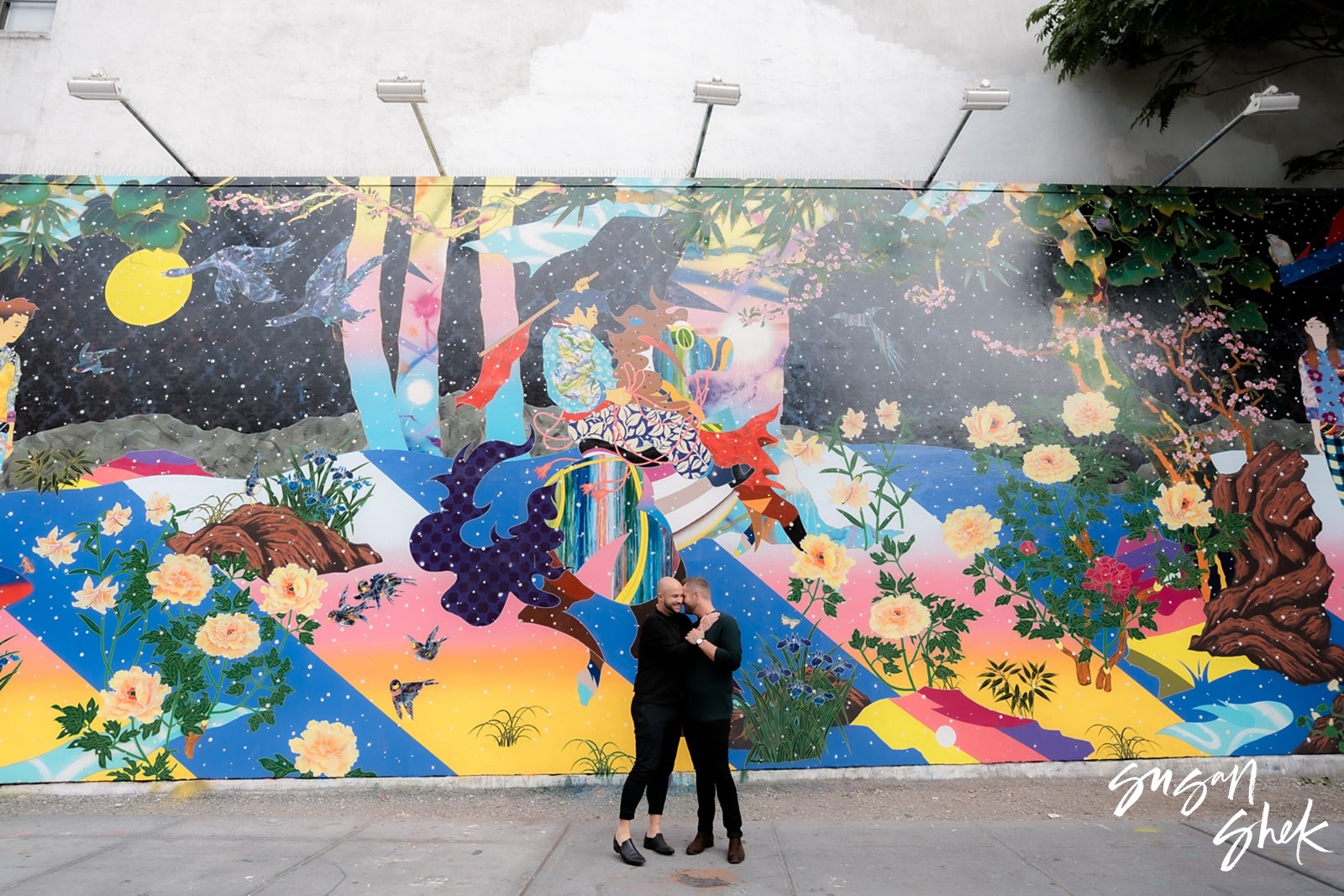 Did you know the Bowery Wall has different artists commissioned to paint something beautiful here every few months? It's always a nice sight to see and visit to get some stunning images for engagement shoots. Keith Haring painted Bowery Wall's original mural and is still behind the new structure to protect it from vandalism!
48. Chinatown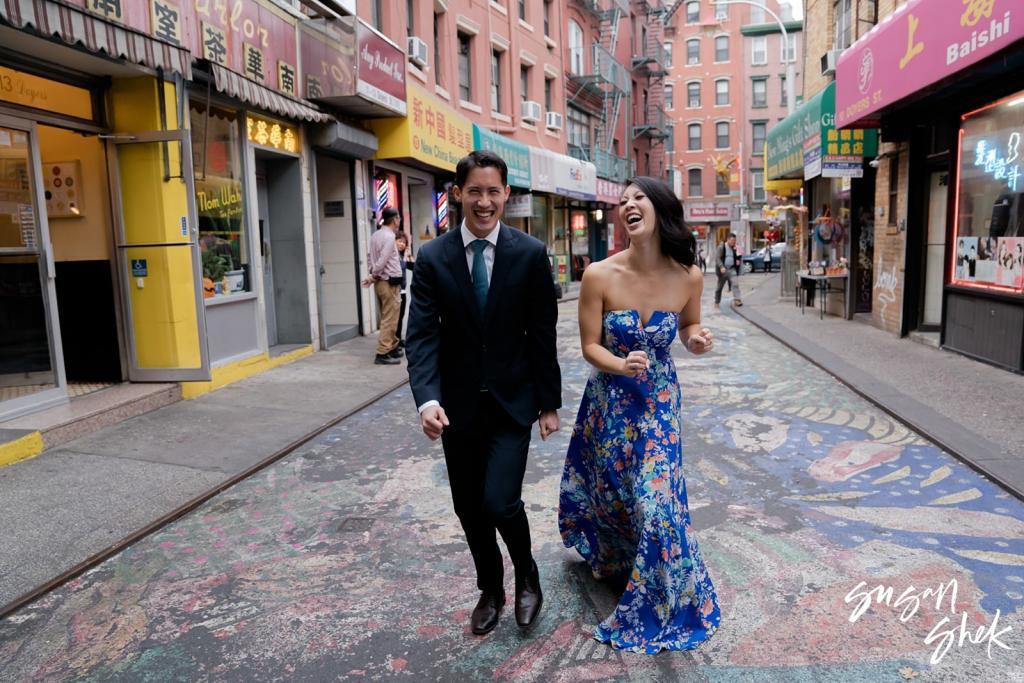 Chinatown can be pretty busy at all times of the day. If you go at the right time in this small alleyway called Doyers Street, you can sometimes find some pockets of calm. I love this vibrant engagement shoot of this couple just having fun!
49. 50 Bowery Hotel
If you go up to the 50 Bowery Hotel for a drink at their rooftop bar called The Crown, you can take in all the views of uptown Manhattan and downtown towards the Financial District.
50. Washington Square Park
Very few places on this planet capture New York City's energy better than Washington Square Park.
51. Bushwick Inlet Park
Bushwick Inlet Park is a remote part of Williamsburg. It's not actually in Bushwick but rather on the outskirts of the waterfront of East River State Park. When there's a high tide, this tiny island part disappears.
52. Versa Rooftop in Midtown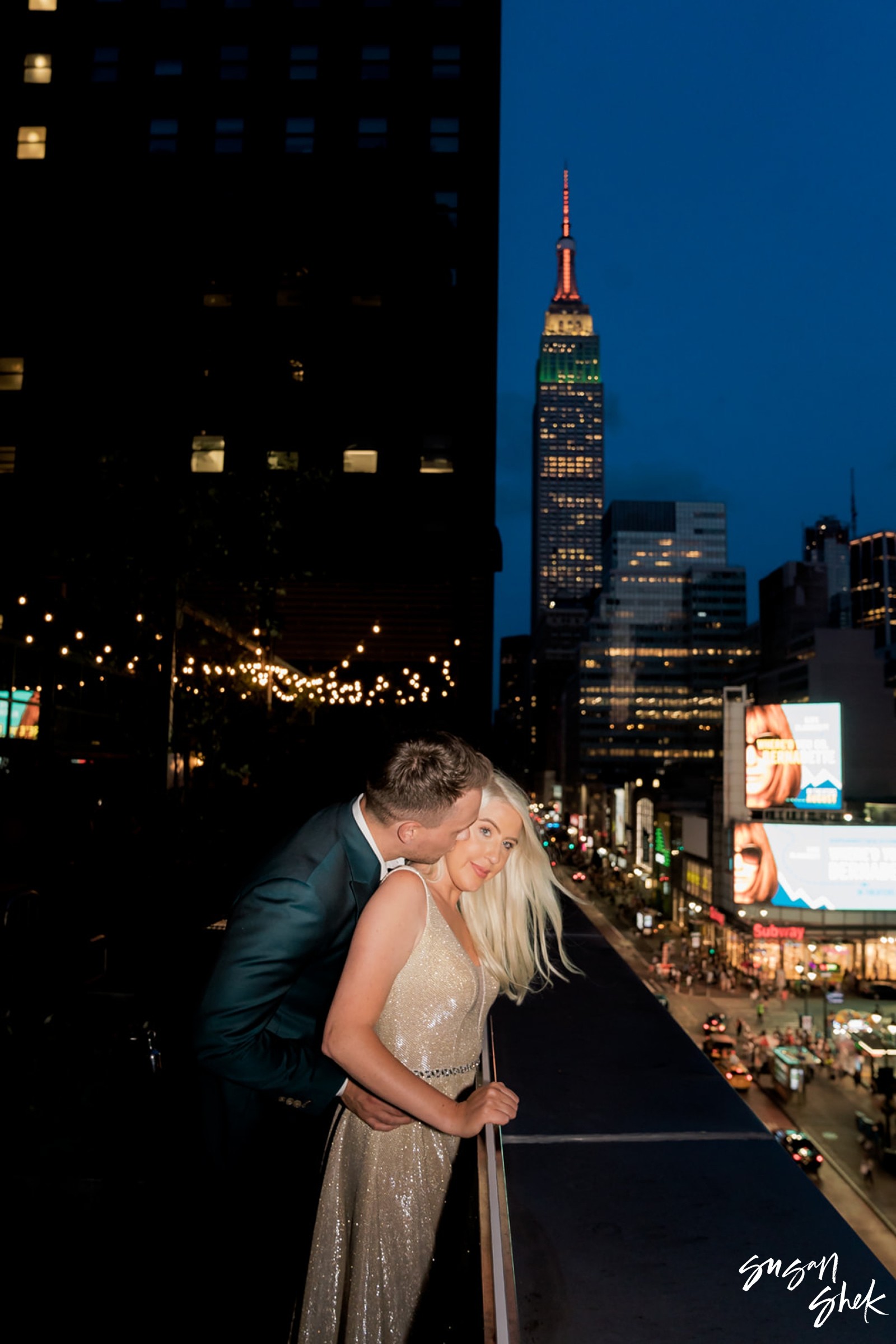 This cute restaurant/bar in Midtown, Versa, is the perfect spot for some engagement photos or even to host a party. It is located inside the Renaissance Hotel. I didn't even notice it until recently!
53. NYU Language Houses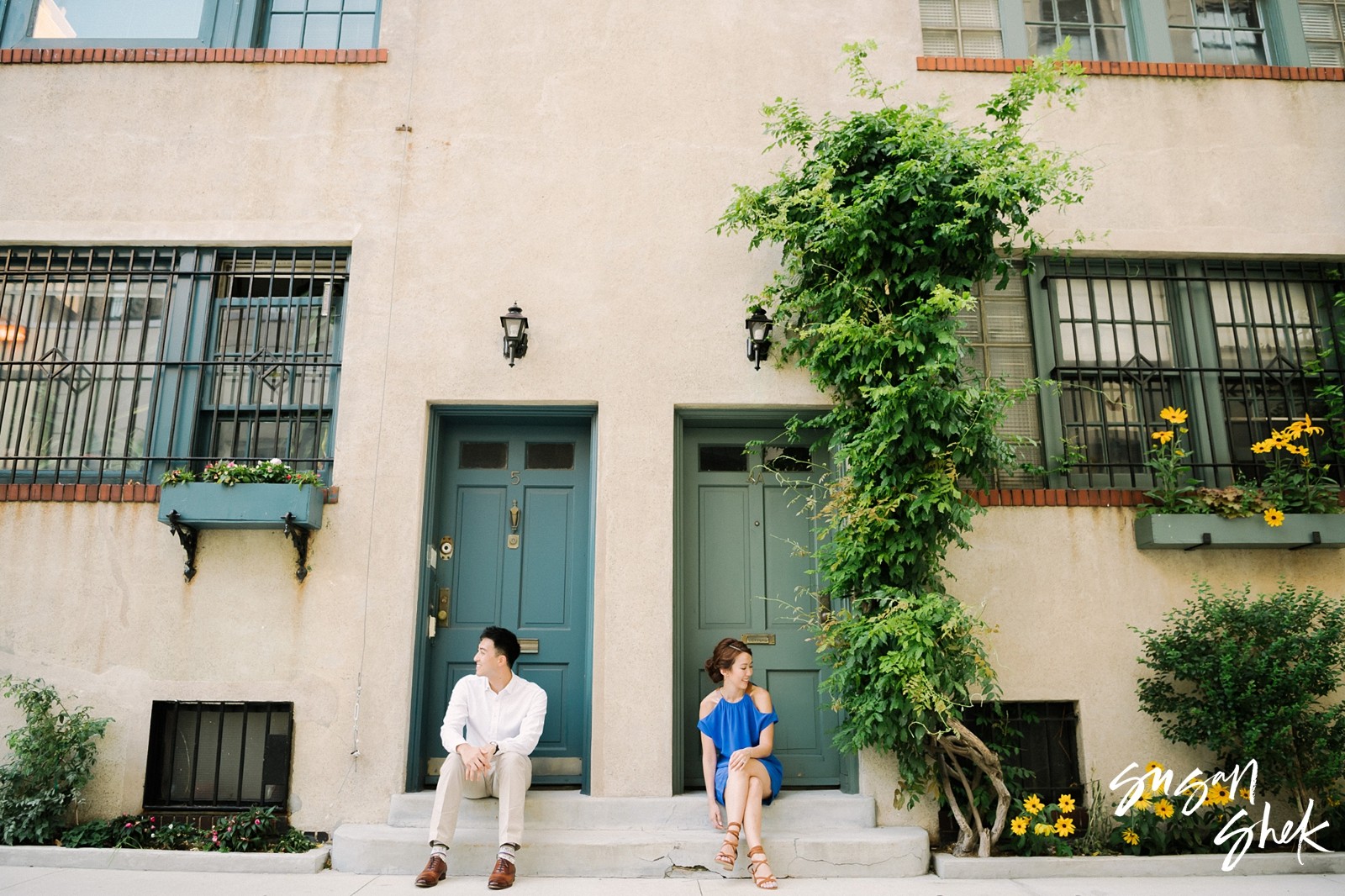 NYU owns this little alleyway and has the cutest block of row houses and cobblestones. I always love coming here to take photos!
54. NYU Area
Most of the Washington Square Park area is owned by NYU. There are a lot of faculty townhomes lining the perimeter that makes for pretty engagement photos!
55. Underground Subway
I love taking some artistic engagement photos with the subway passing by. They always make for some creative shots!
56. Metropolitan Museum Of Art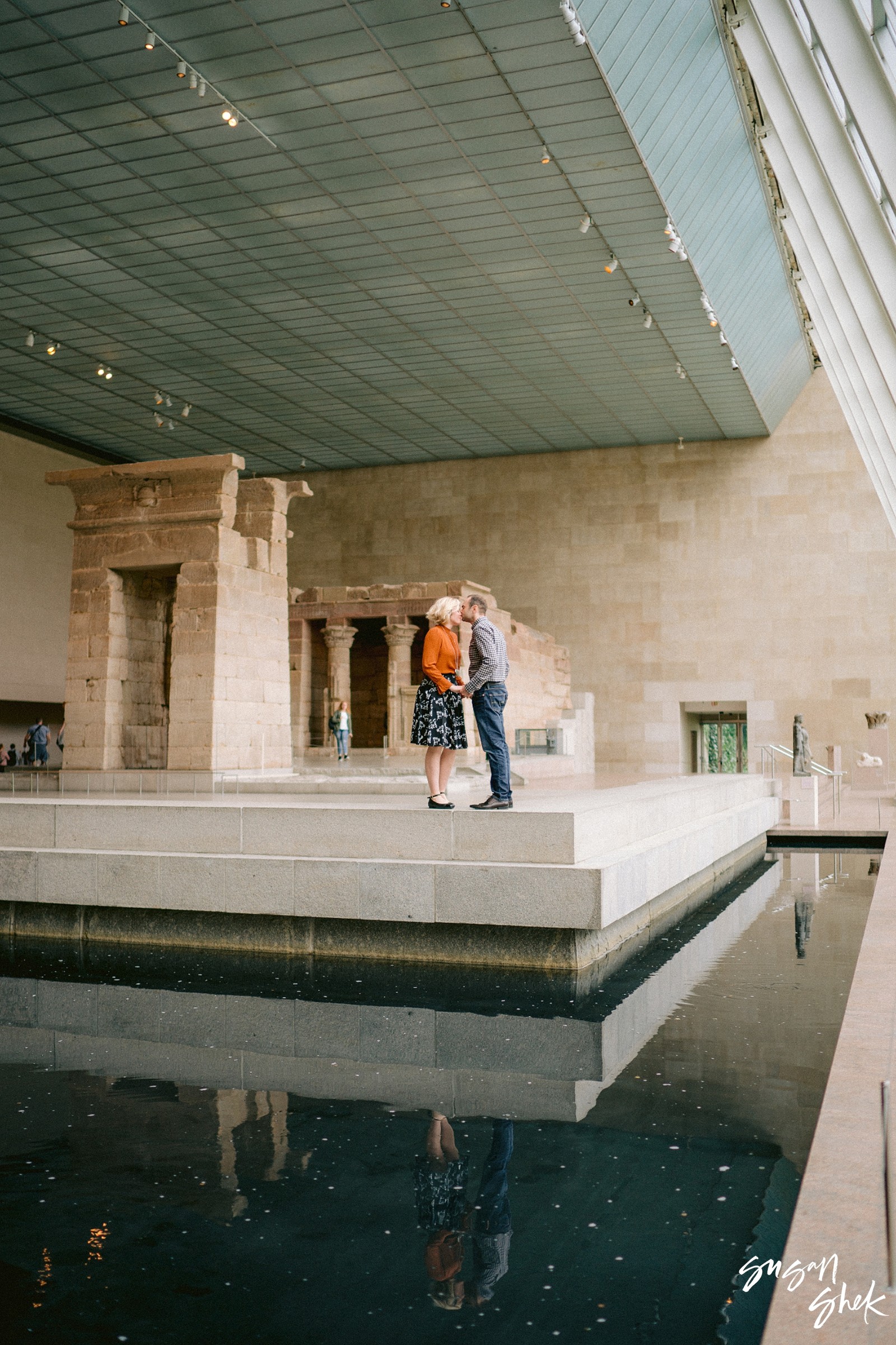 The Metropolitan Museum of Art is an excellent location for engagement photos. Especially on a rainy day. No flash photography is allowed, but you can find some nice pockets of the museum areas for pictures!
57. Columbia University
Sometimes I have couples who attended University at Columbia. They like to go there and take some engagement photos. We always find some nice locations within the campus!
58. Columbia University Law Library
I love this overpass at Columbia University's Law Library area. It makes for some stunning engagement photos, especially during golden hour.
59. NY Public Library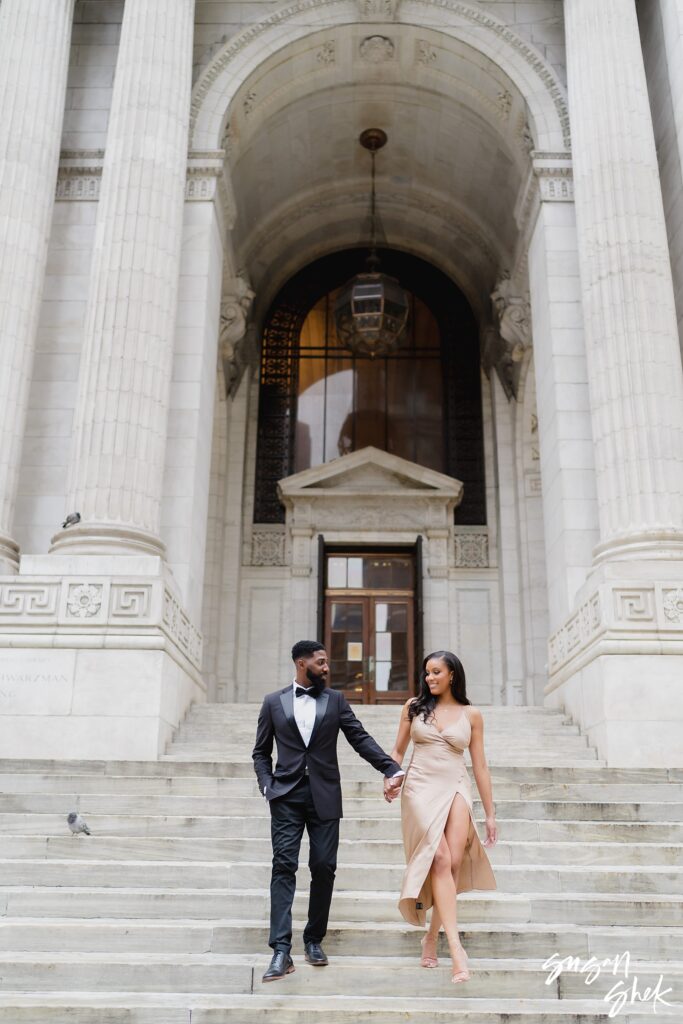 The New York Public Library's exterior is popular for engagement photos due to its iconic architecture and stunning surroundings. The library's marble facade and impressive lions provide a classic and sophisticated backdrop for your engagement photos. The nearby Bryant Park's lush greenery and peaceful atmosphere is also great for photos.
Before scheduling a photo shoot, it is important to check the library's photography policies and any possible fees or restrictions. The NYPL may have specific requirements for photographers and photo shoots, such as obtaining permission or limiting the hours and areas available for photography.
60. Prospect Park Entrance – Grand Army Plaza
At Prospect Park's Entrance, Grand Army Plaza, you will find a large archway that is also great for taking engagement photos.
61. Prospect Park Boathouse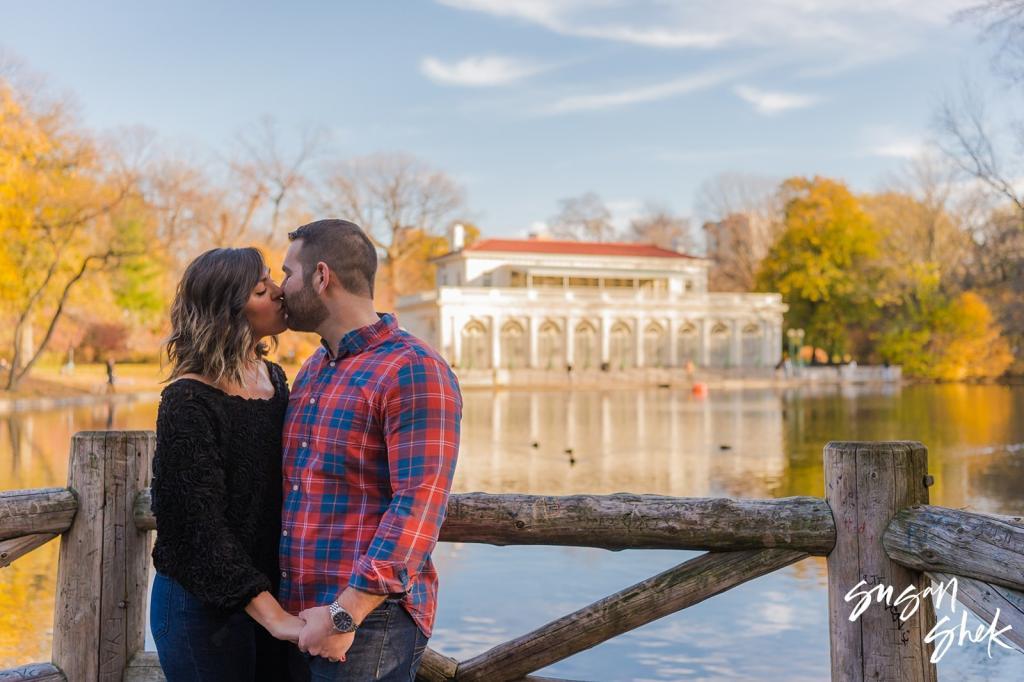 Prospect Park Boathouse has a beautiful venue in the center of the park. They host weddings and other events but do not have a public restaurant. It is also another beautiful backdrop for engagement photos.
62. Union Square Park
High above on the 6th floor of a private building, you can get an excellent vantage point of Union Square Park. You can also go to the park and take some lovely photos of the Union Square Market. In the wintertime, they have Holiday Markets that are also entertaining.
63. Forbidden Planet
Sometimes I get couples that want to show off their interests by doing their engagement shoot in a more meaningful location. Forbidden Planet is a cool comic and hobby store in Union Square where you can share your love for the same interests.
64. Bryant Park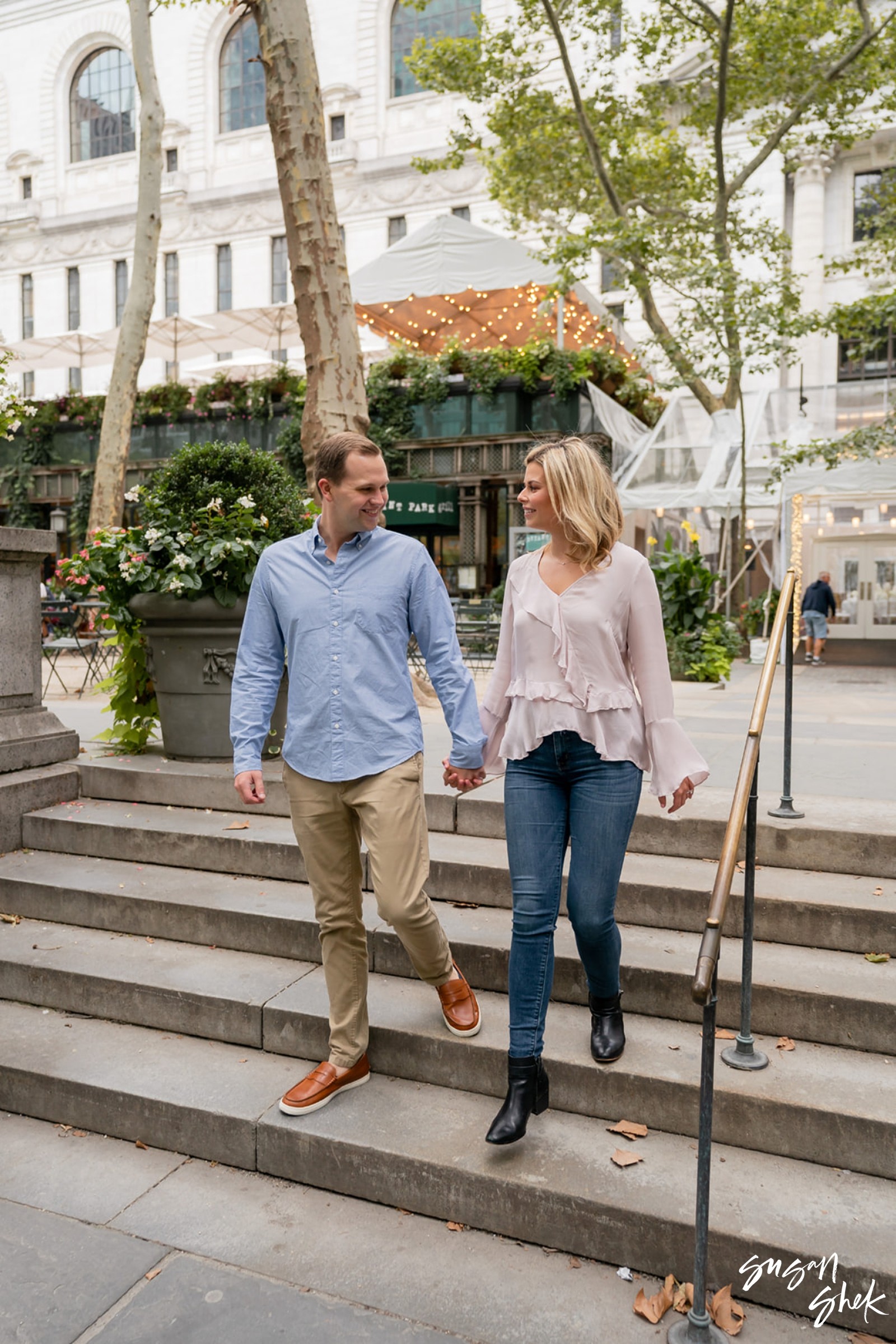 Bryant Park is a lovely area where you can lay in the middle of the grass during summer or winter and stroll through their holiday markets. I love doing engagement shoots here because there are many angles to take pictures.
65. Highline in Chelsea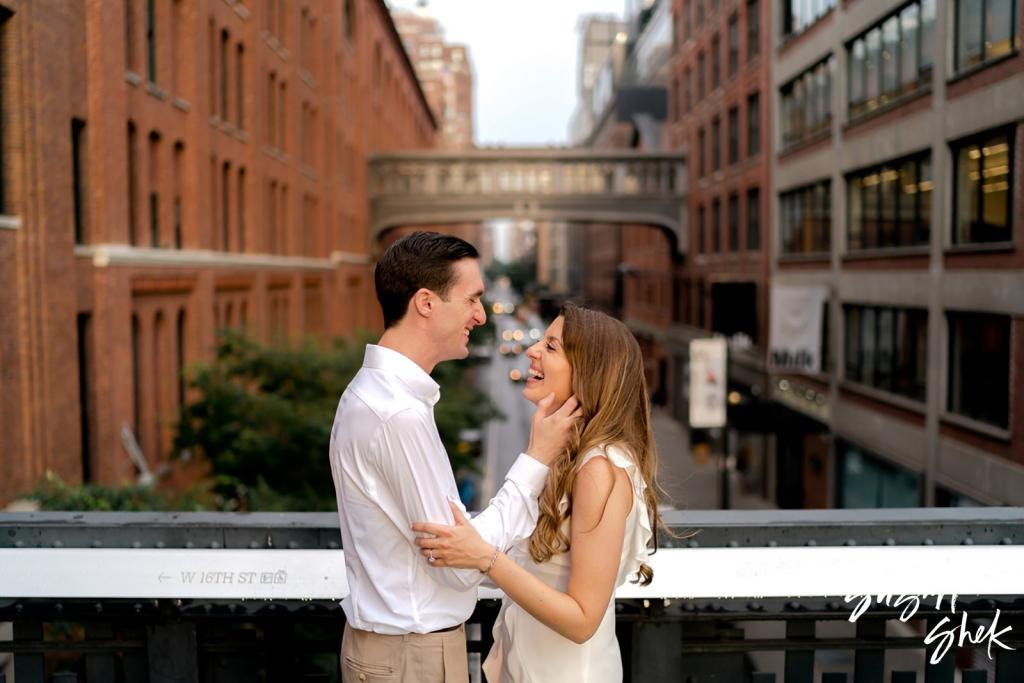 The Highline in Chelsea is a long stretch of railroad that sits on top of the street level that has been turned into a park for people to take a nice walk. I like to do engagement shoots here because there are so many backdrops!
66. Times Square
Times Square is crowded at all times of the day and evening. The bright neon lights shine 24/7, making it a popular location for people worldwide.
67. The Rock in Central Park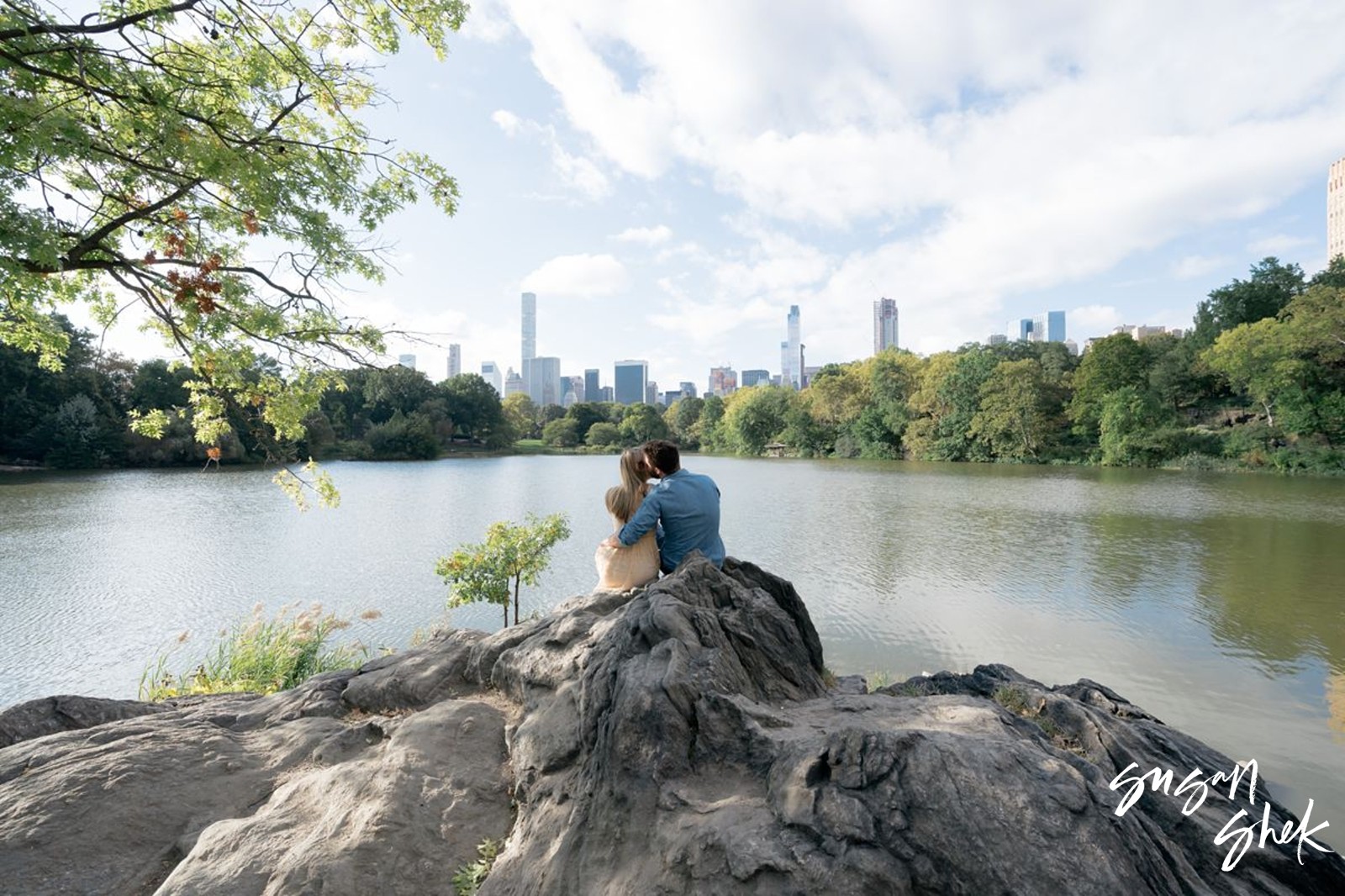 I love this little area of Central Park. It does require you to scale a hill to get to this spot from the Ladies' Pavillion, but it's worth it!
68. Graffiti Wall in Meatpacking District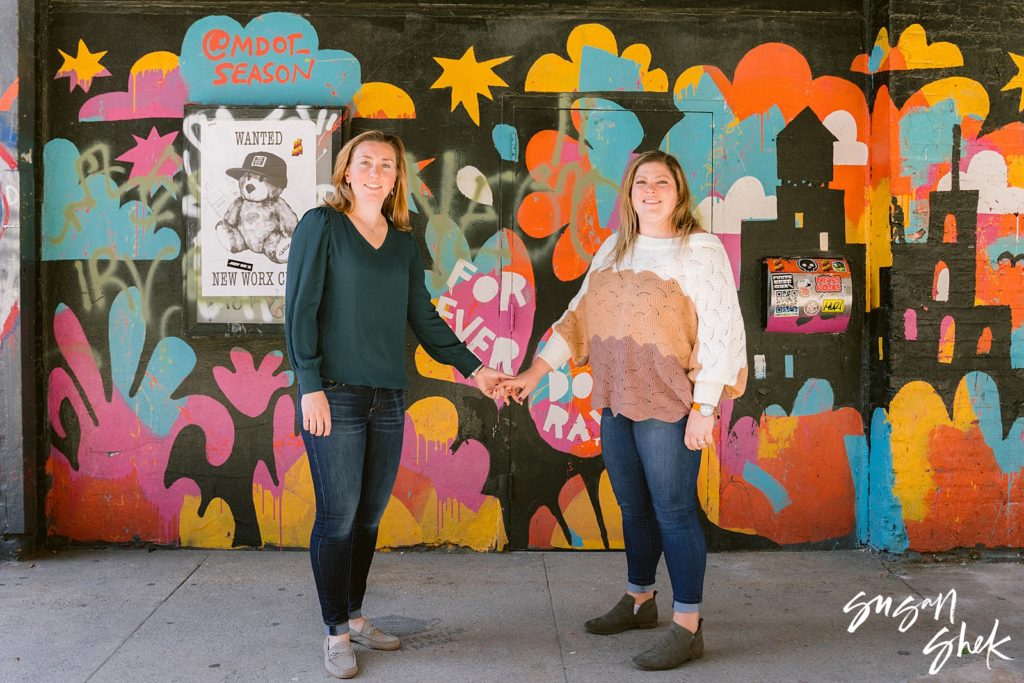 Graffiti and street art are so colorful and fun. It is one of my favorite places to stop and take lovely photos with my couples.
69. Lexus Art Gallery
The art installation at this Intersect by Lexus Art Gallery changes frequently. I was happy to bring my couple here for the Jeff Latham installation of orchids. It was a stunning place for an engagement shoot.
70. Cherry Hill at Central Park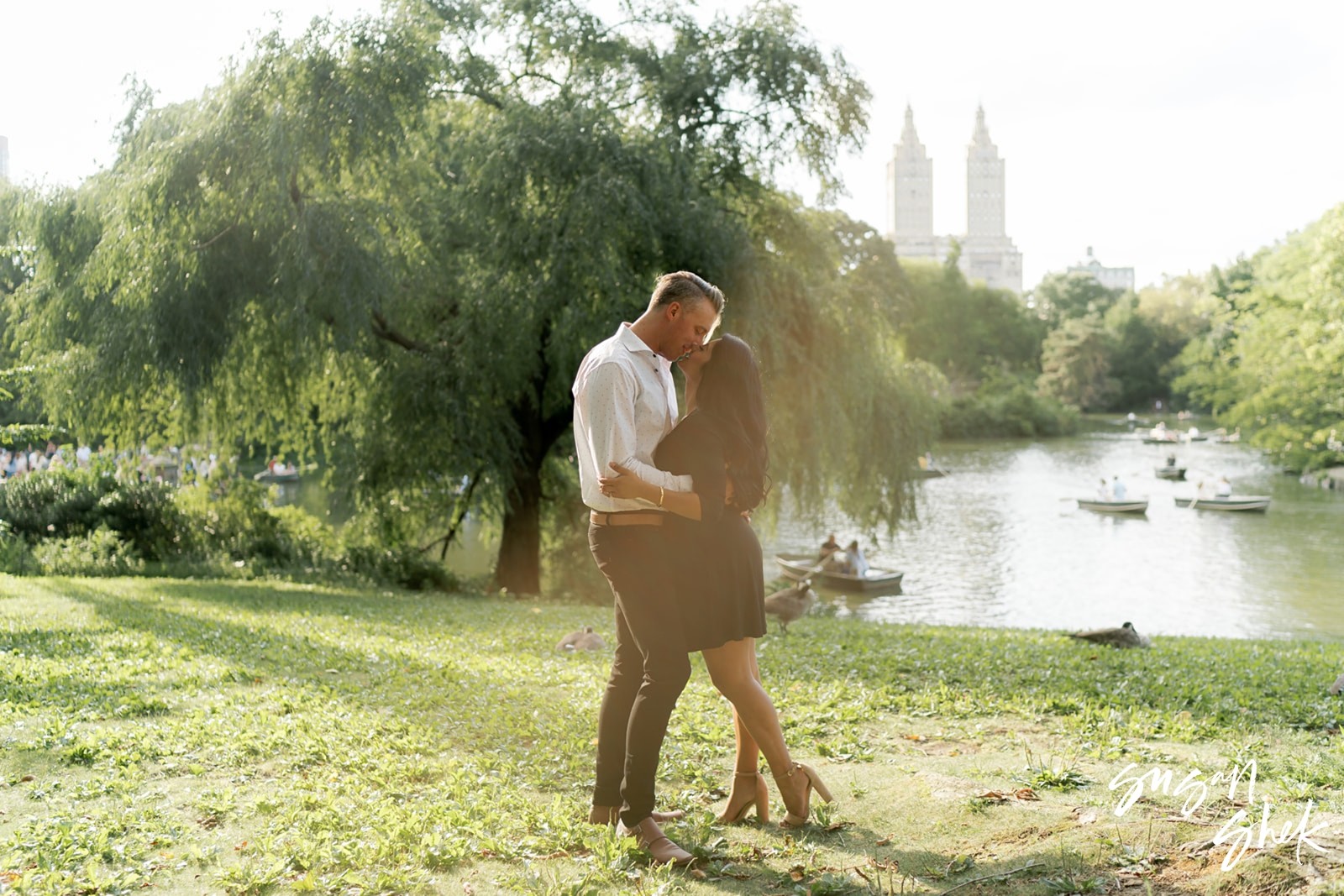 One of my favorite locations for an engagement shoot is Central Park at Cherry Hill; this beautiful willow tree surrounds it and faces the famous lake where everyone enjoys boating in the summertime.
71. Roosevelt Island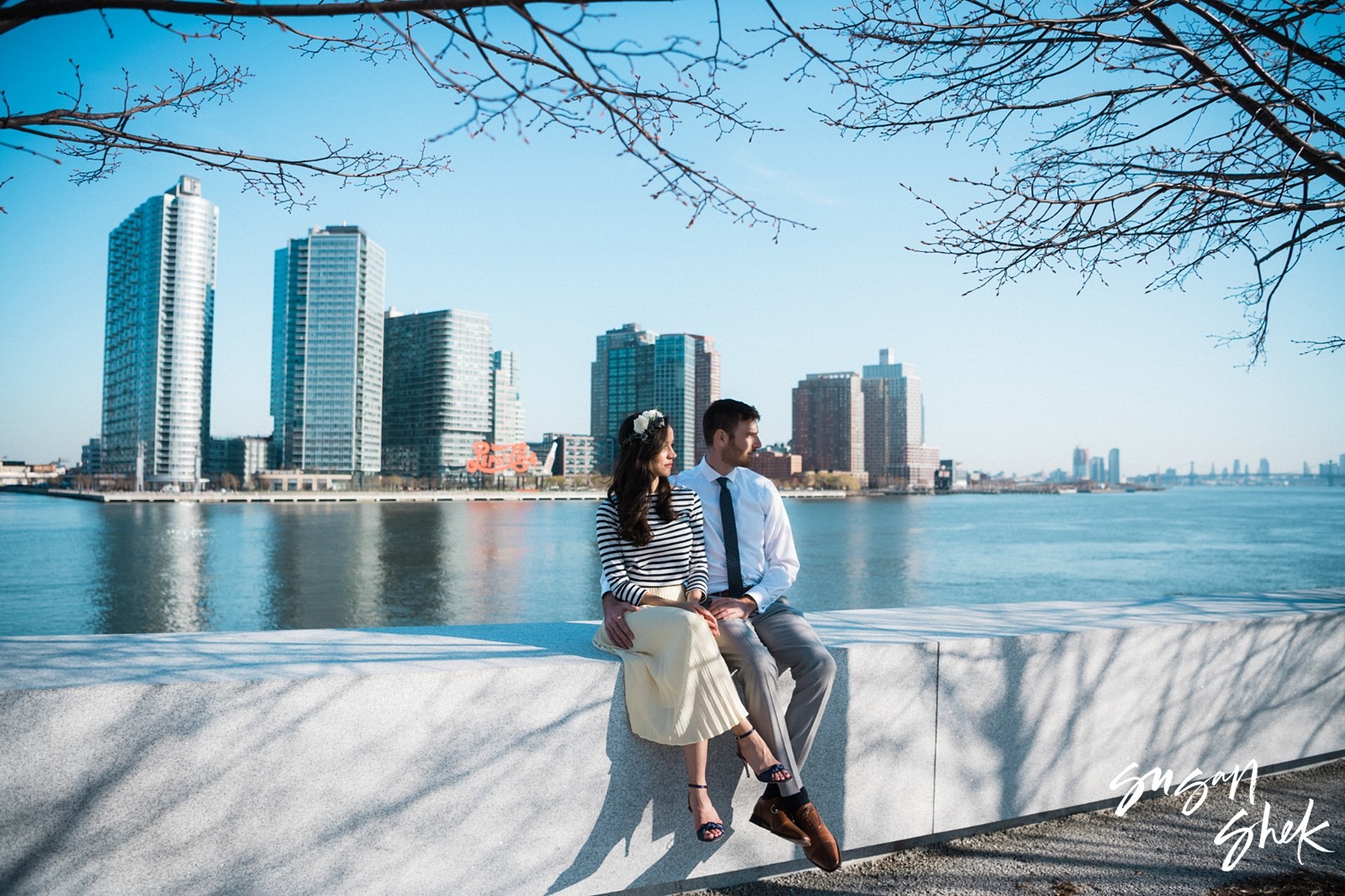 Roosevelt Island is a fun location that can be accessed by Tram from 59th Street or by driving. It is pretty in the spring as they have a cherry blossom festival
72. Astoria Park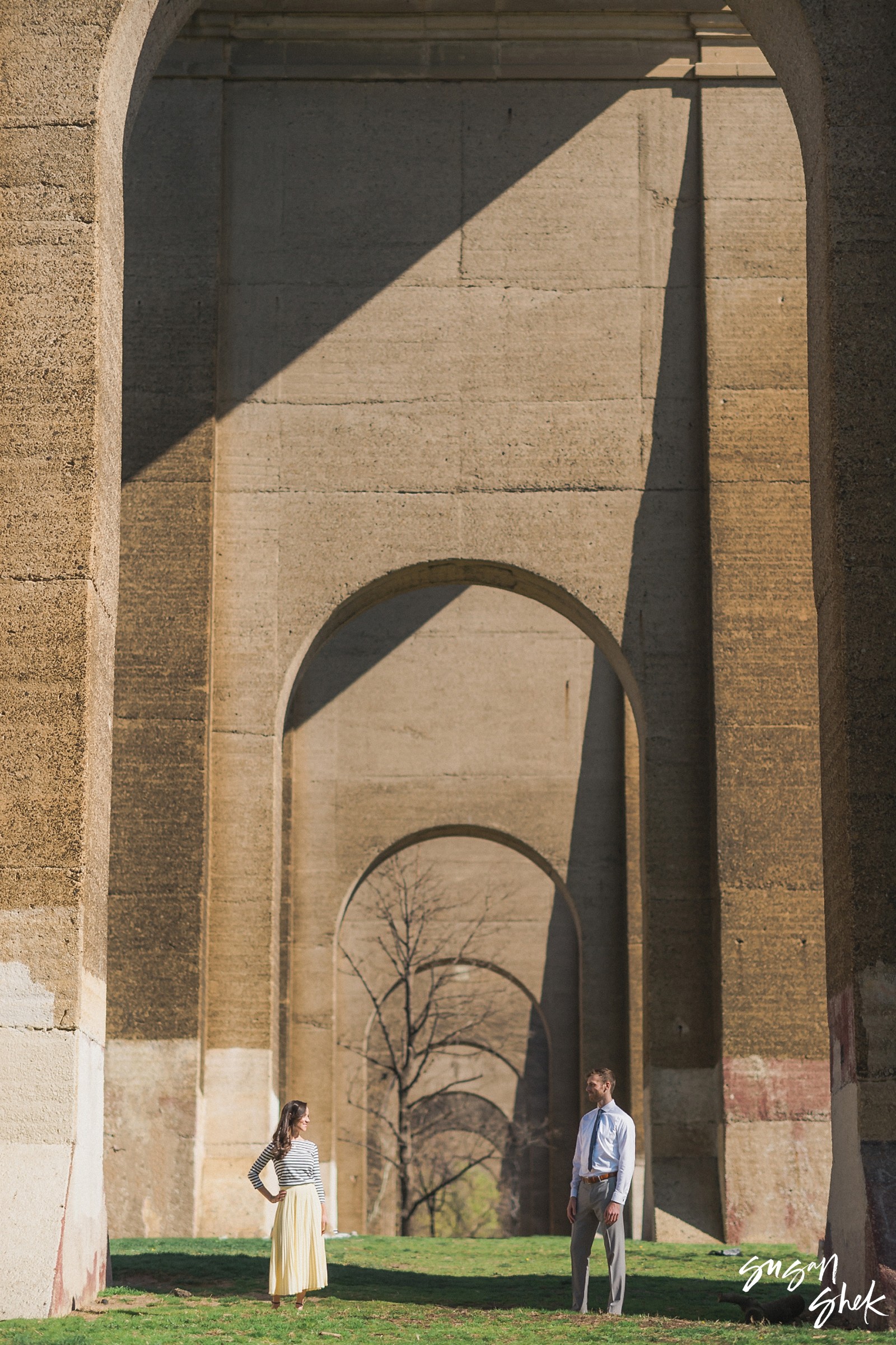 Astoria Park has so many exciting locations to take your engagement photos. If you live near that area, it is an option for some fun photo ops like this one under the bridge!
73. The Plaza Hotel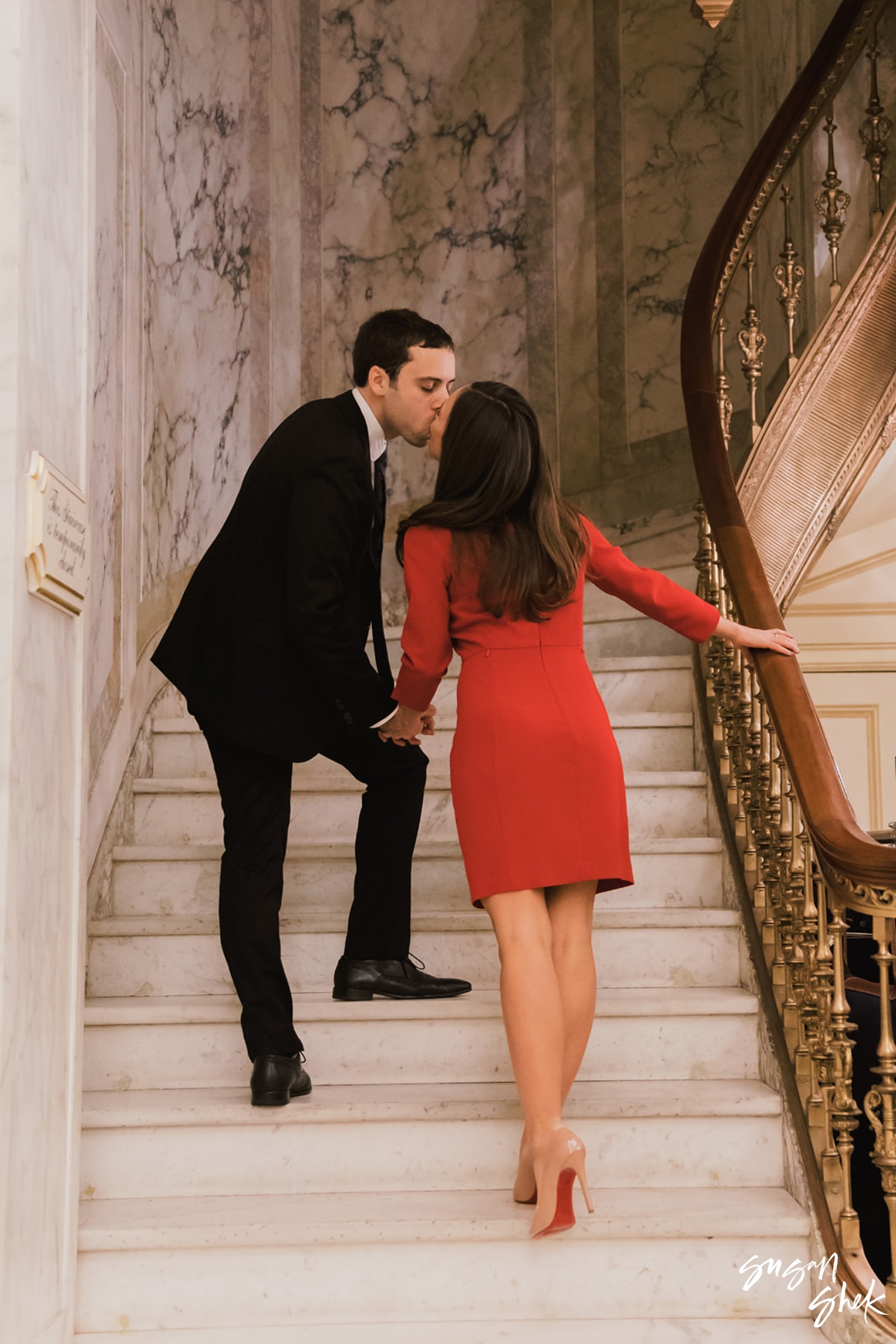 The Plaza Hotel is a great place to stay and also have a chance to take some pictures either for your wedding or engagement session.
74. Tudor City
Tudor City is a beautiful place for some engagement photos because it has such excellent views of 42nd street. It's also quieter here unless it's during Manhattanhenge when thousands of people camp out here to photograph the sunset between the buildings.
75. East Village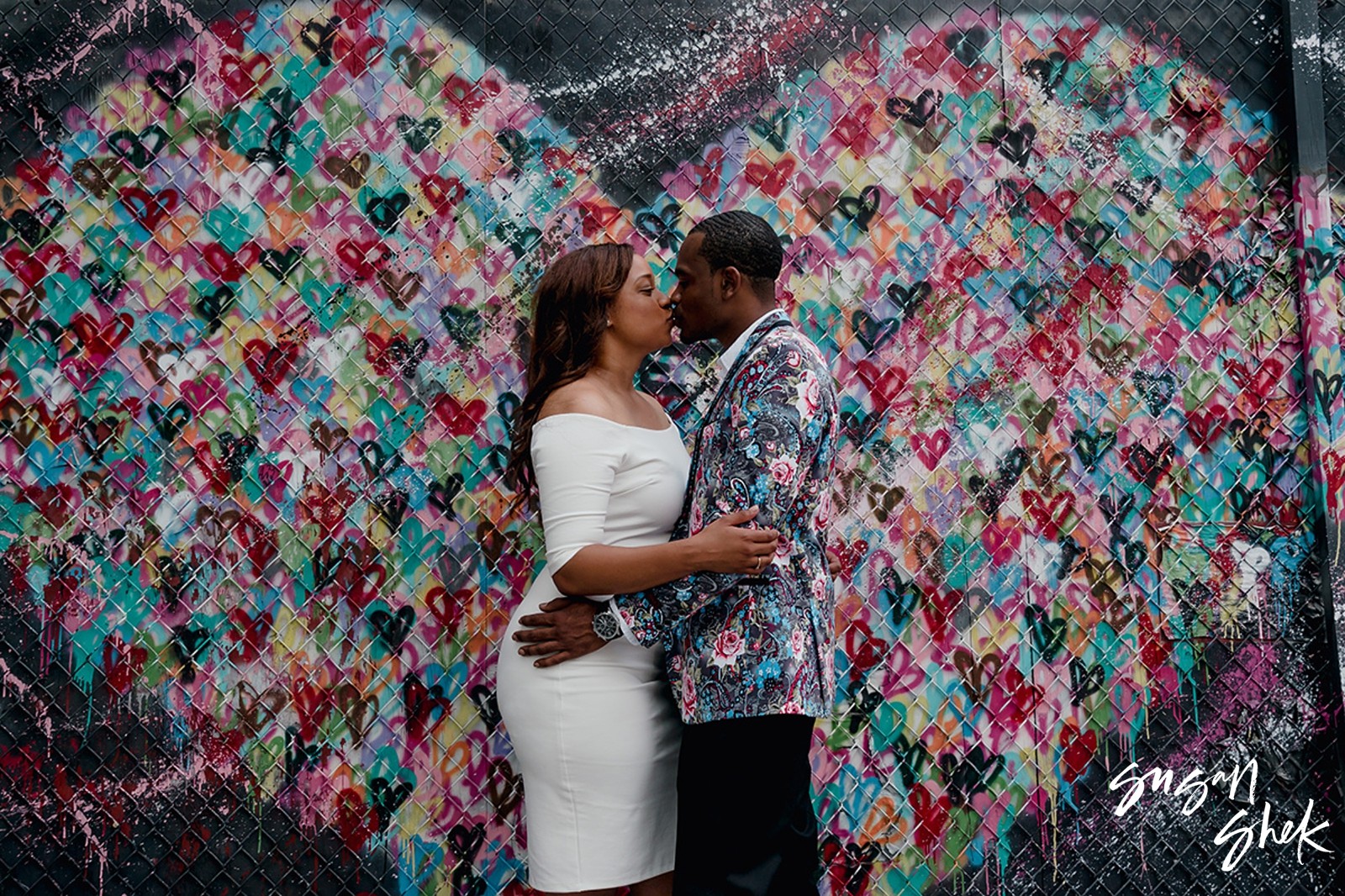 I grew up in the East Village area, so I know all the great spots for photos like this one. There is also a row of street art over on 1st street that people love to take pictures in.
76. Lower East Side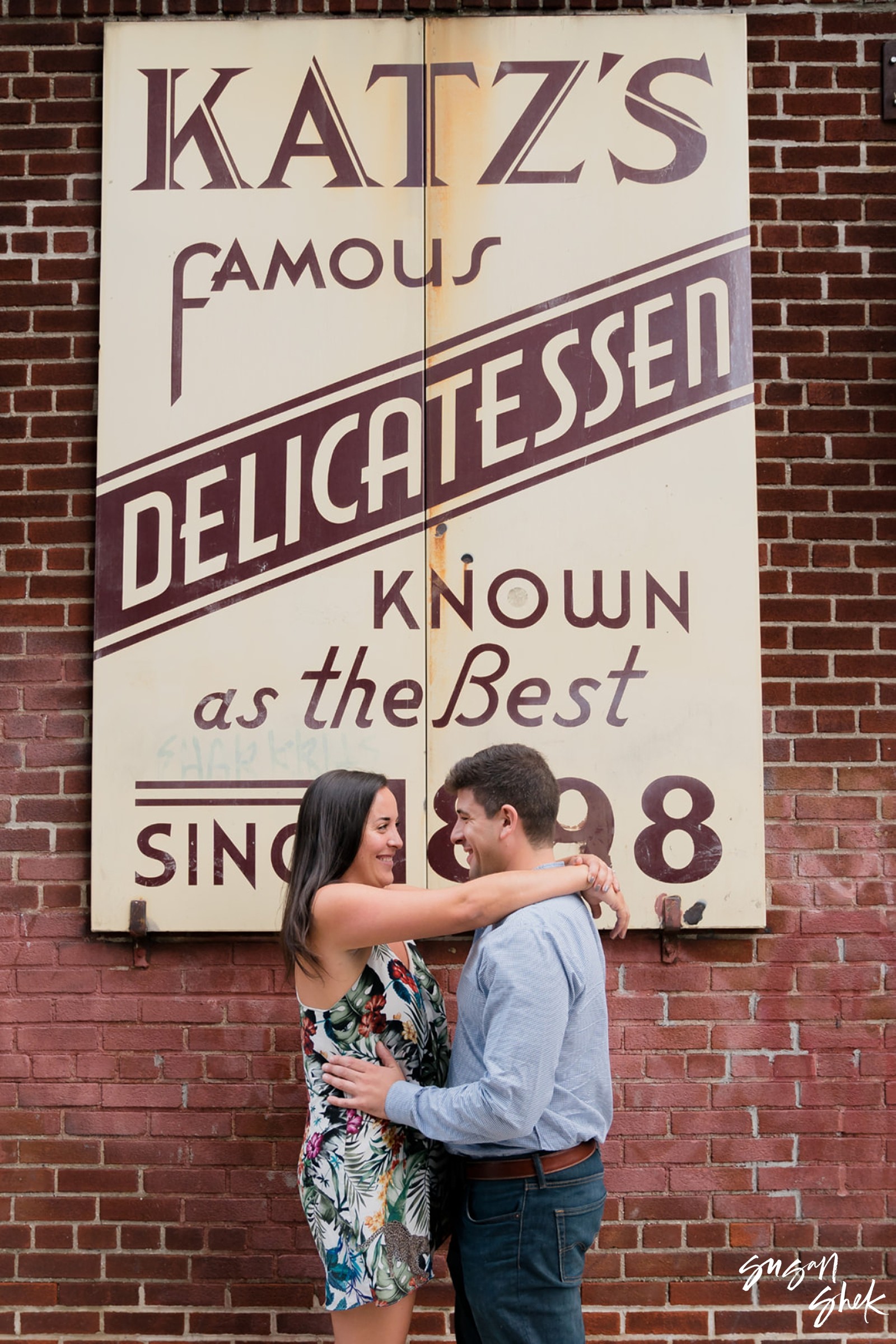 Famous for more than Katz Deli and Punk Rockers, Lower East Side is enjoyable if you like bars and smaller boutique shops! Also a great place for engagement photos as it's different from your usual.
77. South Street Seaport
I love seeing different views from all over NYC. South Street Seaport has transformed through the years. There are also some great views of Brooklyn Bridge from this area.
78. Pier 17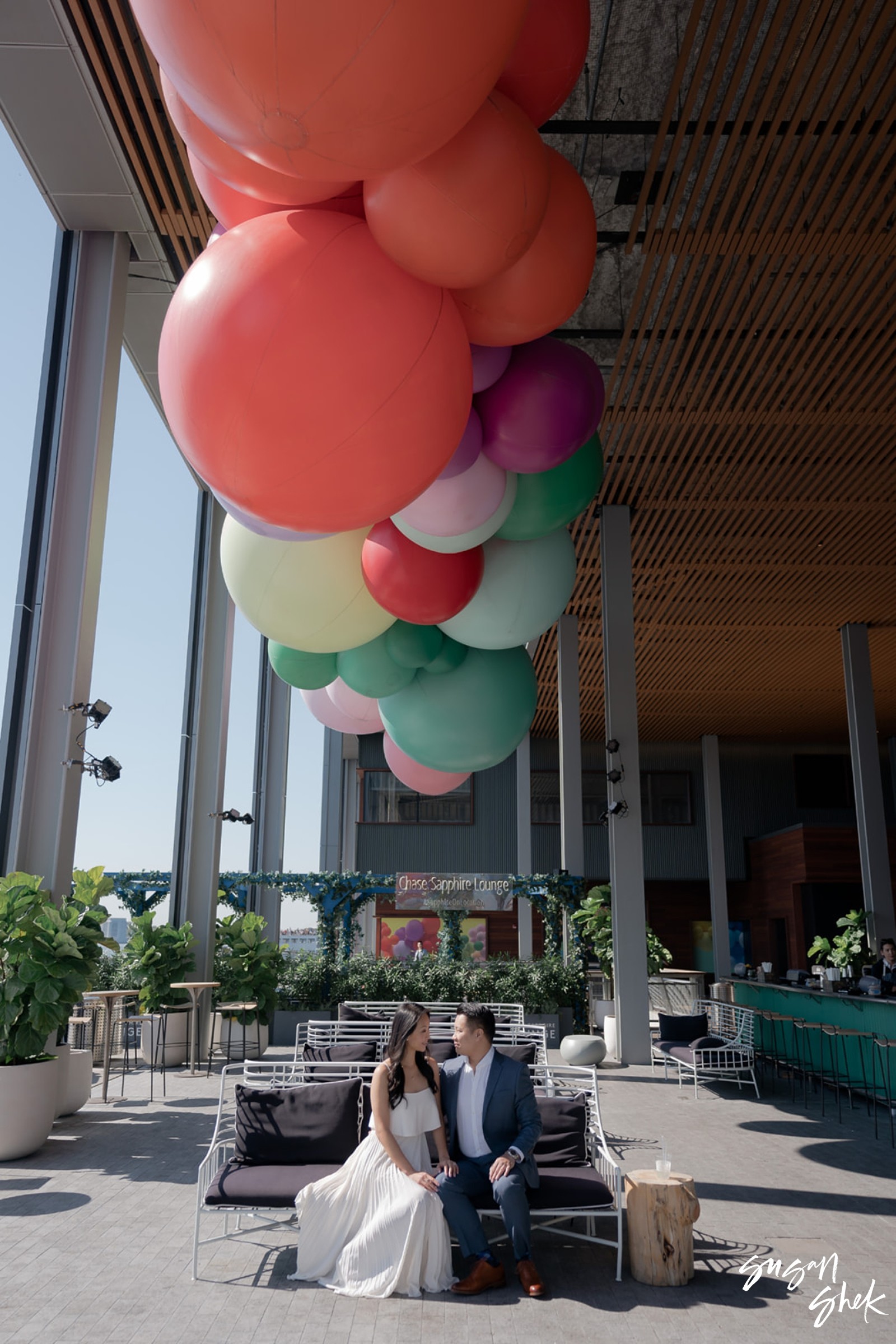 Pier 17 is the newest development in South Street Seaport. They have a Jean George restaurant called The Fulton and concerts upstairs on the rooftop in the summertime. It's a nice new place for engagement photography as well!
79. Columbus Circle
Columbus Circle is a busy intersection for cars. There is also an entrance to Central Park from here that is helpful after a couple of photos in this area.
80. The Ramble Central Park
I love taking couples to the Ramble in Central Park. It's a fun way of exploring and pretending like we are lost but not.
81. Tribeca
Tribeca is a beautiful location for engagement photos. Most of the time, it's quiet, and I love the red brick contrast with the cobblestone streets.
82. Staple Street Bridge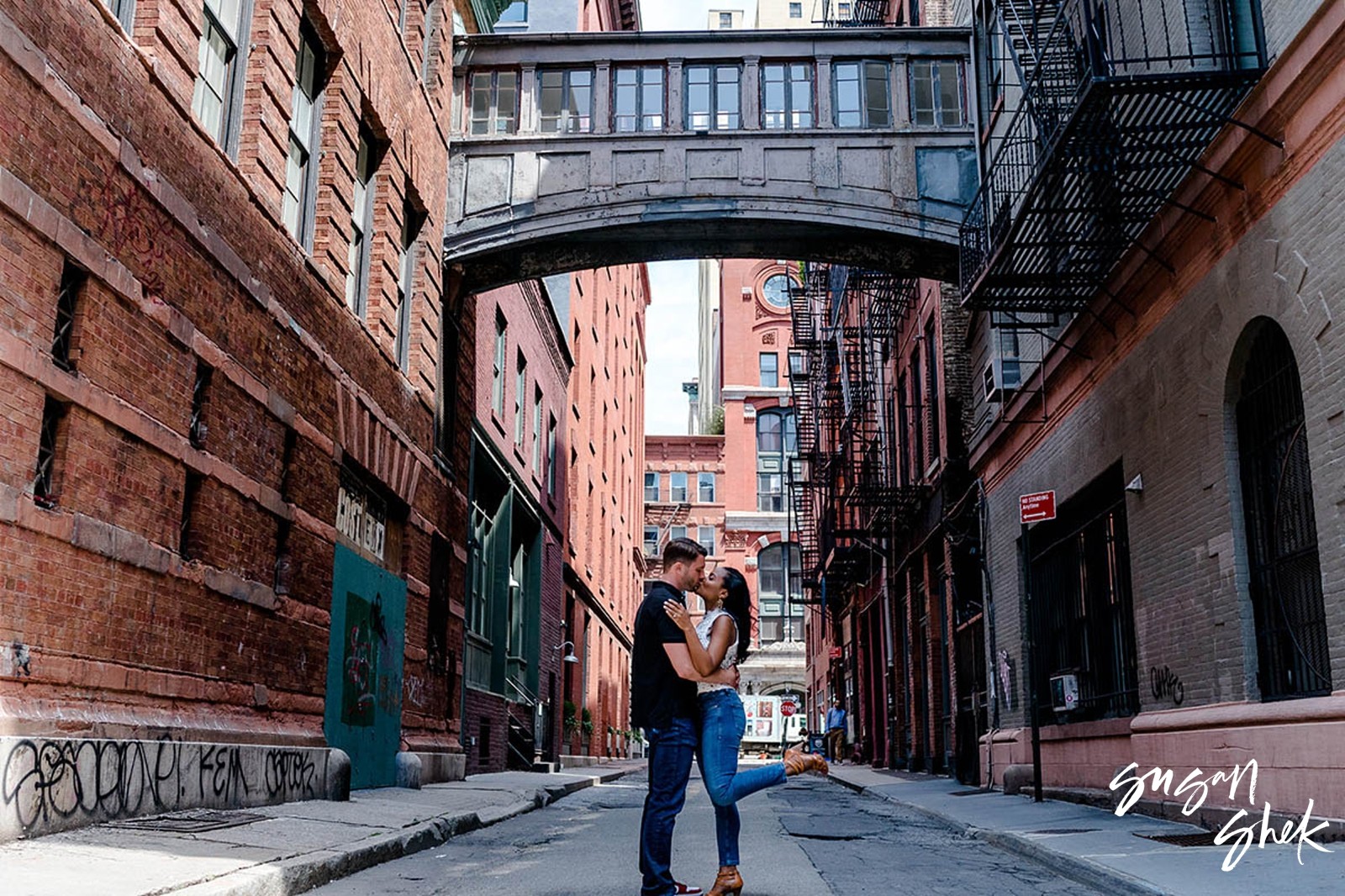 Staple Street Bridge area is famous for engagement photos and wedding shoots because it's so raw, and you can get some great photos here.
83. City Hall Park
City Hall Park is lesser-known for photoshoots unless you plan on getting married at the Marriage Bureau. I love how pretty the buildings are in the park.
84. Soho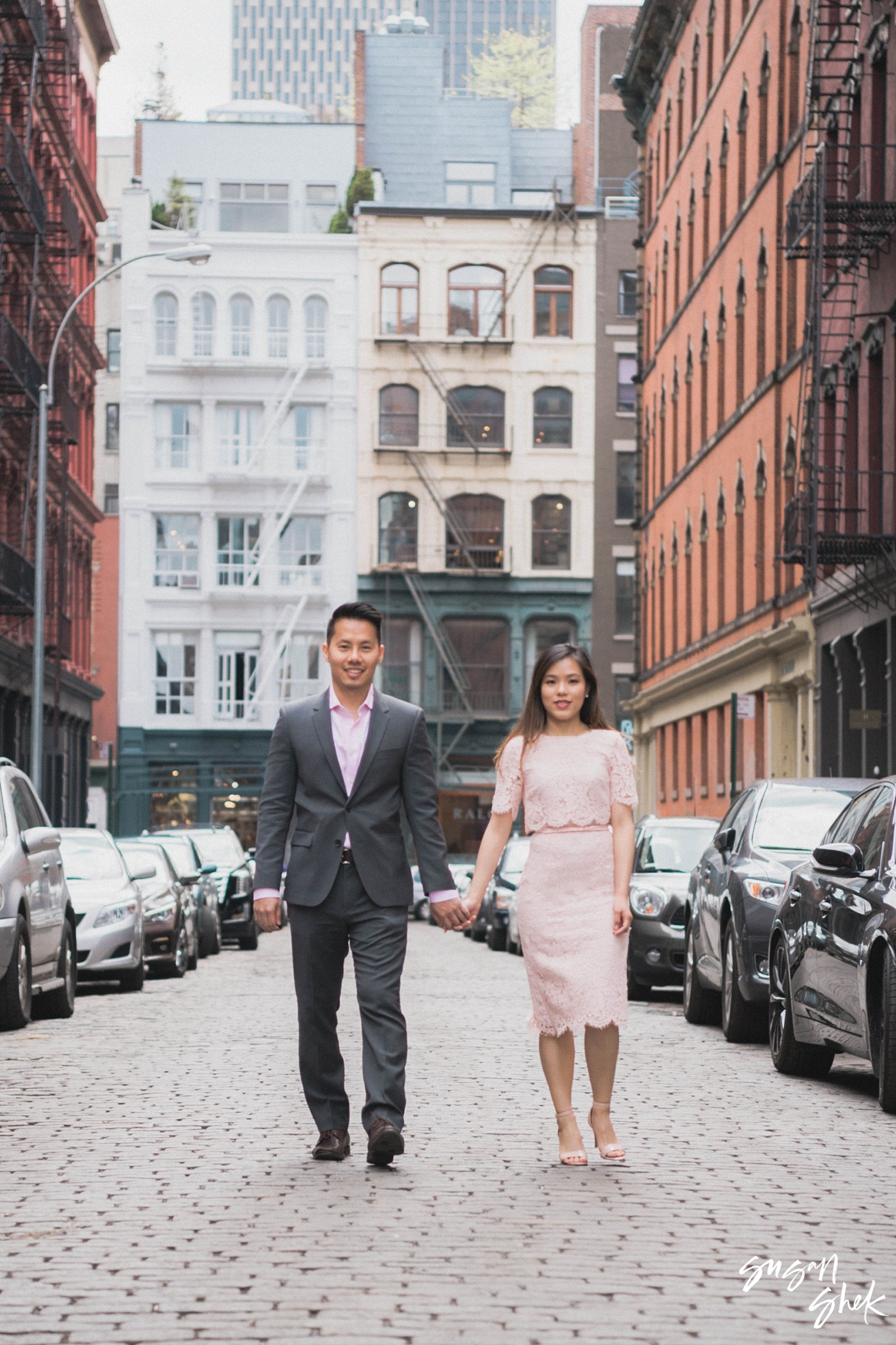 Soho has many beautiful cast-iron buildings that make a perfect location for engagement sessions!
85. NOMO Soho Hotel
Whether you are staying at NOMO Soho or just want to use their front lobby space for some pretty engagement photos, it will be a lovely backdrop that is recognizable!
86. Little Italy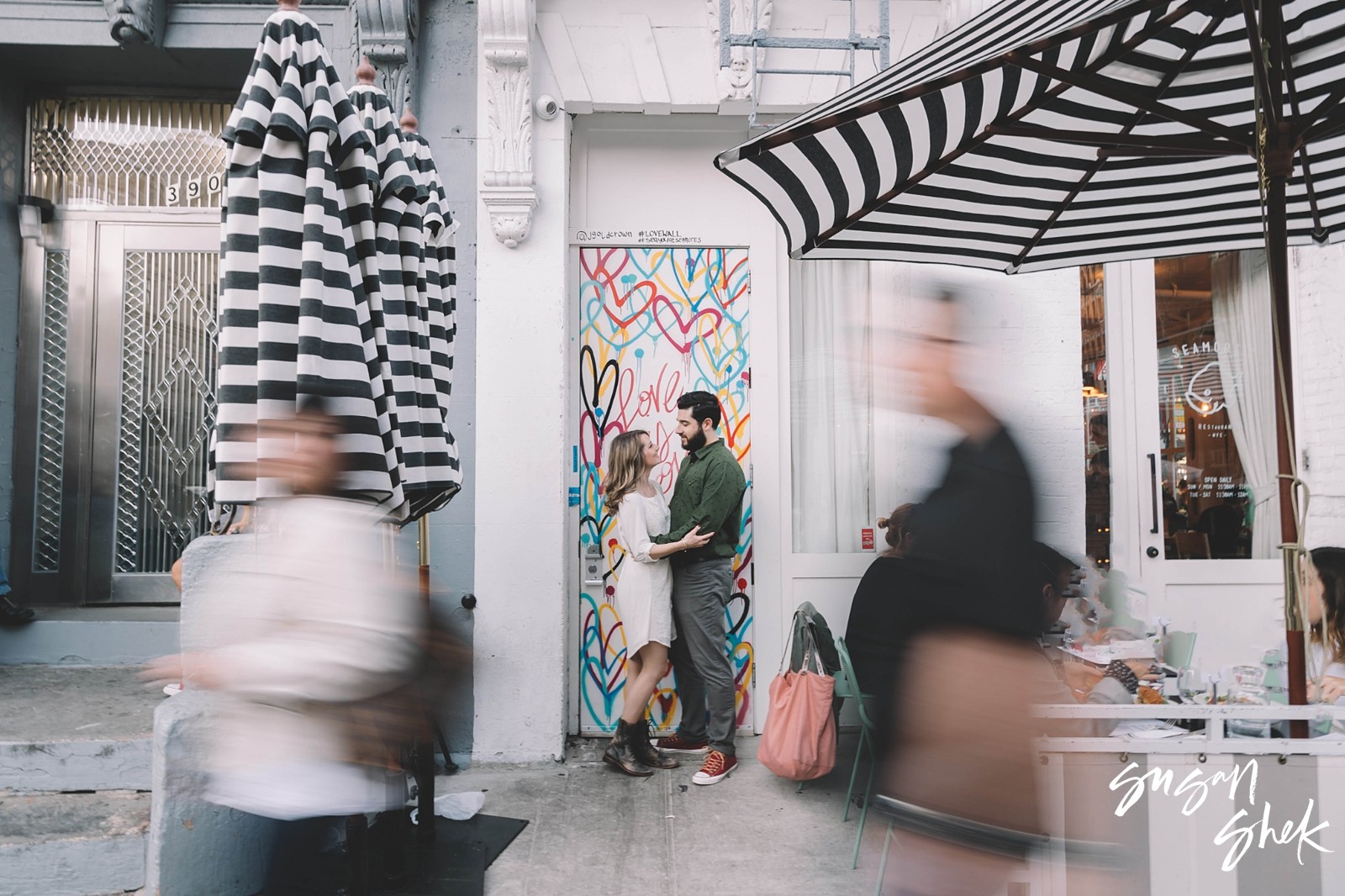 Little Italy is fun for passing by and taking a couple of photos in the area. There are always pockets of places that have some street art on them.
87. Williamsburg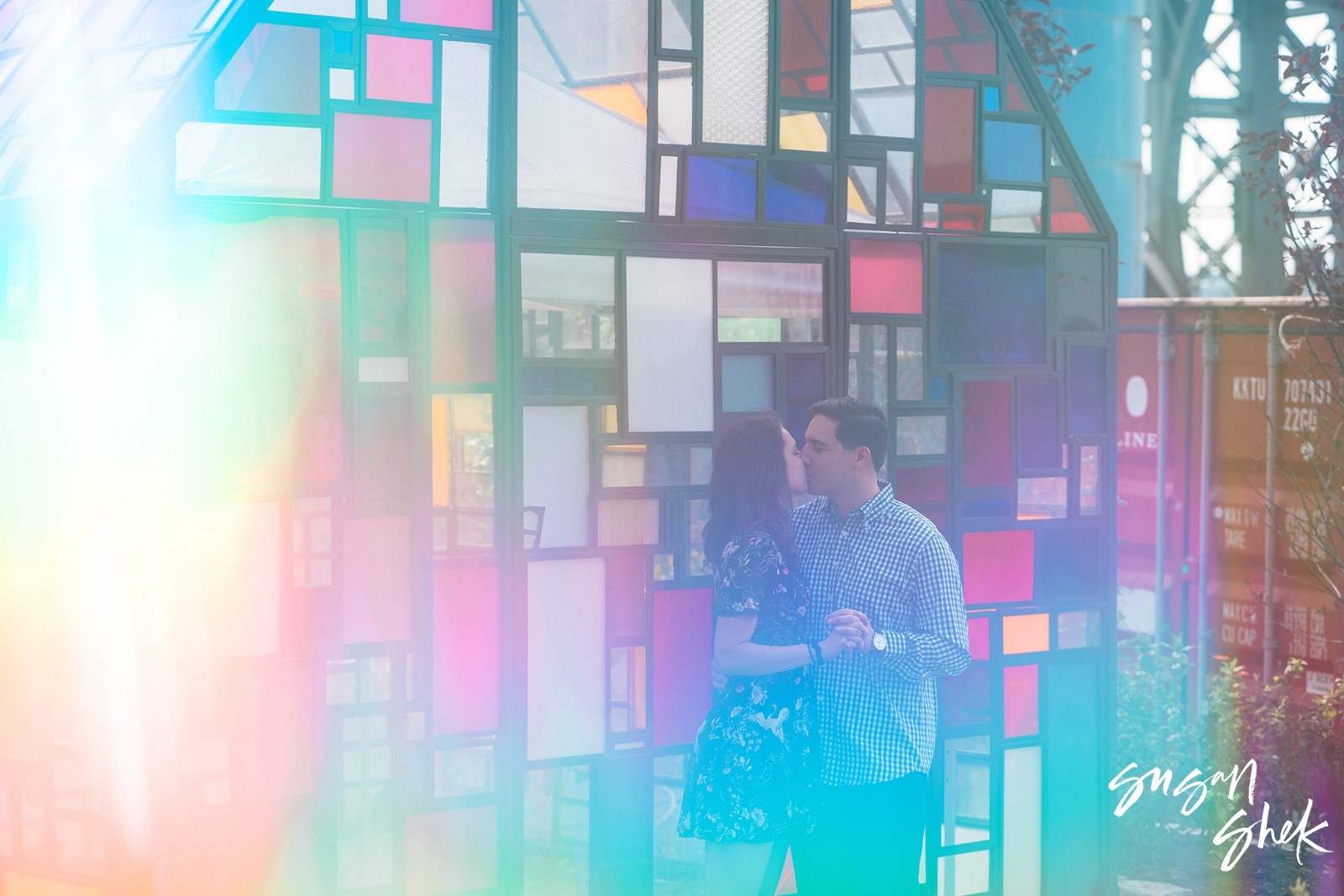 Williamsburg has so many artistic NYC engagement photo locations. It almost looks like a dreamland! This one, in particular, is at North Brooklyn Farms on the waterfront near Domino Park!
88. MTA Museum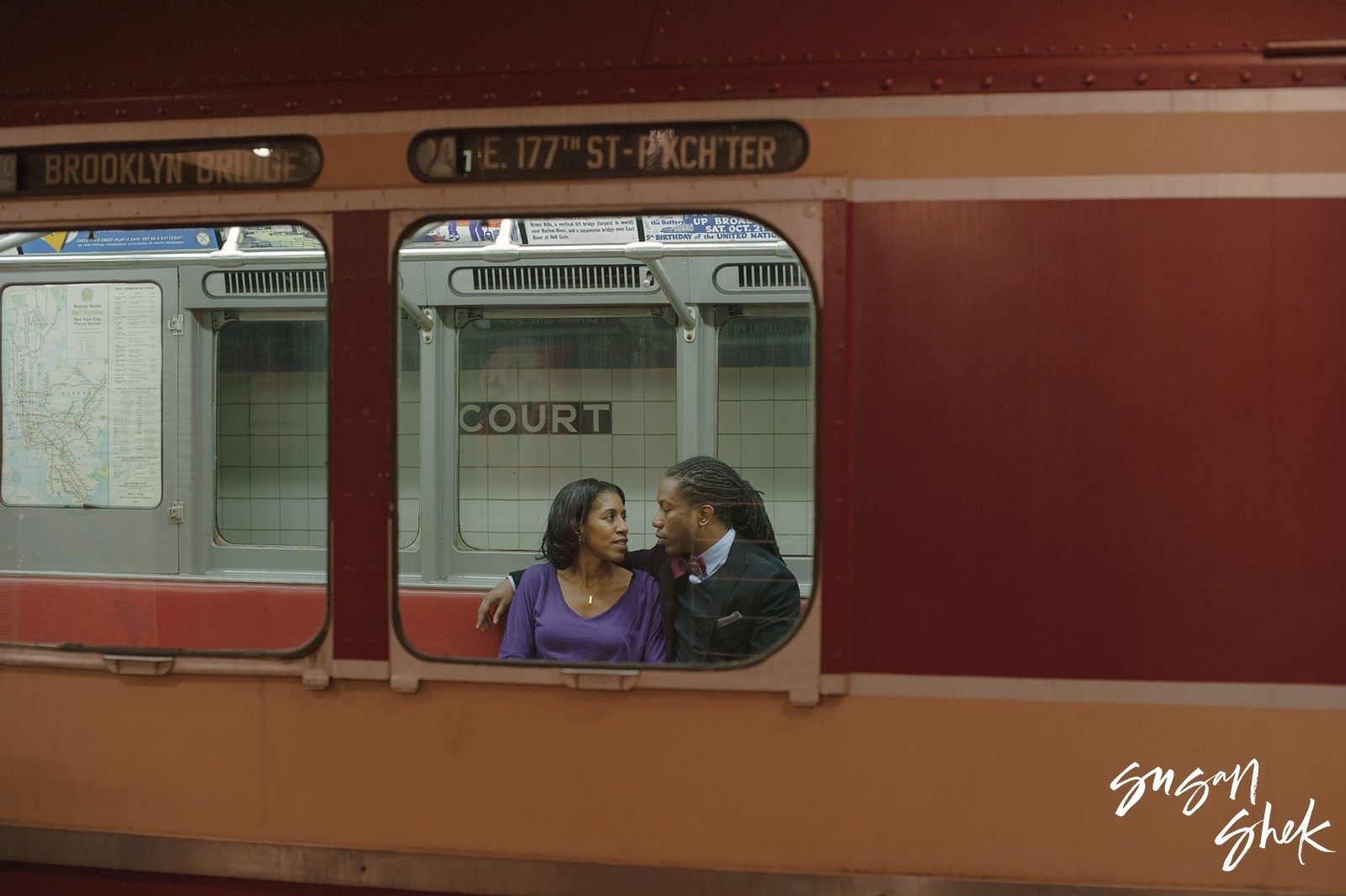 Another great NYC engagement photo location is the MTA Museum if the weather is less than desirable outside, you can always come here with a small entry fee. There are many vintage cars here that you can experience and feel like you have the place to yourselves!
89. Fort Tryon Park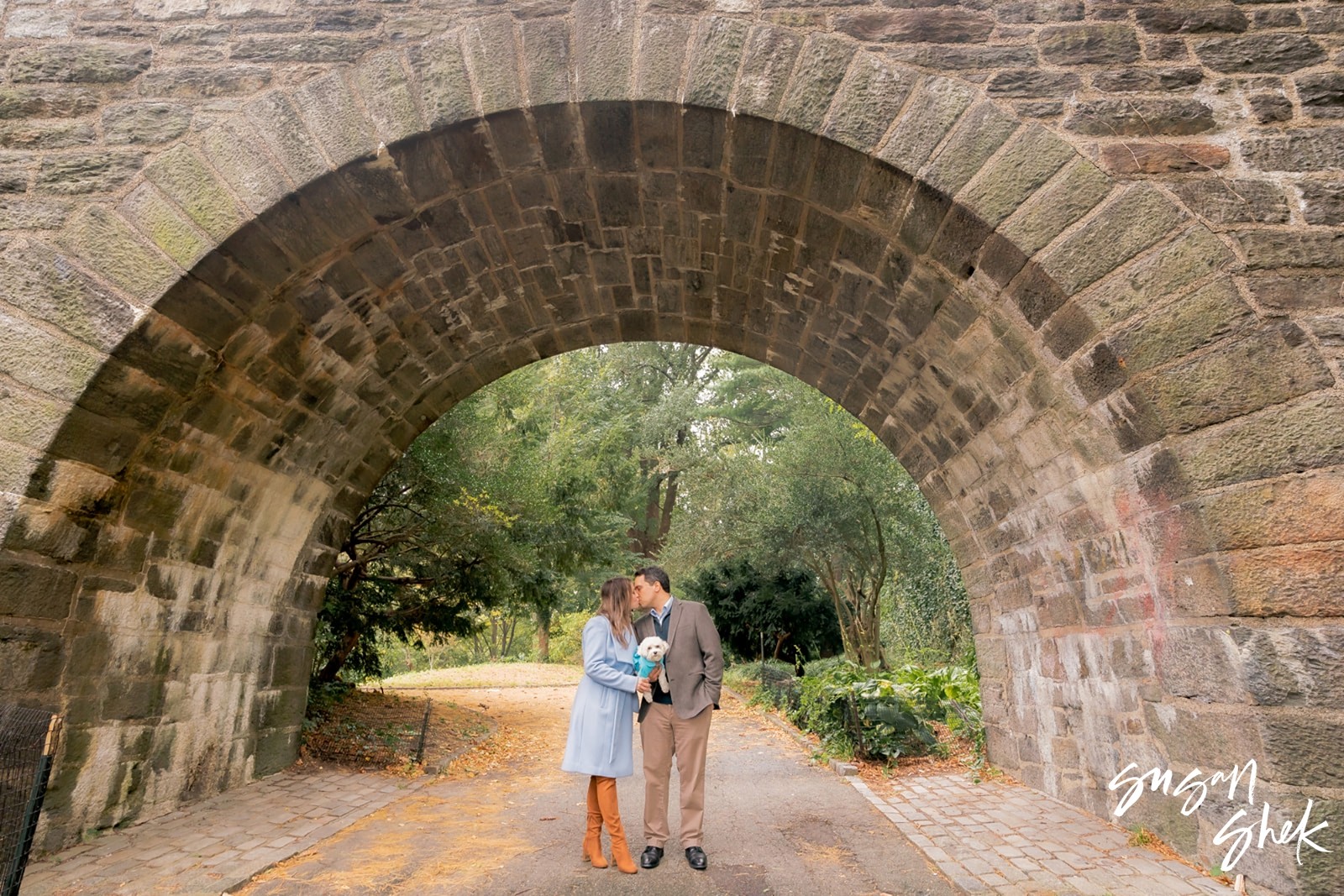 Fort Tryon Park is a great NYC engagement photo location located at the end of Manhattan. There are so many different locations to take pictures, and it tends to be quieter than Central Park! I always encourage you to bring your dog too!
90. Long Island City Gantry Park
I love the views from Long Island City Gantry Park. You can see the Empire State Building and also down to south Manhattan. There are some lovely sunsets from here as well.
91. Carl Shulz Park
Located on the upper east side is Carl Schurz Park. It is also where Gracie Mansion resides. It is a beautiful hidden gem with multiple NYC engagement photo locations. We can do the whole session here to save time and get more photos in if you'd like.
92. Red Hook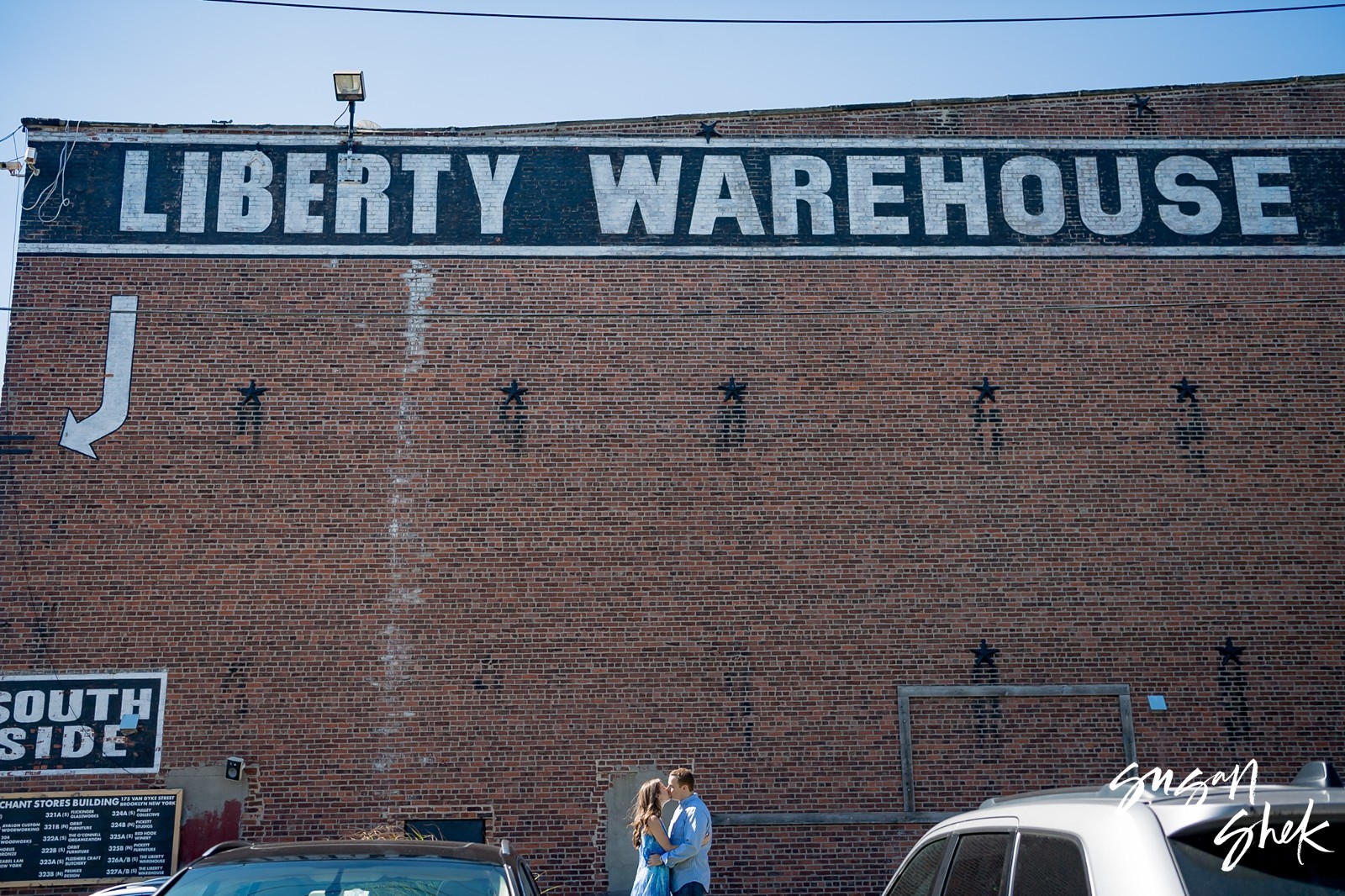 Red Hook is nice but far for most people coming from the city. It is also a popular place for a wedding venue called Liberty Warehouse. It sits on the waterfront with views of the Statue of Liberty.
93. Bushwick Collective
Bushwick has changed through the years; now, it is a popular location for everyone to visit. A lot of young people and artists reside in Bushwick. Street artists have painted this area to make it more colorful and livable.
94. Riverside Park
Riverside Park is beautiful on the upper west side for engagement photos. I love coming here because the light is always nice.
95. Columbia University Entrance
Columbia University is a popular engagement photo location, especially for alumni. There are many beautiful locations to take pictures.
96. Zabars
When you are a massive fan of Zabars, why not make this a stop in your NYC engagement photo location bucket list? We can do the whole engagement session around that fun area!
97. Upper West Side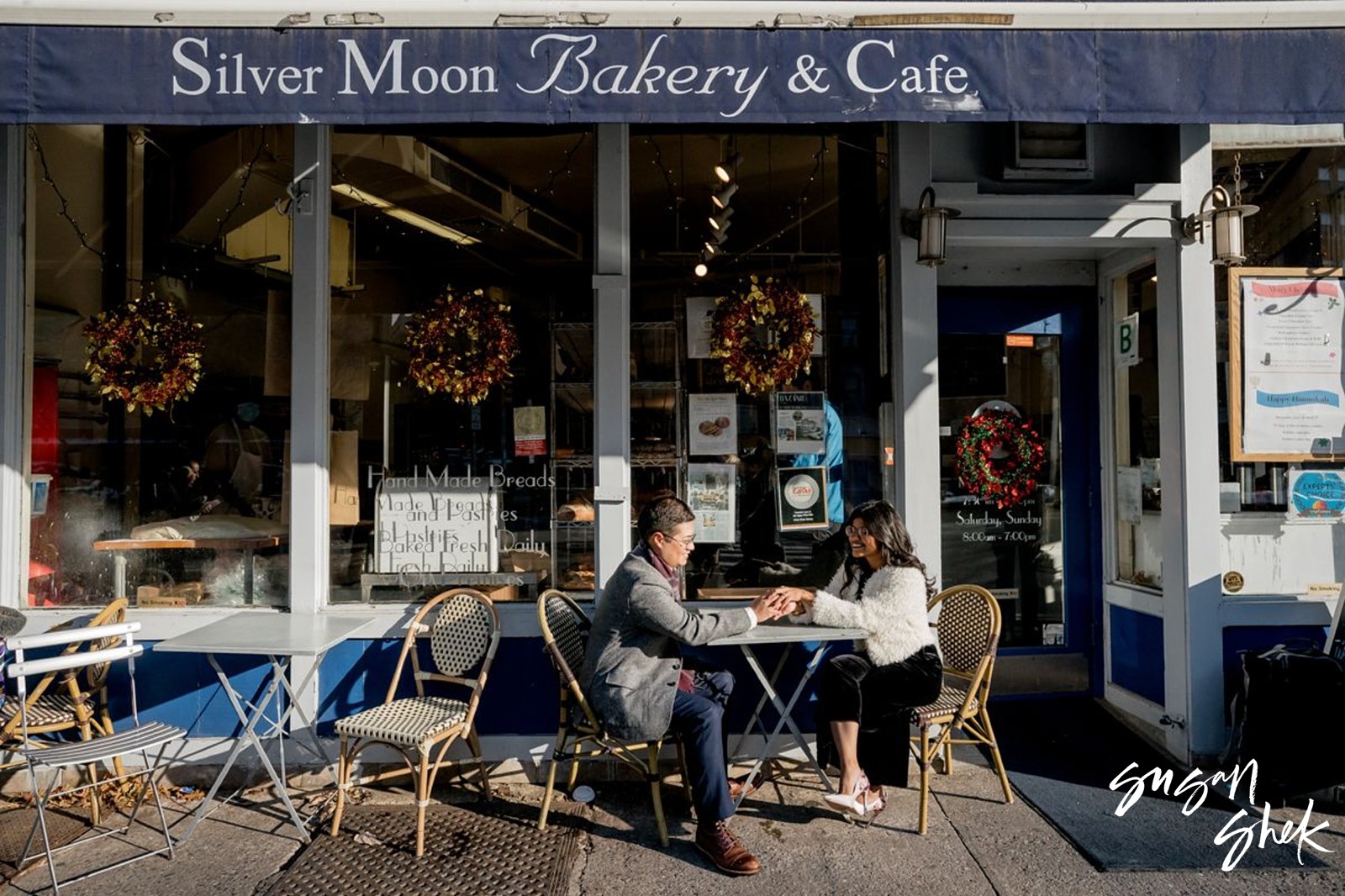 Silver Moon Bakery is one of the best-kept secrets and bakeries on the upper west side. I'm happy my couple wanted to do their engagement shoot at this charming NYC photo location! Eat some cherry tarts and enjoy the company of each other!
98. Coney Island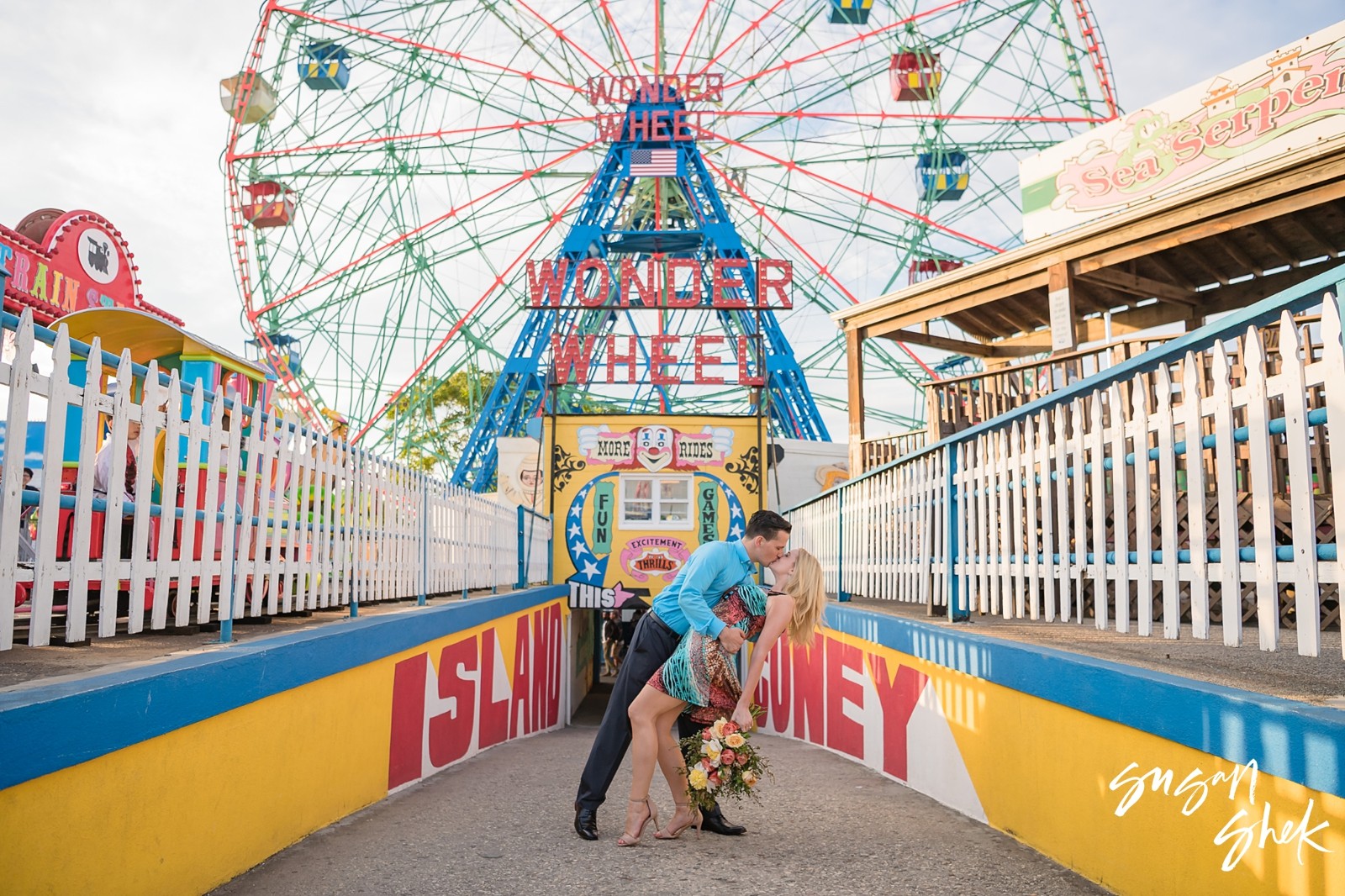 Coney Island is always a fun and vibrant place for engagement photos! You can go on rides or play some games, and I will capture all the excitement! This venue alone has several distinctive NYC engagement photo locations to choose from.
99. Jackson Heights Queens
I love when my couples dress up as their favorite characters for their engagement shoot in their neighborhood of Jackson Heights, Queens!
100. Lincoln Center
The city that never sleeps is home to many world-class attractions and attractions. But one of them stands out among all others: Lincoln Center, a multi-venue performing arts complex. Located on New York's Upper West Side, this cultural landmark includes two performance halls (the Audrey and Fred Astaire theatres), a film festival venue (Walter Reade Theatre), a roof deck restaurant with views of the skyline (an open-air theatre), as well as the Vivian Beaumont Theatre, home to the Metropolitan Opera. The stunning architecture of these buildings – composed of glass, stone, and marble – makes Lincoln Center an architectural marvel in addition to its artistic triumphs. Engagement photos here make the perfect photo op!
101. East River Piano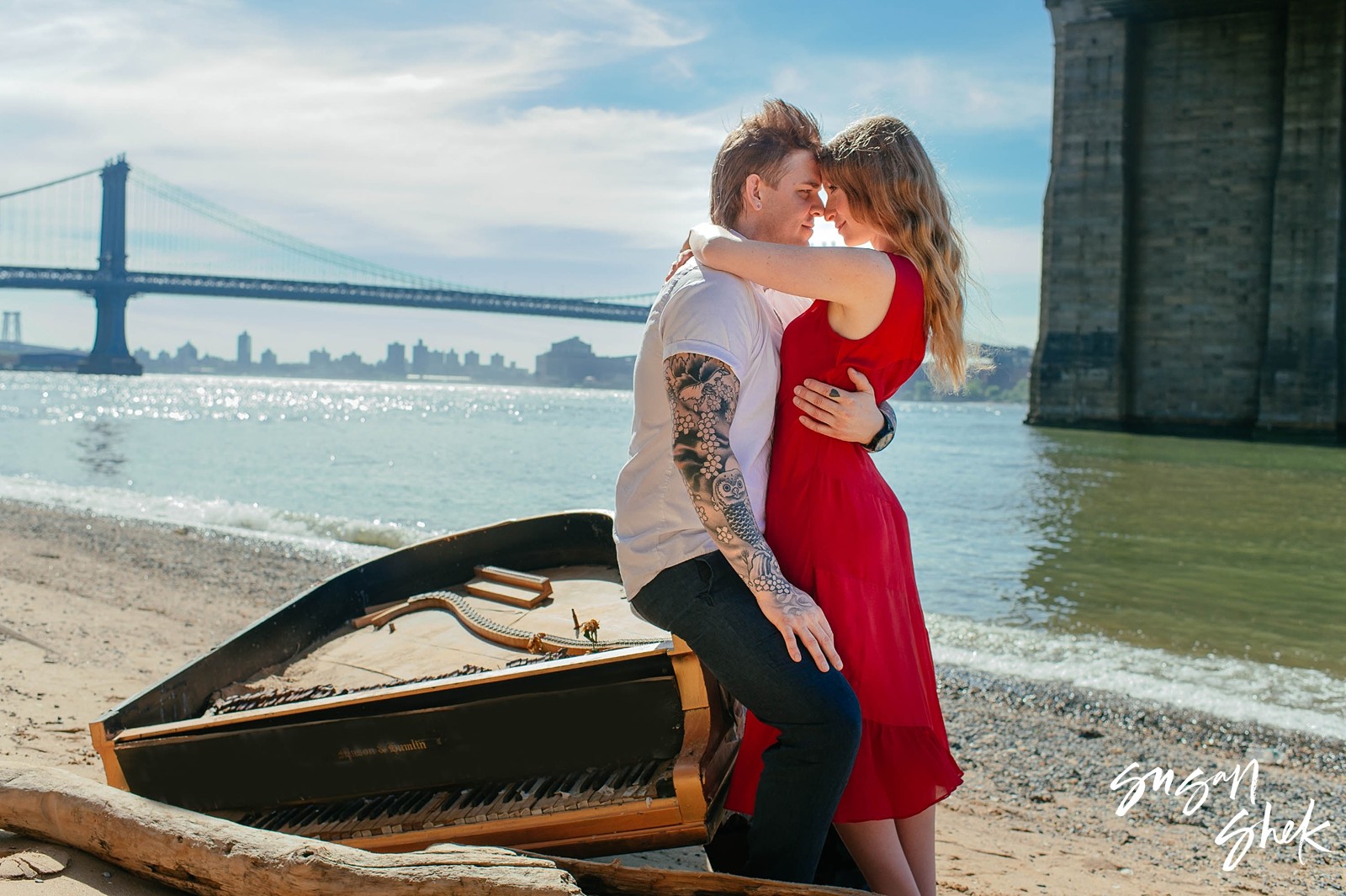 Now for the surprise! Not sure if this piano is still floating around, but it was the most incredible experience to follow it to this location under the Brooklyn Bridge. The piano supposedly washed up onshore, and we had to take our couple here for an epic engagement photo session.
Now that you've learned about all the NYC engagement photo locations I've photographed, I am happy to share a guide on preparing for your engagement session.
Contact me to book your engagement photo session.