A Guide To New York City Hall Weddings
City Hall Wedding Updates
As of August 1st, 2022, the New York City Hall Marriage Bureau is opening to in-person weddings!
That's all great and all, but the center is still limited to APPOINTMENT ONLY-
Meaning you can no longer walk in and have your civil ceremony without a booking.
Also, only ONE person is allowed to join you and needs to act as your witness. Everyone else can wait outside or nearby at one of our recommended locations.
Book now as our availability will be going fast! Our rates start at $1250 and also can serve as your witness!
---
Reasons to have a New York City Hall Wedding?
What if I told you that getting married at City Hall is easy and inexpensive to have a New York City Hall Wedding? You are also not required to have a ton of people there with you. It can be the two of you, and a witness. As a photographer who has witnessed many weddings, I would be honored to capture them and be your witness too!
I have photographed a countless number of weddings as a City Hall Wedding Photographer. I feel like I know everyone there by name and they recognize me every time I stroll through the hallway. Having worked here many times means my expertise has led me to find every angle possible for the best photos under any lighting conditions. From the beautiful historic stone steps that lead up to the front doors of the Marriage Bureau to the mosaic tiles that curve around the interior of the gift shop, there are many backdrops that can be used to set the tone of your love story.
Not only can I be your City Hall Wedding Photographer, but I can also help you plan your day around your ceremony. I can help suggest and arrange your lunch or dinner reservations, transportation (taxi, uber, limo) floral arrangements, dress/tuxedo rentals, and any other addition to your NYC Wedding Planning needs. As a New York native, you won't find anyone that knows New York City better than I do!
How Does the Marriage Process Work for City Hall Weddings?
Your actual NYC City Hall Wedding ceremony doesn't take place at City Hall, it takes place at the City Clerk NYC's Office. It is sometimes known as a "Courthouse Wedding". Before you go through with the ceremony, you must file for a marriage license. The bureau opens at 8:30 am and you can bet couples are standing in line waiting for it early. The last couple accepted is at 3:45 pm sharp and no later! Obtaining the marriage license is a 24-hour process, which technically means you can get married within 24 hours of getting your license. It costs $35 dollars to obtain this registration.
What if we are from overseas and we want to elope in NYC?
After you elope at the marriage bureau, you do have to return to the front desk and apply for an extended certificate. Here you have to pay another $35 dollars so you can receive this certificate. With this certificate, you head across the street to the Supreme Court Building at 60 Centre St. There is a $3 fee for this signature. Once it is signed, then you have to go to another office which is a 15-minute walk, at 123 William Street.
Before you arrive you have to make a detour to buy a money order from a 7/11 store, or a Duane Reade, and that money order is $10 to purchase. Or if you have me as your photographer, I can purchase in advance for you at a bank and that will save you time and a journey. The Apostille accepts this "short" certificate with authentication after they accept your money order and the paperwork.
This is a long process so I don't suggest squeezing this all into one day or rushing it because you will want to take photos with your photographer after your ceremony! If you are coming from overseas to elope, I believe a one-week trip for this joyous occasion is perfect!
How Much Time Should I Dedicate To my City Hall Wedding?
The waiting time can take as little as twenty minutes and as long as three hours. So give yourself a solid three hours just in case, but be ready to move in and out quickly. The actual City Hall Wedding Ceremony is around two minutes. The best days of the week to go are Tuesday through Thursday and midday to avoid long wait times. Mondays and Fridays have always been the BUSIEST! The long weekend holidays also hold back a lot of the wait times too.
How Much Do City Hall Marriage Licenses Cost?
The good news here! A City Hall Marriage License NYC will only run you $35.00 and the actual ceremony to be paid the day of is $25.
What Forms of Identification Would We Need to Get a Marriage License?
Thankfully this isn't a trip to the DMV. Only one form of identification is required when applying for your marriage license. Click here for a valid list of identifications.
How Do I Get to the New York City Hall Marriage Bureau?
Super easy! I always recommend downloading Google Maps when navigating through New York City. You can simply type in your Origin and your Destination. In this case, your destination will be 141 Worth Street for the marriage bureau. It is a clerk's office nearby. Also consider getting an Uber, Lyft, or Taxi to your destination.

What Do We Do About Flowers?
Luckily enough, you can purchase flowers inside City Hall. They do cost a lot more though, so I recommend getting them from a local florist or even making your own DIY flowers would be fun and so personalized to you!

Are there snacks, food, or drinks?
Unfortunately, they do not sell food or drinks inside for safety reasons. You can purchase food or drinks outside on the corner by the stand though. I would recommend bringing your own if you plan on waiting a long time to elope.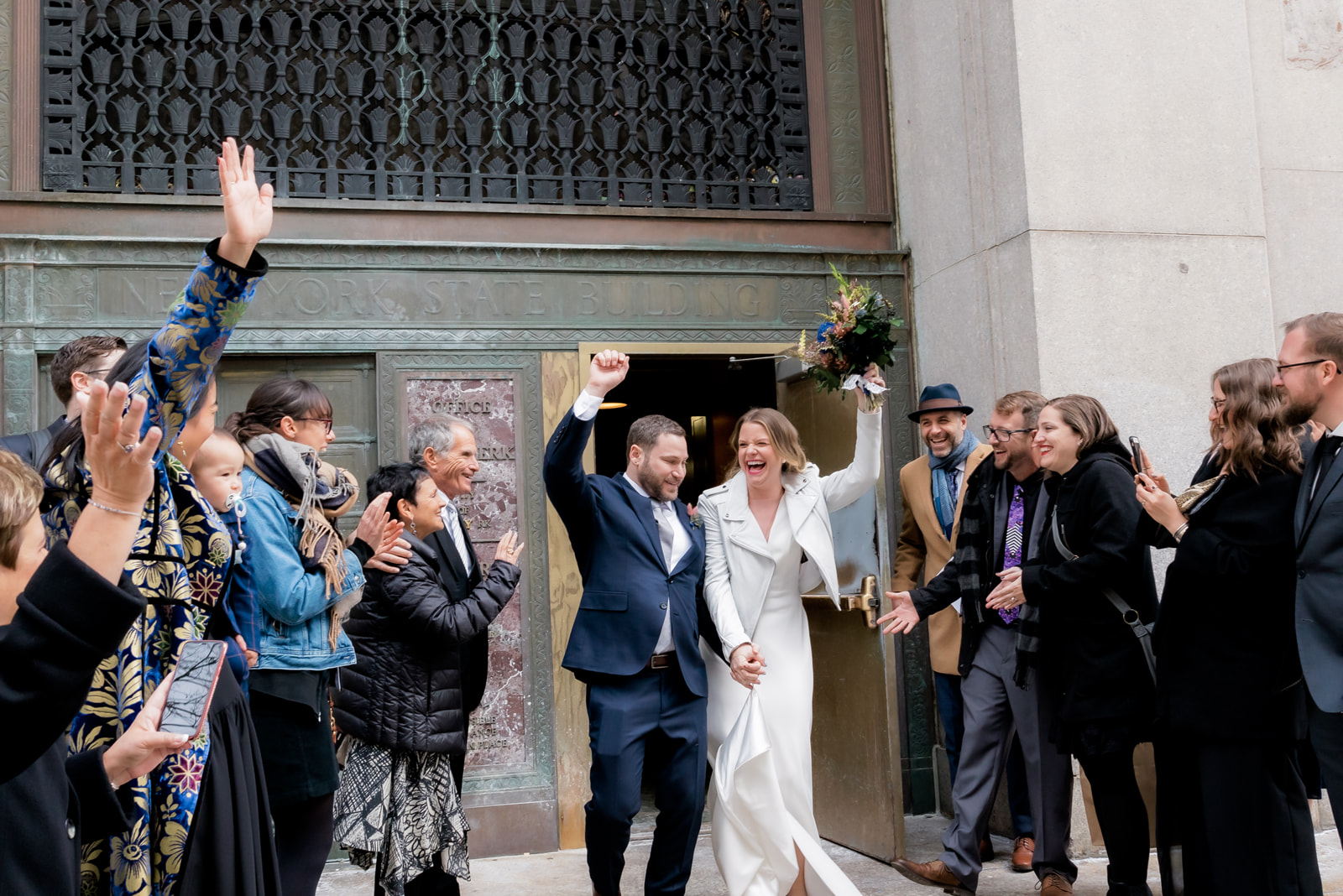 What can we do after our ceremony?
I recommend taking some photos around the City Hall area or even venturing to other places like Central Park or Dumbo by Brooklyn Bridge. As a City Hall Wedding Photographer, I can suggest many things to do! All you have to do is ask 🙂
Inquire for availability below
Below is the map for the location of the Marriage Bureau in Manhattan from Google Maps. The address is 141 Worth Street. That is where you will go to register and have the ceremony to be married.