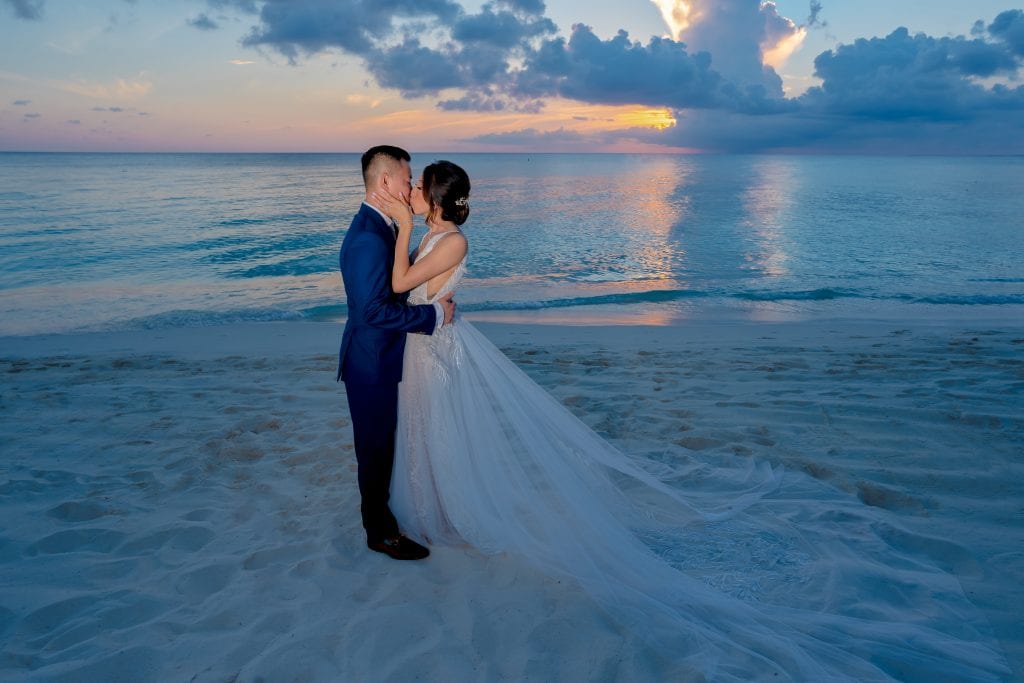 I've traveled all over the globe, from Asia, Europe, Australia, and New Zealand.  I immerse myself in new surroundings and cultures as if it was my second job.
My curiosity and zest for life enable me to produce inspiring work and stunning images that you'll want to look at over and over again. My camera, equipment, and passport are always ready to go! After my many years of experience shooting destination weddings and traveling far distances, I've come up with a few tips that I want to share with you.  So, I'd love to share those tips with you!
First, don't be tempted by the in-house Destination Wedding Photographer that resorts or vacation companies offer.  Most of the time, those photographers don't have much experience.  These can be cheap photographers who won't be able to capture your vision.
Second, don't hire someone last minute.  This scenario causes complications.  I've heard horror stories of couples who have made this mistake.  From photographers not having enough bandwidth to send the pictures, to miscommunication in understanding the shots you want – anything can go wrong. Make sure you hire a professional Destination Wedding Photographer
I have an emotional investment in you and your partner, which ensures that you'll get the images you want for your big day.  Having your Destination Wedding Photos in a location outside of your hometown will easily bring your photos to life.
Aside from taking destination wedding photos, I am a professional photographer that has experience shooting all types of content.  I'm able to assimilate into the surroundings by paying close attention to the energy and local cultures. Nature itself is already the most stunning decor you could have.  I am able to capture your breathtaking images with the help of Mother Nature.
With me by your side, you'll feel at ease knowing that I will capture the images you specifically want.
My goal is to help make your wedding planning process as easy as possible!  I want your special day to be flawless. Let the photos be the last of your worries. When you have someone who cares about creating beautiful images, no matter the location – you will feel relaxed and comfortable.
Here are a couple of slideshows from my travels:
NEW ZEALAND
CUBA
"Travel" is a beautiful verb that encompasses an array of meanings.
To some, Travel means to enjoy a relaxing vacation.  In other's eyes, it means visiting family.  To me, it means the discovery of new and enlightening stories.  As a photographer, it's difficult not to capture these one-of-a-kind stories.  It's like a deep-rooted need to preserve the inner sanctity of the memories and beautiful moments experienced while traveling.
Susan Shek loves to travel!
I live for experiences abroad where I can learn about different cultures, all while capturing eye-opening stories. I, Susan Shek, have been lucky enough to travel all around the world as a Destination Wedding Photographer.  From capturing weddings to personal travel, I have traveled to 42 countries around the globe.
These enthralling experiences have taught me what it means to capture external stories. They have also taught me hot capture the internal story of those being photographed.  This type of story is manifested through the eyes of the subject(s) being captured.  Every human being on this planet has their own story to tell.  Whether it's a happy story or one of struggle, you should value and cherish them all because they are all one of a kind.  My goal in life is to tell as many of these stories as possible, utilizing my keen perception and the eyes of my lens.
It takes patience and a strong urge to learn, in order to discover and capture one of a kind stories.
I have both; therefore, I use both of these in my approach to being a Destination Wedding Photographer.  It is my utmost want to provide my clients with their very own one-of-a-kind story, in the most eclectic and original way possible.  In order to reach this goal, I take the time to learn about every couple's love story in order to accurately capture every moment and the overall ambiance of the couple.
I have spent the last thirteen years photographing over 1,000 weddings.
Basically, my experience has taught me the process of what it means to capture true, rich and genuine emotions. These emotions will be preserved for generations to come so that your grandkids and even great grandkids will be able to relive your romantic experience. As a child, I loved watching romantic films (I still do to this day!). The subjects whom I was observing manifested raw emotion that translated with me internally. I knew as a child that I wanted to be the one behind the camera, capturing these priceless moments in time.
Not only am I the one behind the camera, I have recently jumped in front of the camera as well. I am set to marry the love of my life in August of 2018. The importance of having a flawless day resonates with me. Let me provide you with my one-of-a-kind experience that comes from my heart.
Lastly, if you're looking to inquire about my Destination Wedding Photographer services, you can click here. Send me a message with more information about your wedding, so we can begin the planning process.
Happy Destination Wedding Planning!