The 7 Best Brooklyn Wedding Venues
Brooklyn, New York, is one of the trendiest places on the planet, and it has a lot to offer when it comes to unique and stunning wedding venues. If you are looking for an urban setting with a lot of character, then Brooklyn is the perfect place.
Some of the best Brooklyn Wedding venues are:
Liberty Warehouse
Wythe Hotel
Weylin
Brooklyn Botanical Garden
William Vale Hotel
Brooklyn Winery
74 Wythe
There are many different types of Brooklyn wedding venues to choose from, so you are sure to find one that fits your style and budget. Each venue provides a stunning backdrop for your wedding photographer to work with. In such a fabulous urban setting, it is no wonder that Brooklyn has become one of the most popular places to get married.
1. Liberty Warehouse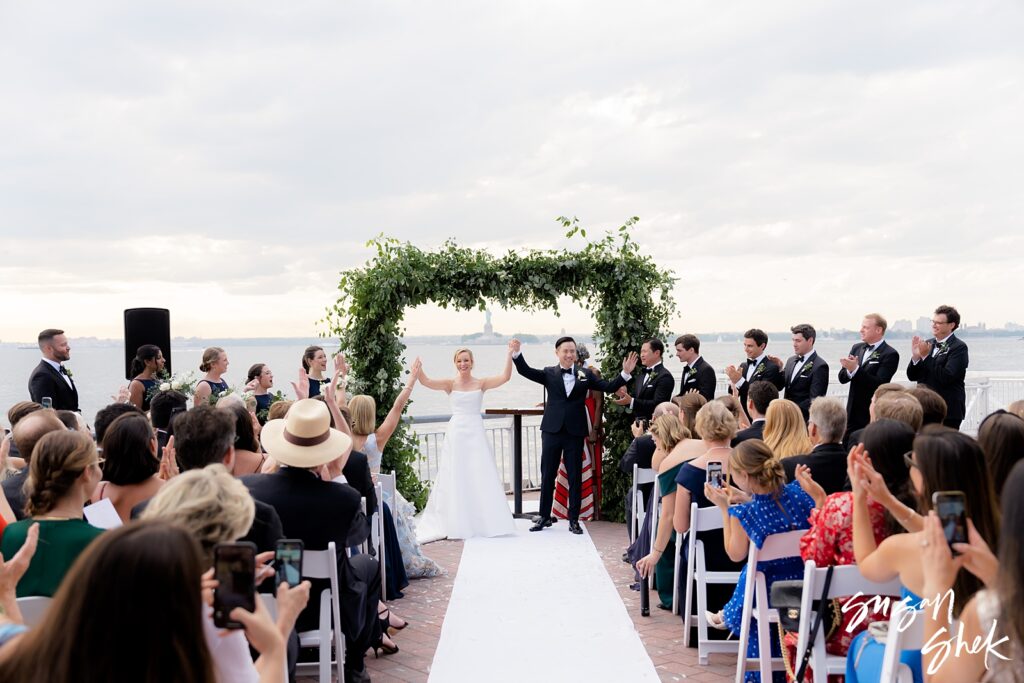 Liberty Warehouse is the perfect place for you if you want a unique and stylish wedding venue. This historic venue offers panoramic views of New York Harbor, the Statue of Liberty, and the Verrazano bridge, and it is located right on the water.
Liberty Warehouse provides 15,000 square feet of canvas for you to create your dream wedding, and it can accommodate 400 for sit-down dinners and 1200 + for cocktails. The Liberty Warehouse offers:
Two large event rooms with magnificent westward sunset views are available.
Two smaller rooms are ideal for indoor events, small gatherings, and cocktails.
Working fireplaces in all event rooms.
A fully equipped bridal suite
Covered valet parking
2. Wythe Hotel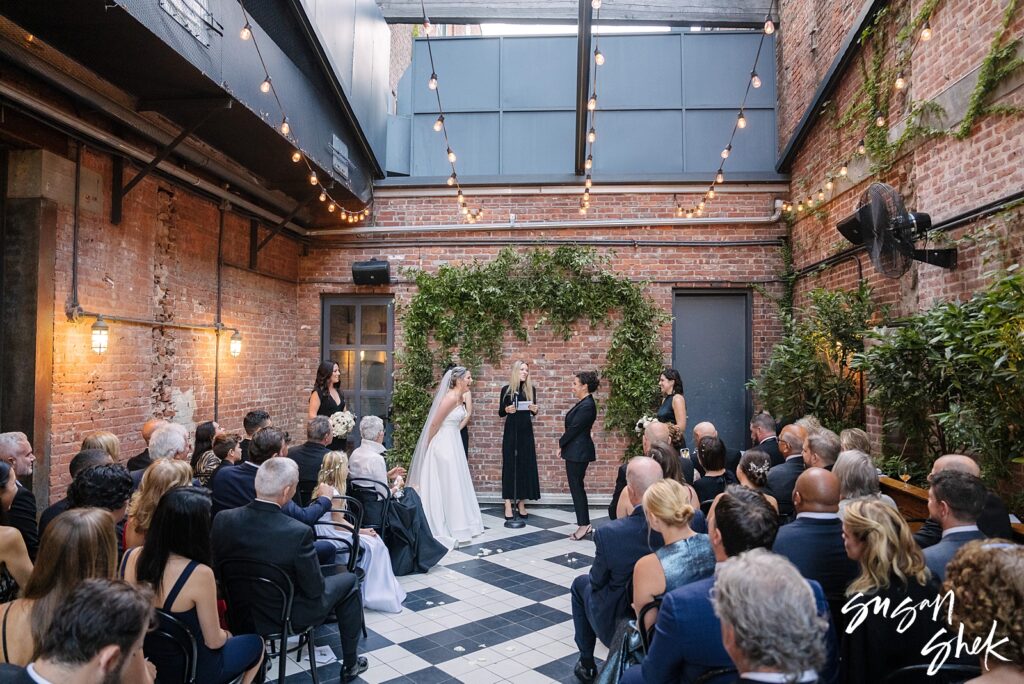 If you want a chic and modern wedding venue, then Wythe Hotel is the perfect place for you. In the heart of Williamsburg, this waterfront hotel offers breathtaking views of the Manhattan skyline and is the perfect place for an intimate wedding ceremony and reception.
With a wedding at Wythe Hotel, you can expect:
2100 square feet of space
A Built-in sound system
Seated dinners to accommodate up to 150 guests
Cocktail parties accommodating up to 350 guests
Ceremonies to accommodate 250 guests
Wythe's in-house restaurant, Le Crocodile, provides all catering. French cuisine inspired by Parisian and New York preferences, Le Crocodile offers superb-quality meals and service in a banquet setting. An in-house pastry team also creates all desserts, including wedding cakes.
3. Weylin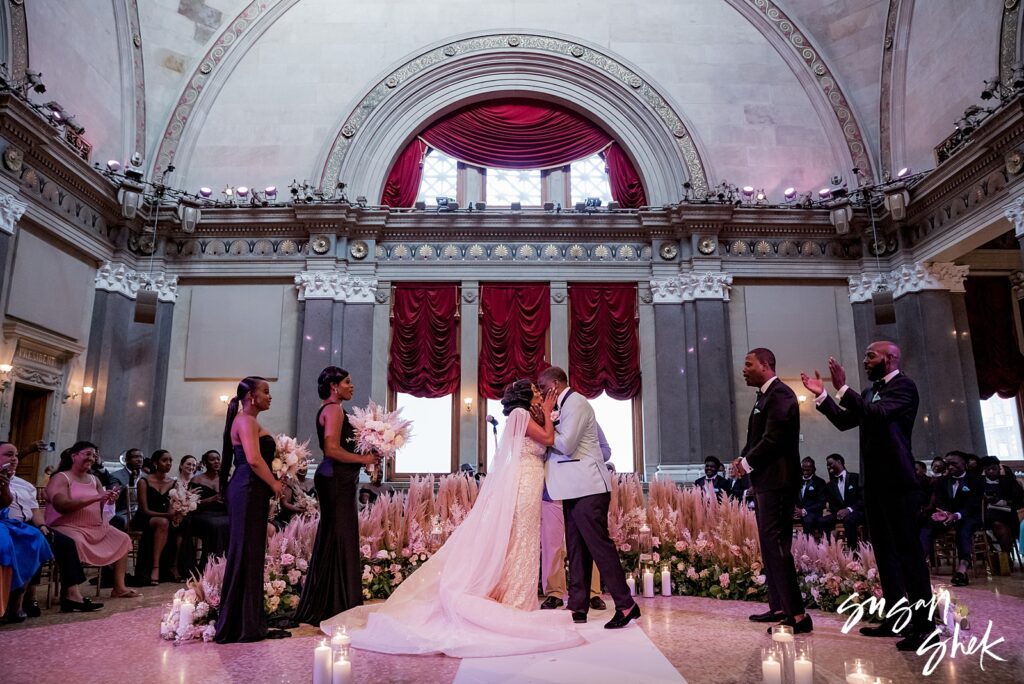 Weylin is a premier event space located in the heart of Brooklyn and the former home of the iconic Williamsburgh Savings Bank. This historic venue was built in 1875 by renowned architect George B. Post and featured gorgeous architecture and stunning interiors designed by Peter B. Wright.
Weylin can accommodate 75 to 350 guests, making it perfect for large or intimate weddings. This iconic historic venue also offers the following:
Multiple rooms to be used as a bridal suite, including the President's Room
The 1875 Bar for cocktails and after parties
Valet parking for guests and more!
If you're looking to add a touch of history and grandeur to your event, Weylin is the perfect venue. With its frescoed dome, intricate mosaics, wooden carvings, and period decor, it's suitable for anything from weddings of all sizes.
4. Brooklyn Botanical Garden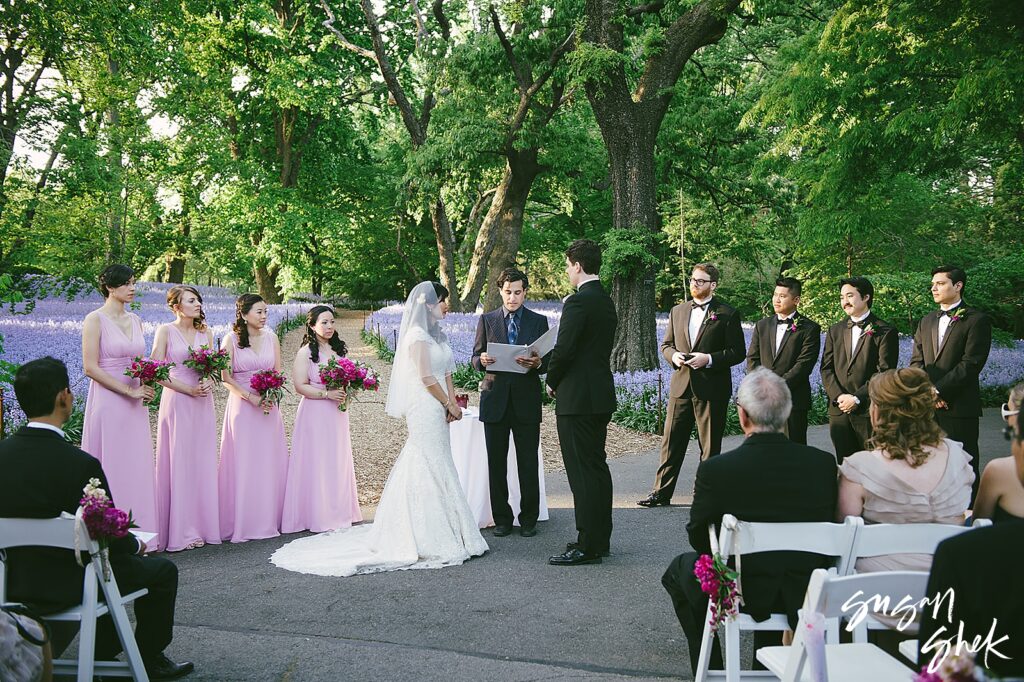 For a truly unique and romantic wedding venue, look no further than the Brooklyn Botanical Garden. This stunning venue is located in the heart of Prospect Park, and it offers a variety of indoor and outdoor spaces to accommodate your wedding ceremony and reception.
The Brooklyn Botanical Garden features multiple spaces, including:
The Palm House – A glass-walled indoor space that can accommodate up to 250 guests for a sit-down dinner.
The Atrium – A glass-enclosed space with a capacity of 125 guests for a sit-down dinner and Several stunning gardens and outdoor spaces for ceremonies and cocktail hours.
5. William Vale Hotel
William Vale Hotel is a luxury hotel located in Brooklyn's trendy Williamsburg neighborhood. The hotel offers breathtaking views of Manhattan and the East River, and its rooftop bar, Westlight, is perfect for hosting pre- or post-wedding events. The hotel also has a variety of event spaces that can accommodate weddings of all sizes, including:
The Ballroom & Foyer – Lined with over 2,000 square feet of marble, the Vale Ballroom & Foyer can accommodate up to 220 seated guests.
Vale Terrace – The Terrace is over 5,000 square feet of outdoor space for ceremonies or receptions.
23rd Floor – The 23rd floor is a stunning rooftop space for the perfect outdoor ceremony.
Vale Park – Over 15,000 square feet of outdoor space with rolling hills and beautiful scenery.
Leuca Private Dining Room – Perfect dining and cocktail bars space for intimate settings of 30 guests or less.
The William Vale Hotel is perfect for couples looking for a modern and luxurious setting for their Brooklyn wedding. With its stunning views, rooftop bar, and variety of event spaces, the hotel can accommodate any type of event
6. Brooklyn Winery
Located in the heart of Williamsburg, Brooklyn Winery is a popular choice for couples looking for a unique and stylish wedding venue. A wine bar by nature, this space transforms into a lavish wedding venue with plenty of unique spaces to accommodate your wedding ceremony and reception, including a rustic dining space for 100-165 guests, a charming barrel room, and a spacious outdoor courtyard.
From the 2023 season and beyond, Brooklyn Winery will move to a chic, industrial space melded with the rustic winery feel. With a new space in Williamsburg, the winery will boast the following:
Ample indoor space overlooking the winery's barrel room
15-foot ceilings with lavish greenery and a living plant wall
Accommodation for up to 175 seated guests
A fully-stocked wedding suite, and more.
7. 74 Wythe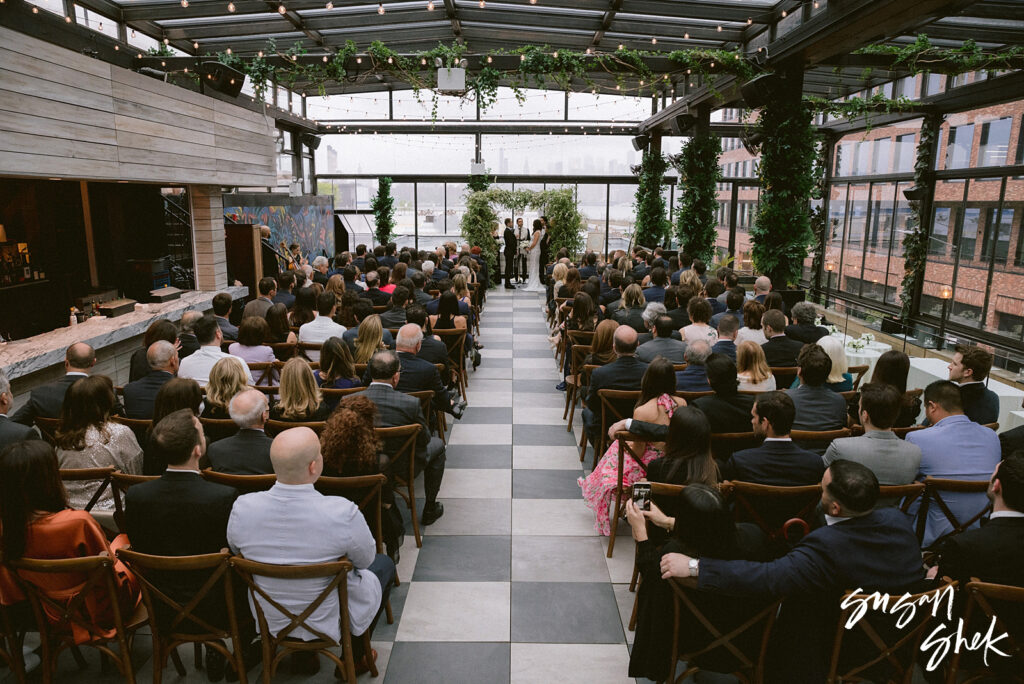 Last but not least is the newest venue in Brooklyn. 74 Wythe in Williamsburg. It is next door to the Wythe Hotel, and also many other hotels nearby. It has tons of space and a great venue to have your ceremony and reception in. There are views for days with a direct view of the Empire State Building in Manhattan and killer sunset views on a perfect evening. There is a retractable rooftop and different levels of entertaining space. Also, for after parties or just a chill night, Jaybird Bar is the best for the fancy decor and more relaxed laid back vibes. I love how you can transform this space into anything you envision and works for any time of the year.
Conclusion
Whether you're looking for a rustic loft space, an industrial chic wine bar, or a stunning garden setting, there's sure to be a Brooklyn wedding venue that's perfect for you. With so many incredible choices, it's hard to narrow it down to just one. But with the help of an experienced New York wedding photographer residing in Brooklyn, you're sure to find a venue that fits your style and helps capture all of your memories to last a lifetime.
Sources